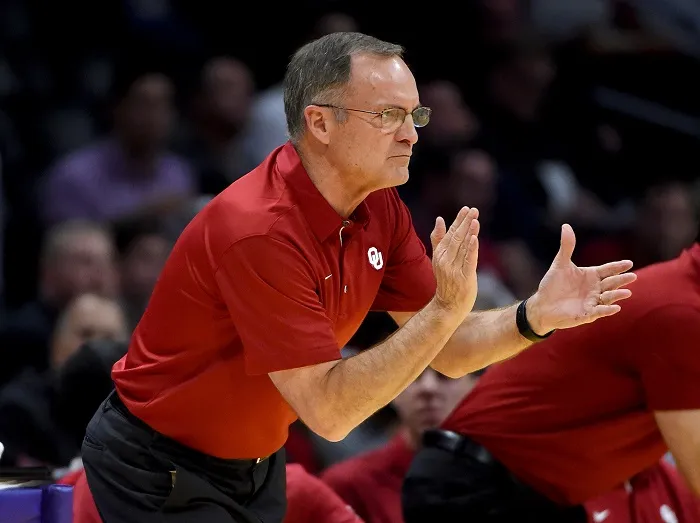 Leading up to Big 12 media days in Kansas City Heartland College Sports will analyze each of the Big 12 men's basketball schedules. Today it's the Oklahoma Sooners.
Season opener: The Sooners are one of the few Big 12 teams that will open the season with a true road game, as OU will be in Edinburg, Texas, to face UT-Rio Grande Valley on Nov. 9. There is a good reason, though. The school is honoring Sooners head coach Lon Kruger and his wife, Barbara, with induction in their Athletic Hall of Fame and Hall of Honor. Kruger coached Texas-Pan American, which recently merged with UTRGV.
Tournaments: The Sooners spend Thanksgiving in paradise at the Battle 4 Atlantis, and they'll get some solid opponents in Florida, along with either Stanford or Wisconsin. The Sooners also face Notre Dame in the Jimmy V Classic. And while they're not tournament games, the Sooners have contests in Oklahoma City and Tulsa.
The Big Non-Con: The Sooners could take a beating in non-conference, as their schedule is one of the best in the conference. I'll take the aforementioned Florida game in the Bahamas. They're a year better after last year's NCAA Tournament run and should give the Sooners their first real test of 2018-19.
Mid-Major Danger: The meeting with UT-San Antonio on Nov. 12 should be interesting. The Roadrunners are coming off a 20-15 season and reached the second round of the CollegeBasketballInsiders.com Tournament.     
Big 12 Opener: Hey, guess how the Sooners get to open Big 12 action? A road trip to Allen Fieldhouse to face Kansas. Geez, thanks.
The Big 12/SEC Game: The Sooners host Vanderbilt on Jan. 26.
The 'Big' Big 12 stretch: With no Trae Young this season, how the Sooners start the season will be key to their chances to be a Big 12 contender. Their first seven games feature the aforementioned trip to Kansas, two games with Oklahoma State, road trips to Texas and Texas Tech and a home game with TCU. All were postseason participants last year, either in the NCAA Tournament or the NIT. If the Sooners are hit hard by this stretch, it could be a long league season.
2018-19 Oklahoma Schedule
(Home games in Bold; *-Big 12 game)
Nov. 9 at UT-Rio Grande Valley
Nov. 12 at UTSA
Nov. 18 vs. Wofford
Battle 4 Atlantis (Paradise Island, Bahamas)
Nov. 21 vs. Florida
Nov. 22 vs. Stanford or Wisconsin
Nov. 23 vs. TBA
Nov. 27 vs. North Texas
Jimmy V Classic (New York, NY)
Dec. 4 vs. Notre Dame
Dec. 8 vs. Wichita State (at Oklahoma City, Okla.)
Dec. 15 vs. USC (at Tulsa, Okla.)
Dec. 18 vs. Creighton
Dec. 21 at Northwestern
Jan. 2 at Kansas*
Jan. 5 vs. Oklahoma State*
Jan. 8 at Texas Tech*
Jan. 12 vs. TCU*
Jan. 16 vs. Kansas State*
Jan. 19 at Texas*
Jan. 23 at Oklahoma State*
SEC/Big 12 Challenge
Jan. 26 vs. Vanderbilt
Jan. 28 vs. Baylor*
Feb. 2 at West Virginia*
Feb. 4 vs. Iowa State*
Feb. 9 vs. Texas Tech*
Feb. 11 at Baylor*
Feb. 16 at TCU*
Feb. 23 vs. Texas*
Feb. 25 at Iowa State*
Mar. 2 vs. West Virginia*
Mar. 5 vs. Kansas*
Mar. 9 at Kansas State*
**Sign up here for our HCS weekly e-mails for a chance to win FREE Heartland College Sports and Big 12 team gear!!**