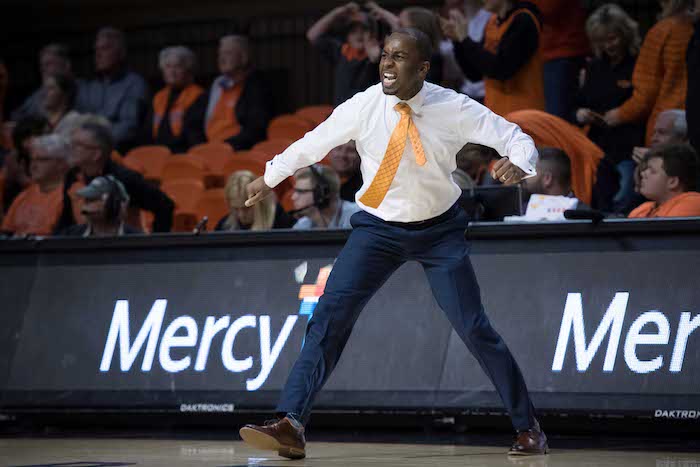 Leading up to Big 12 media days in Kansas City Heartland College Sports will analyze each of the Big 12 men's basketball schedules. Today it's the Oklahoma State Cowboys.
Season opener: The Cowboys will be in Charlotte, N.C., to face the Charlotte 49ers on Nov. 10.
Tournaments: The Cowboys' only true tournament is the AdvoCare Invitational, where it could potentially face the defending national champions in Villanova. The Cowboys have an odd non-conference neutral site game with Nebraska in Sioux Falls, S.D., on Dec. 16.
The Big Non-Con: Assuming the Cowboys don't face Villanova, that Nebraska game on Dec. 16 is intriguing. The Cornhuskers won 22 games last season and return their top four scorers and rebounders. They're an up-and-coming team in the Big Ten. The neutral site gives the Cowboys a chance to prove where they are as a team before the holidays.
Mid-Major Danger: Easy. The Cowboys host Charleston on Nov. 18. Charleston won 26 games last year, made the NCAA Tournament and as a No. 13 seed pushed Auburn within an inch of its life in the Dance. It should be fun early test.     
Big 12 Opener: The Cowboys get Iowa State at home on Jan. 2.  
The Big 12/SEC Game: The Cowboys host South Carolina on Jan. 26. The Gamecocks were barely above .500 (17-16) last season.  
The 'Big' Big 12 stretch: After the Big 12/SEC Challenge game the Cowboys are in for a tough end to the season. Think about this — the Cowboys face Kansas State, TCU, Kansas and Texas Tech in the span of the season's final six weeks. It will be a make-or-break stretch for the Cowboys in terms of league tournament seeding.
2018-19 Oklahoma State Schedule
(Home games in Bold; *-Big 12 game)
Nov. 10 at Charlotte
Nov. 14 vs. UTSA
Nov. 18 vs. Charleston
AdvoCare Invitation (Orlando, Fla.)
Nov. 22 vs. Memphis
Nov. 23 vs. Villanova or Canisius
Nov. 25 vs. TBA (Florida State, Charleston, LSU or UAB)
Nov. 30 at Minnesota
Dec. 5 at Tulsa
Dec. 8 vs. Houston
Dec. 16 vs. Nebraska (at Sioux Falls, S.D.)
Dec. 21 vs. Central Arkansas
Dec. 29 vs. TAMU-Corpus Christi
Jan. 2 vs. Iowa State*
Jan. 5 at Oklahoma*
Jan. 8 vs. Texas*
Jan. 12 at West Virginia*
Jan. 14 vs. Baylor*
Jan. 19 at Iowa State*
Jan. 23 vs. Oklahoma*
(Big 12-SEC Challenge)
Jan. 26 vs. South Carolina
Feb. 2 vs. Kansas State*
Feb. 6 at TCU*
Feb. 9 at Kansas*
Feb. 13 vs. Texas Tech*
Feb. 16 at Texas*
Feb. 18 vs. TCU*
Feb. 23 at Kansas State*
Feb. 27 at Texas Tech*
Mar. 2 vs. Kansas*
Mar. 6 at Baylor*
Mar. 9 vs. West Virginia*
**Sign up here for our HCS weekly e-mails for a chance to win FREE Heartland College Sports and Big 12 team gear!!**