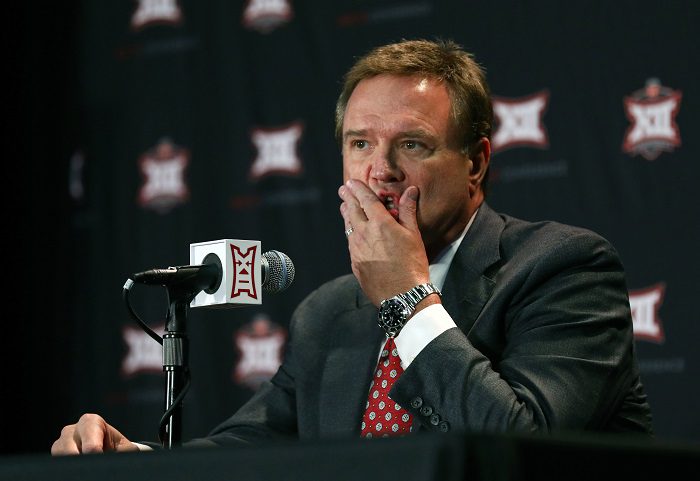 KANSAS CITY, Mo. — It might have been Big 12 Media Day at the Spirit Center, but it might as well have been Kansas Media Day on Wednesday.
Not that it was any fun for head coach Bill Self and the Jayhawks.
Wednesday marked the first time the Big 12 media, en masse, could ask Self about the startling accusation from a week ago that Self personally asked former Adidas executive Jim Gatto for a payment to be made to forward Silvio de Sousa's handler in order to secure de Sousa's recruitment to Kansas. That accusation was made by Gatto's attorney, Michael Schacter, during his closing argument at Gatto's trial in New York City.
The jury in that trial found Gatto and two other guilty of fraud on Wednesday. Sentencing is pending. The verdict in Gatto's trial was released 22 minutes after Big 12 Media Days ended.
About 30 minutes later, the University of Kansas released a statement carried by the Associated Press and other media outlets, noting they were waiting for guidance from prosecutors now that the trial is complete and intend to work with the NCAA on an investigation once it has that guidance. There was also an indication that Self would have a statement, but only after the university had provided one. Kansas also indicated it would continue to review the eligibility of all of its student-athletes.
— University of Kansas (@KUnews) October 24, 2018

But while Self was at Big 12 Media Day, he had nothing to say about the trial or the investigation that has roped the Jayhawk basketball program into its orbit.
Kansas made it clear that Self would not talk about the trial hours before he took the podium. Self made an appearance with a Kansas City radio station and held that line, even as the school announced that de Sousa would not play in the Jayhawks' scrimmage with Emporia State, or at all, until "new information" regarding de Sousa had been reviewed by the NCAA and the university.
A statement from Coach Bill Self on Silvio de Sousa: pic.twitter.com/KVExNfX15N

— Kansas Basketball (@KUHoops) October 24, 2018

And when Self took the podium at 11:45 a.m., he stuck to the script.
"Due to the trial in New York being ongoing, I will refrain from any comment that is directly related to the trial, due to the fact that there has been a mandate given to me and certainly I will honor that," Self said.
Self did not elaborate on who the mandate came from. Self did tell the media, in response to a question about de Sousa, that he had been cleared by the NCAA in January in terms of eligibility and said that these "new developments" were a result of the current trial.
That could be related to a piece of information that came out of the trial that related directly to de Sousa. An Adidas consultant and AAU coach, TJ Gassnola, said under oath that he engineered payments to several big-time recruits, including de Sousa.
Additionally, the FBI investigation has text messages made between Self and Gassnola related to de Sousa. The text indicated that Gassnola was in touch with de Sousa, but the texts referenced didn't discuss payments.
During the breakout sessions, Self was asked if he would coach de Sousa again, and said "absolutely." Shortly thereafter he backtracked a bit, saying the probe into this new information needed to be completed before he would know for sure if he would coach de Sousa again.
De Sousa did not join the Jayhawks last season until Dec. 26 and didn't play a game until Jan. 13 against Kansas State, as the university and the NCAA were sorting out his eligibility. He averaged 4 points and 3.7 rebounds per game in 8.8 minutes per game, but was expected to play a bigger role in Kansas' interior game this season. Before Kansas, de Sousa was at IMG Academy in Bradenton, Fla.
Should the revelations about Kansas, Self and de Sousa be found to be accurate it could mean significant penalties for the program from the NCAA. Big 12 commissioner Bob Bowlsby told reporters Wednesday morning that the league and the NCAA would wait until the trial was complete before exploring further.
With Gatto's trial now complete, it now appears the NCAA, the Big 12 and Kansas will have what it needs to carry forward with an investigation in the coming weeks. How long that takes is anyone's guess.
**Sign up here for our HCS weekly e-mails for a chance to win FREE Heartland College Sports and Big 12 team gear!!**