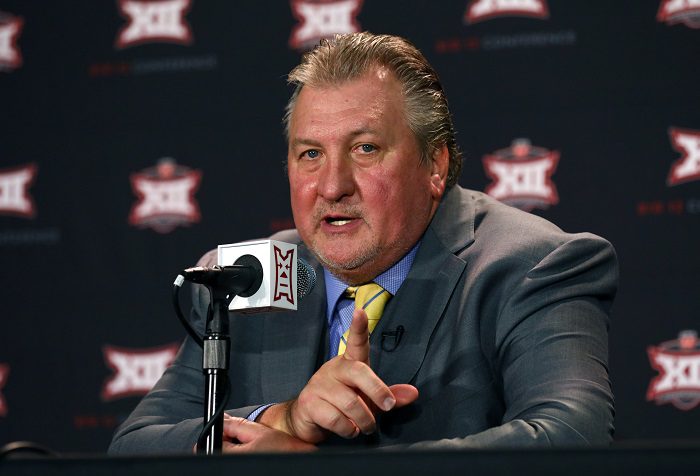 KANSAS CITY, Mo. — As Bob Huggins and the West Virginia Mountaineers get ready for their seventh season in the Big 12 Conference, I asked the head coach if he missed the Big East? I'm a Villanova alum who has spent the past several years covering the Big 12 Conference, and any chance to see my two worlds collide I jump on it. I miss Huggy in the Big East, so I was curious as to this answer to see if that feeling was mutual. He responded, simply, "Yes".
However he went on to say, "I love this league [Big 12]." But Huggins wasn't done there. Despite the powerhouse teams that he dealt with in the heyday of the Big East Conference, from Syracuse, Villanova, Georgetown, along with Pitt, UConn and Notre Dame, Huggins didn't think that league, that he coached in from 2007 to 2012 with WVU, compares to the Big 12.
"This league [Big 12] is way harder. There were six of 'em that weren't very good… there was then that was very good and six that weren't very good. So if you win those six, you're going to play one of them twice, so that ought to be six or seven wins right there. All you have got to do is win another two or three games and you're going to get in the Tournament. It's not that way in this league."
The depth of the Big 12 may be one of the most underappreciated elements in all of college basketball. Last season, the conference sent seven teams to the NCAA Tournament (70%), with four of those teams reaching the Sweet 16 and three reaching the Elite Eight. And who knows how things might have been different had three of those teams (West Virginia, Texas Tech and Kansas) not had to face the eventual National Champion Villanova Wildcats.
Huggins added, "There are no bad teams. I mean KU is up there by themselves, but everybody else is good. Look, Kansas State probably had to do what it did in the Conference Tournament to get to the NCAA Tournament and they get to the Elite Eight. Who does that?" 
Another element that contrasts the Big 12 to the Big East was home court advantage. The head coach went on to say, "Half of the teams in the Big East didn't have their own arena, so they played downtown. You don't get the same kind of atmosphere as you get in this league. Everybody plays on campus, everybody has their own arena." 
While Huggins loves the conference, he certainly doesn't appear to love the travel, saying even after all these years, "The travel is rough."
"The fact that we're two hours and forty five minutes flight time from Morgantown to Tech and then we've got an hour time change. It's rough." 
Huggins added that the Big 12 has tried to help with the scheduling, adding, "We've tried to get them to do two away games before we start school, so we aren't missing so much school. They've done it maybe the last two or three years, but didn't do it this year." 
The head coach said he's trying to make that permanent.
Travel is a hurdle that will always nag on West Virginia in the Big 12 Conference. But considering what the alternative options may have been (cough, AAC, cough), this has been a pretty could result for Huggins and the Mountaineers, despite the late travel nights.
**Sign up here for our HCS weekly e-mails for a chance to win FREE Heartland College Sports and Big 12 team gear!!**