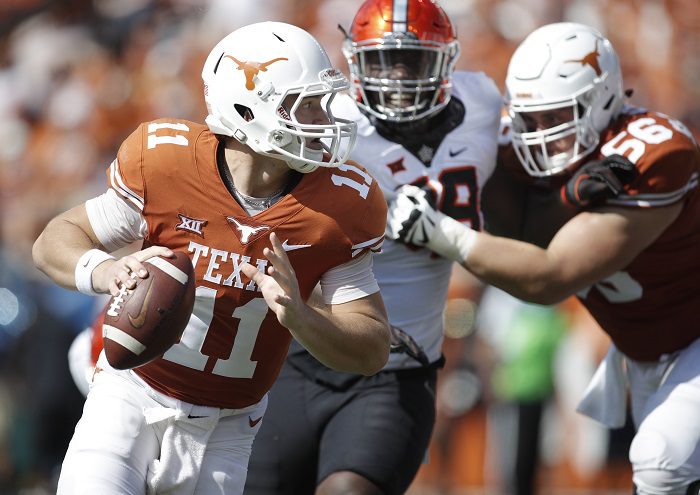 We take a look at the upcoming Big 12 match up in our Oklahoma State vs. Texas preview and prediction.
Game info
7:00 pm CT  | Saturday, October 27th 2018  | Boone Pickens Stadium, Stillwater, Oklahoma
TV: ABC (Chris Fowler, Kirk Herbstreit, and Maria Taylor)
Local Radio: Cowboy Radio Network (Dave Hunziker, Dave Holcomb, and Robert Allen)
Internet Radio: https://okla.st/osutunein
Key Players
Texas Longhorns
Quarterback Sam Ehlinger
Texas is good on defense.  They were good on defense last year.  The reason they are 6-1 and ranked in the top ten this year after struggling last season is the play of the quarterback.  After a poor start on the road at Maryland Sam Ehlinger has been much better. He limits mistakes, avoids the turnovers that plagued him in 2017 and at Maryland, and is willing to create with his legs and get the tough yards.  The Texas offense isn't going to streak up and down the field with grace and speed like a lot of Big 12 offenses do but they will grind you to death behind Ehlinger's efficiency and his stable of big, strong receivers.
Safety Caden Sterns
Oklahoma State's deep passing game is iffy at best with Taylor Cornelius throwing the ball.  His struggles with accuracy on longer throws bodes well for Sterns who already has four picks on the year.  The younger brother of former OSU safety Jordan Sterns, Caden Sterns could have a few more interceptions as Texas' stout defense should be able to force the Cowboys dysfunctional offense into 3rd and long often.
Texas running backs
The Longhorns rotate two running backs, Keaontay Ingram and Tre Watson, and then use QB Sam Ehlinger heavily as a rusher as well.  Oklahoma State's run defense which looked so strong against Boise State has been porous in Big 12 play. No matter which back gets the ball they should have success.  Add in Ehlinger keeping the ball on read plays and it could be a 300 yards rushing day for the Longhorn offense.
Oklahoma State
Running Back Justice Hill
Justice Hill is one of the top players in the Big 12 and a top 5 running back in the nation.  He is capable of breaking for a score at any time. What's head scratching is how often he has disappeared this season.  Not by his own doing, but by virtue of the play calling. After having only 12 carries in the loss to Texas Tech he had 31 in the win at Kansas. Iowa State, who is suddenly better than they looked to start the season, bottled him up on his 24 carries in OSU's loss to the Cyclones.  The most curious case though is the Cowboys loss to Kansas State where in the first half when the Wildcat's offense was completely ineffective OSU gave Hill the ball only 4 times (11 for the game) and went into the half up only 6-3 before getting blown out when Kanas State found their groove after the break.  For Oklahoma State to have a chance of moving the ball against the Longhorns defense Hill has to have another 25 plus carry game.
Oklahoma State's Secondary
The Cowboy's are going to give up passes.  It's what their defense does. They send pressure as part of a risk or reward system: they either get to the quarterback and force a mistake or they give up a quick pass against their spread thin coverage.  Giving up a pass isn't the issue they should be concerned with, it's the tackling after the catch. The Longhorn receivers are all big and strong, basically slimmed down tight ends, and hard to bring down. OSU also has large starting corners and starting safety Kennith Edison-MacGruder played linebacker last year but the other two safeties (the Cowboys play five very down) are smaller players.  They will have to be sure tacklers as Tom Herman and Tim Beck try to isolate them against their massive playmakers.
Key Storylines
Who's the quarterback?
Does Taylor Cornelius continue to be the guy after the bye week?  After improving almost every game this season he finally fell off the ledge and played terrible against a bad Kansas State team.  While the Corndog isn't an elite QB like the Cowboys got used to having he is serviceable and his struggles have mostly been a symptom of greater issues in the offense as a whole up until getting trounced by the Wildcats.  Texas will be a better defense than they've seen all year, but Iowa State also plays good defense and the Cornelius led offense put up 42 points against them. If Gundy and company are going to make a switch this would be the week to do it.  The bye weeks gives you extra time to get the replacement ready. The question is if they do, then who? Gundy has been open about wanting to save both Dru Brown and Spencer Sanders' redshirts, and playing either the rest of the year would cost them a season of eligibility.
Is Texas back?
The loss to Maryland looks puzzling after watching Texas play pretty solid so far the rest of the season.  They deservedly sky-rocketed up the polls after doing just enough to control Oklahoma's offense and breaking enough tackles to get long time Sooner defensive coordinator Mike Stoops fired.  Then came the game against Baylor the next week, a 23-17 win that was only final after Baylor threw into the end one for the win as time expired. Was it a Red River hangover? Was it simply that the Longhorns played most the game with out Sam Ehlinger who was out with a shoulder injury?  Stillwater at night has produced some big upsets over the years, and the Cowboys pride is hurting. The Texas team that played against OU and USC can win easily, but the team that played against Maryland, Kansas State, and Baylor might have a rough time.
Prediction
Texas  45, Oklahoma State 35
Everything points to Texas rolling into Stillwater and beating the Cowboys into submission but I think the Cowboys will fight harder than most expect them too.  It's OSU's Homecoming and they are honoring Barry Sanders by wearing throwback uniforms from his 1988 Heisman Trophy season so the team will be jacked up, as will the crowd for a night game following a whole week of festivities.  That being said Texas will be focused. They are in the top 10 and first place in the Big 12 and have already knocked off Oklahoma. Stumbling against a failing Oklahoma State squad would undo a lot of the cache they've started to build back up.  I expect OSU to play better than they have all season, maybe on par with the performance they put up against Boise State, but Texas will still be too much to handle. Both teams coming off bye weeks negates what could've been a big advantage for the Cowboys as both teams will be rested, healthy, and prepared.  Texas might be nervous for three quarters but the more talented team will win out in the end.
**Sign up here for our HCS weekly e-mails for a chance to win FREE Heartland College Sports and Big 12 team gear!!**