Big 12 News
Week 10 AP Poll Has Sooners, Mountaineers Rising, Longhorns Falling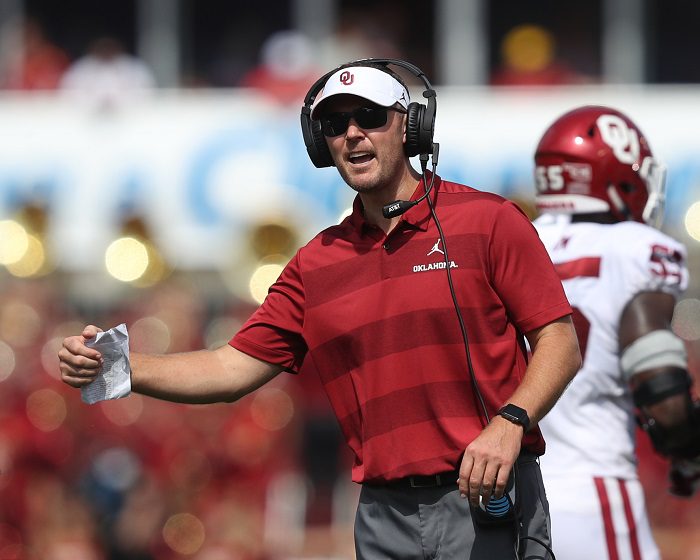 After another tumultuous week in the Big 12 Conference, there was some movement in the Week 10 AP Poll. The Oklahoma Sooners are now the highest ranked team in the conference at No. 7, moving up one spot after Texas' loss to Oklahoma State on Saturday night in Stillwater. Meantime, West Virginia crushed Baylor on Thursday night in Morgantown, and also got a bump one spot from No. 13 to No. 12. As for those aforementioned Longhorns, they stumbled nine places down to No. 15. Coincidentally, there was only one team to fall as many places in the rankings as Texas did, and that would be Texas A&M, which also dropped nine spots from No. 16 to No. 25 after losing to Mississippi State.
The only other Big 12 team to even receives votes was Iowa State, who beat Texas Tech by nine points on Saturday in Ames.
The top five of the poll did not change, but it's a big weekend coming up in the SEC, as Alabama and LSU meet in Baton Rouge. That game will play a factor in the future of the Big 12 Conference and its ability to make the College Football Playoff this year.
| RK | TEAM | REC | PTS | TREND |
| --- | --- | --- | --- | --- |
| 1 | Alabama(60) | 8-0 | 1500 | — |
| 2 | Clemson | 8-0 | 1433 | — |
| 3 | Notre Dame | 8-0 | 1374 | — |
| 4 | LSU | 7-1 | 1317 | — |
| 5 | Michigan | 7-1 | 1240 | — |
| 6 | Georgia | 7-1 | 1202 |  1 |
| 7 | Oklahoma | 7-1 | 1132 |  1 |
| 8 | Ohio State | 7-1 | 1022 |  3 |
| 9 | UCF | 7-0 | 1014 |  1 |
| 10 | Washington State | 7-1 | 938 |  4 |
| 11 | Kentucky | 7-1 | 905 |  1 |
| 12 | West Virginia | 6-1 | 891 |  1 |
| 13 | Florida | 6-2 | 734 |  4 |
| 14 | Penn State | 6-2 | 733 |  3 |
| 15 | Texas | 6-2 | 719 |  9 |
| 16 | Utah | 6-2 | 593 |  7 |
| 17 | Houston | 7-1 | 403 | NR |
| 18 | Utah State | 7-1 | 340 | NR |
| 19 | Iowa | 6-2 | 323 |  1 |
| 20 | Fresno State | 7-1 | 261 | NR |
| 21 | Mississippi State | 5-3 | 204 | NR |
| 22 | Syracuse | 6-2 | 192 | NR |
| 23 | Virginia | 6-2 | 175 | NR |
| 24 | Boston College | 6-2 | 169 | NR |
| 25 | Texas A&M | 5-3 | 132 |  9 |
**Sign up here for our HCS weekly e-mails for a chance to win FREE Heartland College Sports and Big 12 team gear!!**