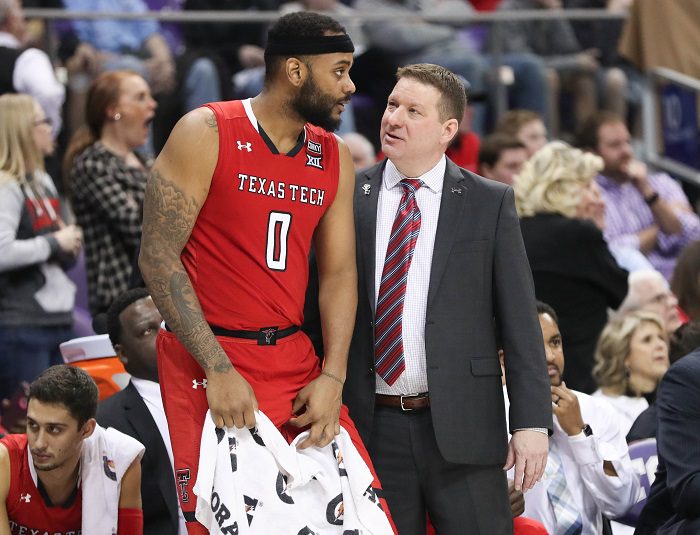 Leading up to Big 12 media days in Kansas City Heartland College Sports will analyze each of the Big 12 men's basketball schedules. Today it's the Texas Tech Red Raiders.
Season opener: The Red Raiders open the season at home against Incarnate Word on Nov. 6. It kicks off a stretch of three straight home games to start the season, two of which are regional games that are part of the Hall of Fame Classic.  
Tournaments: There is the aforementioned Hall of Fame Classic, where the Red Raiders have guaranteed games against Mississippi Valley State, Southeastern Louisiana and USC. Plus, there is the Hoophall Invitational against Memphis in Miami, Fla. And while it's not a tournament, the Red Raiders' "Throwback Game" against Abilene Christian at Lubbock Municipal Auditorium on Dec. 15 is quite intriguing.
The Big Non-Con: Oh, no question. It's the neutral site game with Duke on Dec. 20 in New York City. No tournament. Just one of the game's true bluebloods facing one of the game's up-and-coming programs in Tech.
Mid-Major Danger: Southeastern Louisiana on Nov. 13 could be intriguing. The Lions was a share of the Southland Conference regular-season title last season, won 22 games and earned a berth in the NIT, where they lost to Saint Mary's in the first round.     
Big 12 Opener: Texas Tech opens the Big 12 slate the day after the New Year begins with a trip to Morgantown, W.V., against West Virginia.    
The Big 12/SEC Game: Texas Tech will host Arkansas on Jan. 25. The Razorbacks won 23 games last year and reached the NCAA Tournament.  
The 'Big' Big 12 stretch: The Red Raiders have a pretty brutal seven-game stretch after their Big 12-SEC game. It starts with a home game against TCU, followed by a road trip to Lawrence, Kan., to face the Jayhawks. After that the Red Raiders host West Virginia, travel to Oklahoma and Oklahoma State back-to-back, followed by Baylor and a home game against Kansas on Feb. 23 to end the stretch. All were either NCAA Tournament or NIT Tournament selections a year ago.
2018-19 Texas Tech Schedule
(Home games in Bold; *-Big 12 game)
Nov. 6 vs. Incarnate Word
Hall of Fame Classic Regional Round (at Lubbock, Texas)
Nov. 9 vs. Mississippi Valley State
Nov. 13 vs. Southeastern Louisiana
Hall of Fame Classic (at Kansas City, Mo.)
Nov. 19 vs. USC
Nov. 20 vs. TBA
Nov. 24 vs. Northern Colorado
Hoophall Invitational (at Miami, Fla.)
Dec. 1 vs. Memphis
Dec. 5 vs. Arkansas-Pine Bluff
Dec. 12 vs. Northwestern State
Throwback Game (at Lubbock Municipal Coliseum)
Dec. 15 vs. Abilene Christian
Dec. 20 vs. Duke (at New York, N.Y.)
Dec. 28 vs. UTRGV
Jan. 2 at West Virginia*
Jan. 5 vs. Kansas State*
Jan. 8 vs. Oklahoma*
Jan. 12 at Texas*
Jan. 16 vs. Iowa State*
Jan. 19 at Baylor*
Jan. 22 at Kansas State*
SEC/Big 12 Challenge
Jan. 25 vs. Arkansas
Jan. 28 vs. TCU*
Feb. 2 at Kansas*
Feb. 4 vs. West Virginia*
Feb. 9 at Oklahoma*
Feb. 13 at Oklahoma State*
Feb. 16 vs. Baylor*
Feb. 23 vs. Kansas*
Feb. 27 vs. Oklahoma State*
Mar. 2 at TCU*
Mar. 4 vs. Texas*
Mar. 9 at Iowa State*