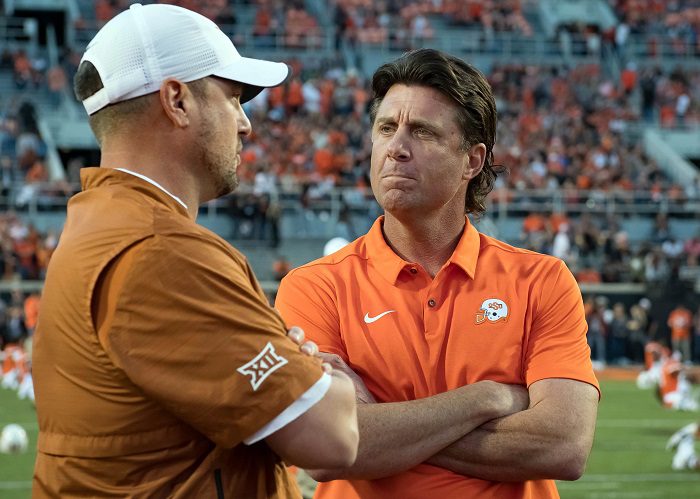 Ah yes, they are BACK. The power rankings are here as we wrap up the first weekend of Big 12 football. In our 2018 version of the Big 12 power rankings, we have averaged out the rankings of our main contributors at Heartland College Sports. These will be done on a weekly basis and released every Monday morning. A friendly reminder before trolling: Power Rankings can swing drastically week to week and are not simply a ranking based on who we think are the best teams in the conference, but rather based on the games that have been played to date.
1. Oklahoma Sooners (Last Week: 2)
And once again, the Oklahoma Sooner are back into the top spot this week. OU's defense has steadily improved since the firing of Mike Stoops, allowing just 17 points in their last six quarters. Granted that's come against TCU and Kansas State, but let's still give 'em credit for now. You put this improving, above average defense, beside this offense that racked up over 700 yards on Saturday, and you have a legitimate College Football Playoff contender. However, because of the loss to Texas, there is no room for error moving forward, and OU has its hands full starting in Lubbock against Texas Tech this weekend.
2. Iowa State Cyclones (Last Week: 3)
This is the highest the Cyclones have been in our Power Rankings this season. It's hard to argue that outside of OU, this is the team you'd least want to face right now in the Big 12 Conference. Iowa State's three-point loss to TCU feels like a lifetime ago. Brock Purdy and a rapidly improving defense has changed the game for the Cyclones, who despite having two conference losses, are definitely still in the Big 12 title hunt. Iowa State has a very soft schedule down the stretch, with Kansas this weekend, followed by Baylor, then it's one tough game against Texas, and Kansas State. Should Iowa State tell Incarnate Word that the game on 12/1 might have to be rescheduled?
3. West Virginia Mountaineers (Last Week: 4) 
The Mountaineers bounced back from their road loss to Iowa State by blowing out Baylor in Morgantown on Thursday night. The offense looked like the offense is supposed to look and had some new wrinkles in it with the tight end. Dana Holgorsen looks to be putting more of his stamp on the offense, along with Jake Spavital. The speed of the defense had the Baylor offensive line struggling all night. Now, it's the big showdown in Austin against Texas, with both teams tied for first place in the Big 12. Heartland College Sports will be in attendance with details to follow.
4. Texas Longhorns (Last Week: 1) 
Texas drops three spots this week after the Longhorns lost to Oklahoma State in Stillwater on Saturday night. There was the much discussed first quarter suspension for Kris Boyd and Davante Davis after the two seniors were late for a meeting. But even after Boyd returned, Tylan Wallace owned him all night long (allll night, allll night). I'm not sure how much it would have mattered, but as I wrote, Herman did the right thing standing his ground and trying to turn around the program, not just in the win column but in the locker room. Texas still has a very good chance to reach the Big 12 Title game, but the Longhorns lost their chance at a College Football Playoff on Saturday.
5. Texas Tech Red Raiders (Last Week: 5)
The Red Raiders had their chances to beat Iowa State in Ames, but Alan Bowman just made too many freshman mistakes. There were three interceptions, including one pick six, and then the fateful intentional grounding penalty in his own end zone in a tied game, which put Iowa State up for good in the final minutes. Still, the Red Raiders have one of the better defenses in the conference and they still have an offense that can put points on the board. The next two weeks against Oklahoma and Texas will be very telling for the Red Raiders.
6. Oklahoma State Cowboys (Last Week: 9) 
Whoa. Mike Gundy, bye weeks and night games in Stillwater are a good combination for the Cowboys. Gundy gave the middle finger to much of his fan base by relying so heavily on Taylor Cornelius and trusting him to run the ball when necessary, including the score that sealed the win. Cornelius has been the most criticized player on the team, but Gundy has stood firm by his former walk-on senior and he delivered against the Longhorns, throwing for three touchdowns and rushing for two more.
7. Baylor Bears (Last Week: 6) 
The Bears' progress took a step back on Thursday night in a blowout loss to West Virginia in Morgantown. But a young team, on the road, in a hostile environment on a weeknight is generally a recipe for disaster. Baylor doesn't have any ranked teams left on its schedule, but there also aren't any guaranteed wins left, as the worst team remaining is TCU, which is a rivalry game. So Matt Rhule is still going to have to fight to get his team bowl eligible this season.
8. Kansas State Wildcats (Last Week: 7)
Kansas State beat Oklahoma State, who beat Texas, who beat Oklahoma… but the Wildcats got waxed by the Sooners on Saturday. Go figure! That's the Big 12 Conference this season. K-State had itself a tough afternoon against the Sooners in Norman and even FOX Sports analyst Joel Klatt had some harsh words for where Bill Snyder's program currently stands. If Kansas State wants to try and put together a respectable finish to the season, these next two weeks are their best bets, with TCU and Kansas on deck.
9. Kansas Jayhawks (Last Week: 10)
YES, YES, YES! Kansas is OUT of the basement in our Big 12 Power Rankings. The Jayhawks snapped a 14-game Big 12 losing streak, along with a 38-game October losing streak in beating the TCU Horned Frogs 27-26 on Saturday in Lawrence. Peyton Bender played his best game of the season, completing 66% of his passes for 250 yards with two touchdowns to zero interceptions. Meanwhile, KU's defense continues to prove its worth, winning the turnover battle 2-0 and picking up five tackles for loss.
10. TCU Horned Frogs (Last Week: 8)
Wow. When was the last time TCU had this bad of a week? The Horned Frogs lost starting quarterback Shawn Robinson for the season to injury, had to kick off their most dynamic player in KaVontae Turpin, due to allegations of assault, and then lost to the Kansas Jayhawks. Yikes. That halftime lead against Ohio State feels like a long time ago, huh? The Horned Frogs are in a three-way tie for last place in the Big 12 and currently deserve to be at No. 10 in the rankings.
**Sign up here for our HCS weekly e-mails for a chance to win FREE Heartland College Sports and Big 12 team gear!!**