Big 12 News
Lincoln Riley has Second-Best Odds to be Cleveland Browns Next Head Coach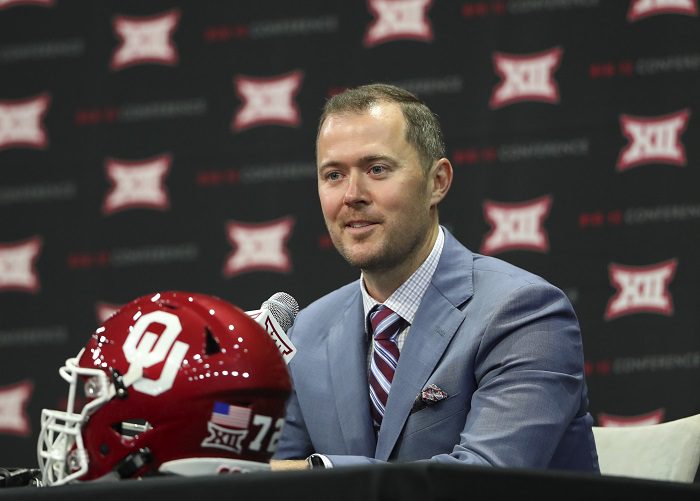 The NFL world was shocked, or maybe not, by the sudden firing of head coach Hue Jackson. And with that, the coaching turnover continues in Cleveland. But the Browns do appear to on the right track with a solid defense and former Oklahoma quarterback Baker Mayfield leading the way. And with the opening, Mayfield's former coach, and current Sooners head coach Lincoln Riley shot to the top of the list.
Who will be the Cleveland Browns next full time Head Coach? (@betonline_ag):

Sean McVay +200
Lincoln Riley +225
Zac Taylor +550
John DeFilippo +650
Dan Campbell +750
Brian Flores +750
Dave Toub +800
Jim Harbaugh +1200
Bill Belichick +2000

— OddsShark (@OddsShark) October 29, 2018
I did get a good chuckle out of Bill Belichick even making the list, but I guess that's what sucker bets are for?
As for Riley, he said during Monday's press conference, "No, not right now. You sit here and answer these questions and I always want to be truthful. The truth is for me, I love Oklahoma. I love coaching here I love college football. I certainly don't have that itch right now. I don't know if I ever will. But I'm never going to be a guy that's going to stand up here and say, 'no way no how any of these things ever happen.' I don't know that. But i know right now I could care less about the NFL." 
Well he certainly didn't say "no". But I have a hard time seeing this happening. Riley is a small-town kid with a young family and he can be King in Norman, make his millions, and be there for the next 20-30 years, while winning, possibly, a couple National Championships.
To give that up to go to the dumpster fire in Cleveland, even with Baker Mayfield, would be a major risk. Remember, don't just think about the career element, think about the personal and family element.
With all that being said, the Browns should absolutely make the phone call.
**Sign up here for our HCS weekly e-mails for a chance to win FREE Heartland College Sports and Big 12 team gear!!**