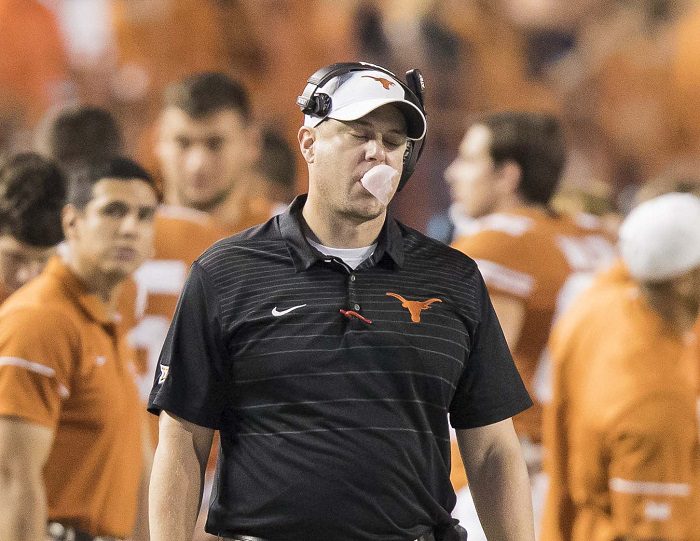 Welcome to the HCS Big 12 mailbag. This mailbag is for all you football junkies out there who root for a Big 12 school who not only have questions about your team, but other teams in the conference as well. So, join me, grab a cold brew or your favorite drink and relax as I answer all your Big 12 questions in my mailbag. For those interested, I will send out a tweet (@Derekduke25) every Monday at noon until last call (No, not 2 AM) at 8 PM CT for you to send in your questions to be answered every Tuesday right here at Heartland College Sports.
I will pick the best question for each mailbag and label it as my question of the week. The winner gets a free HCS Koozie to keep your beer cold (Unless you like it warm, but that's just plain wrong). It was busy question day which tells me that this mailbag is working harder than me at my day job. Unlike the "Big 12 blog" over at ESPN (I say that loosely because one story a month is a tragedy), we here at HCS are determined to give you the best Big 12 coverage on the planet. I want to thank each one of you who submitted a question this week and for those reading, I am glad you could join me. I am enjoying a late beer myself to help me work my way through the mailbag.
There are probably some that don't give a rat's you know what about how my weekend was. If you do care or even if you don't, I am going to tell you anyways. Friday, I relaxed and rested up for another great weekend of college football. Had a busy morning Saturday before the games but don't worry I watched plenty of Big 12 football this weekend and yes even the TCU/Kansas game. Sunday, I went out of town to visit family before hitting the work week grind on Monday. On to the mailbag!
@RPTexan asks: The targeting and roughing the passer rules in CFB are a joke. They're inconsistent from game to game and ref to ref. Even the NFL scaled back roughing. Someone in CFB needs to have some clarity and tell the refs (who are just doing as told) to call the game correctly. Yes, safety is an important issue, but these 2 calls are completely out of hand and change game momentum dramatically! What must happen to get conference commissioners to realize this?
Duke: I can see your frustration with the Texas Tech game this past weekend with the Jordyn Brooks targeting call and the Eli Howard roughing the passer penalty. Let me start by saying this, every single game is going to be called differently. Even though you may see the same crew a few times during the season in the Big 12 calling your favorite team's game, you won't see the same crew every week therefore calls will be different game to game and you must adjust a bit. That's something that won't change from a ref standpoint. I do watch the NFL and I can tell you that the NFL is WAY worse when it comes to roughing the passer. Those quarterbacks making tens of millions of dollars per season are money makers for the league and the NFL did everything in their power to make sure those guys are protected as possible to keep them healthy at all costs because it's more money in their pocket. I prefer the college rules when it comes to hitting the quarterback.
I agree with the way football is going, I hate the targeting calls when a guy with the football makes a sudden move and the guy trying to tackle him must make a last millisecond change that is damn near impossible. There's a difference between intentional targeting and accidental and I think that should be cleared up by still throwing a flag but getting rid of the ejection part of it. Now, for those 2 calls in the Tech/ISU game. I watched that Jordyn Brooks hit over and over at least a dozen or so times and I agree with the call. While I may not agree with the rule, the call was correct since he lowered his head and used the crown of his helmet. Apparently, no matter where you hit someone, you can't do it with the crown of your helmet or else you will get flagged. So, I agree with the call. As for the Eli Howard one, I felt like that one was a bit tacky but those are more of what the ref decides to do there, and he called it.
@jonkev50 asks: In your opinion, was the suspension of the 2 Texas starting cornerbacks for the Oklahoma State game a good move by Coach Herman?
Duke: I don't think it's an unpopular opinion, but I liked it. So, it has been reposted that staring corner Kris Boyd and Davante Davis have been late to multiple team meetings and it has become a serious issue. Also, those guys are both seniors so out of anyone else in that locker room, two senior starters should not only know what to do but to be good examples for the younger guys. If you keep doing something wrong, then you should be punished. Tom Herman decided sitting out for the first quarter would be the punishment and he went through with it and I applaud that. There are plenty of other coaches that would have turned a blind eye to it or make them sit out a series or two at most, but Tom was trying to send a message to his team. If you don't do the right things, then you will face consequences just like you would in the real world. Being on time is a responsibility, whether it's school, work or practice. It's a small thing but it's important. To the people blaming Herman for sticking with his punishment on these two are crazy. Tom Herman didn't let his team down, Kris Boyd and Davante Davis did.
@ted_rood asks: Hey Derek, do you think that Texas underperformed Saturday night or was the effort more indicative of their actual talent? Know every team has ups/down games but most of that game was a stinker, especially the first half. Also, what is your WAY TOO EARLY prediction for ISU/UT?
Duke: There is no doubt that Texas wasn't ready to play in that first half on Saturday. Oklahoma State looked like the aggressor and absolutely punched Texas right in the mouth early and for the rest of the first half, Texas was still a bit woozy. Give credit to Oklahoma State though. They gashed the Texas defense for big runs and big plays in that first half and I want to say this. The Cowboys offensive line was night and day better than what they showed me against K-State a few weeks ago and dare I say they dominated the Texas defensive line at times. Texas was able to catch their footing in the second half outscoring Oklahoma State 21-7 but that wasn't enough to overcome the first half deficit. Texas isn't at a point in their program where they can afford to play a poor first half on the road and still win the game. That is especially true when you are going against a great coach like Mike Gundy. Overall, I thought Texas underperformed but I do think QB Sam Ehlinger played a heck of a game even though they lost.
As for your second question, give me Texas right now. It's a toss up game in my opinion and since that game will be in Austin, I will take Texas by a very small margin.
@JackKively asks: With the Big East vs Big 12 challenge finalized, do you think college football should schedule similar challenges between conferences?
Duke: It's an interesting idea but unfortunately, I don't think it can happen. These college football schedules are set so far in advance now that it would be nearly impossible to get every team in a conference with a clear schedule for something like that. Also, most school have 3 to 4 non-conference games and with some conferences being bigger than others, some schools would be left out of this proposed challenge. One group not in favor of this would be FCS schools who a lot of times rely on collecting paychecks from playing bigger schools. And when do those games take place? In the non-conference. While I think this is a neat idea, I think college football is fine the way it is with the schools having the freedom to schedule who they want.
@MorganCarstens asks: Who have been your biggest surprises this year in the Big 12? Team wise and player wise.
Duke: I had Texas, West Virginia and Oklahoma all in my top 3 Big 12 teams entering the season so there's no surprise there. I would have to go with TCU. I had TCU as the fourth best team in the Big 12 this season when I filled out my poll back at Big 12 media days. Right now, the Frogs are 3-5 and to be honest, they could easily finish 3-9 which would be their worst finish to a season since 1997. This team is a complete mess right now and would probably like to end this season ASAP.
Since I went with a negative surprise, I will go with a positive player surprise. My choice is Oklahoma State WR Tylan Wallace. Coming into the seasons, I thought Tyron Johnson would be the go-to option for the Cowboys but Tylan Wallace has proven me wrong and then some. He is fifth in the country in receiving yards (940) and has 6 touchdowns on the year. At the end of the season, Tylan will likely be a first team All-Big 12 wide out when I fill out my ballot in a few weeks. That guy is a stud.
@PetittFarms asks: More likely to be invited on Dancing with The Stars, Mike Gundy or Tom Herman?
Duke: Mike Gundy. He just has a much better personality and I really think he would have fun with it. Would we see him salsa, do the cha-cha? Maybe even the dougie or the floss? We would have no clue what he would do and to me that makes him much more entertaining than any other coach in the Big 12. I am not saying that he would be a great dancer, but it would sure as hell be fun to watch. Mike Gundy on dancing on primetime television with the entire country watching? Sign me up to watch please.
@Shroudedllama asks: Who wins a street fight, Mike Gundy or Tom Herman?
Duke: More Gundy vs Herman questions, I LOVE IT! Again, this one is a no brainer in my book. I'd put a few hundred dollars of my own money on Mike Gundy. Mike just looks like a scrapper and for his age, he is in great shape. I don't think Herman would be quick enough to try and stop Gundy's roundhouse kick to the face. Herman might be able to get a few punches in, but the sly fox Gundy would ultimately hail victorious.
**Sign up here for our HCS weekly e-mails for a chance to win FREE Heartland College Sports and Big 12 team gear!!**