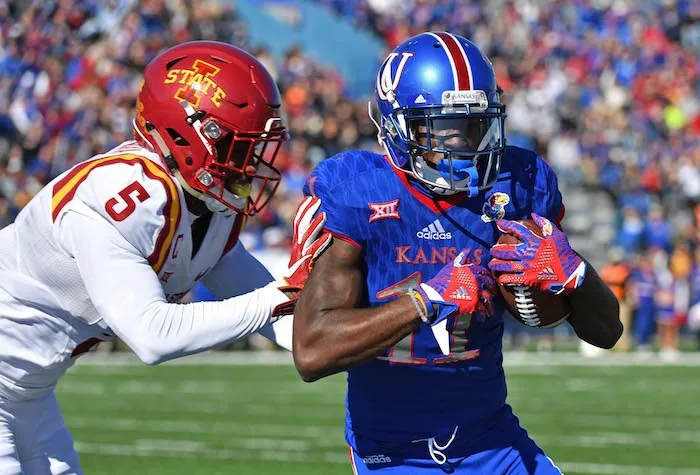 Here is everything you need to know in our Kansas vs. Iowa State preview and prediction.
Game info
11 a.m. CT  | Saturday, November 3rd 2018  | Memorial Stadium, Lawerence, Kansas
TV: FSN (Mark Followill (PxP), Brian Baldinger (A))
Local Radio: Cyclone Radio Network (John Walters)/Jayhawk IMG Radio Network (Brian Hanni)
Satellite Radio: Sirius 113, XM 200
Fun Fact: Kansas sixth-year senior long snapper John Wirtel has bounced back after having two-consecutive seasons cut short due to injury. Wirtel, who has started the first three games for KU for six-straight seasons, handles the long snapping duties for the Jayhawks. After sporting jersey No. 68 during his first five seasons, Wirtel is wearing No. 39 in 2018. His brother, Steven, is the long snapper at Iowa State and also sports No. 39.
Key Players
Iowa State Cyclones
QB Brock Purdy
Purdy hits the road for the first time since he slayed the Oklahoma State Cowboys in Stillwater one month ago. The kid is lighting up the Big 12 and while Kansas is still Kansas, they have forced turnovers at an incredible margin, leading the Big 12 at +16, which is +11 better than anyone else in the conference. Purdy has protected the ball thus far with nine touchdowns to two interceptions.
DE JaQuan Bailey
Bailey will go down as one of the best defensive ends in Iowa State history, leading the team in sacks (5.5) and TFL (10.5). Bailey ranks third in the Big 12 and 19th nationally in TFL (10.5) and fourth in the Big 12 and 27th nationally in sacks (5.5). He gets his shot Saturday against a leaky offensive line.
Kansas
RB Pooka Williams Jr.
Williams was not effective on the ground last week with just 33 rushing yards, but he was effective through the air, with seven catches for over 100 yards. For the season, the stud freshman has ignited the KU offense and has over 650 rushing yards and 217 rushing yards. He will play a key role if the Jayhawks have any chance at an upset. 
LB Joe Dineen
Dineen continues to dominate, with 96 tackles, leading the Big 12 Conference. Dineen had 13 tackles and .5 tackles for loss in the win over TCU last week. In the win, Dineen set the KU record with 42 career tackles for loss.
Key Storylines
Iowa State
The Cyclones are a team on a mission and are playing some of the best football in the conference. For this weekend, protecting the ball is key. As has been noted above (and below), KU has been very opportunistic this season. KU is ranked second to last in the Big 12 in total defense, but lead in categories like turnover margin. Purdy hasn't had any problems with turnovers so far this season, but he needs to make sure that doesn't begin in Lawrence. Defensively, Iowa State needs to keep doing its thing. The Cyclones have given up more than 20 offensive points just three times in the last 15 games (Oklahoma State twice and OU once). Also, the Cyclones have dominated the second half, allowing just 7.1 offensive points in the second half of their last 18 games.
Kansas Jayhawks
KU's defense needs to keep up with Iowa State's defense. The Jayhawks have made huge strides on that side of the ball, leading the Big 12 in the following categories: turnover margin, turnovers gained, interceptions, fumbles recovered and defensive touchdowns. They are in the Top 6 in FBS in each one of those categories as well. Shutting down Purdy, David Montgomery and Hakeem Butler will be needed, because Iowa State is likely to have a field day against the KU offense. Using Pooka out of the backfield in the passing game will be key, as Peyton Bender will need to get rid of the ball quickly, because his offensive line won't hold up well against the Iowa State front seven.
Prediction
Iowa State 35, Kansas 14
The Jayhawks got their win last week and are riding high, but Iowa State is a team trying to shock the Big 12 by running the table and ending up in Arlington on December 1st at AT&T Stadium. Iowa State hasn't played outside of its state in a month. The Cyclones are well rested heading into this game and the KU offense won't stand a chance. While KU's defense has been solid this season, it will get worn down as this game goes on due to time of possession heavily favoring the Cyclones.
**Sign up here for our HCS weekly e-mails for a chance to win FREE Heartland College Sports and Big 12 team gear!!**