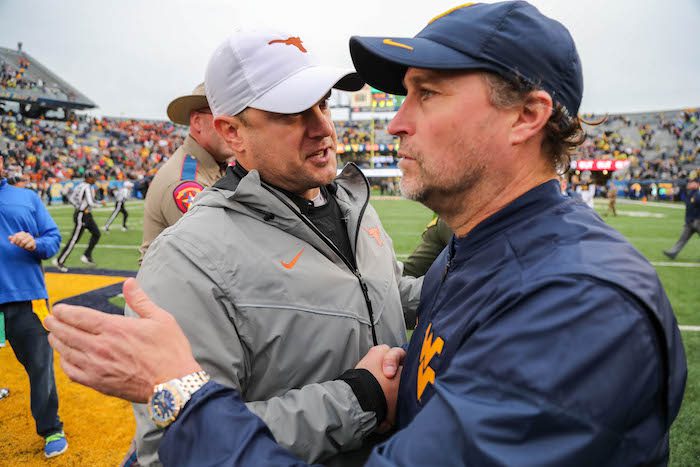 Here is everything you need to know about the upcoming Top 25 match up in our West Virginia vs. Texas Preview.
Game info
3:30 p.m. ET/2:30 p.m. CT, Saturday, Nov. 3, 2018, Darrell K. Royal Stadium, Austin, Texas
TV: FOX (Gus Johnson, Joel Klatt, Jenny Taft)
Away Radio: Mountaineer Sports Network; Sirius 83/XM 83
Home Radio: Longhorn IMG Radio Network; Sirius 113/XM 200
Fun Fact: Texas is off to its first 4-0 home start since 2009 when they advanced to the BCS National Championship Game. West Virginia is 2-1 in Austin since joining the Big 12 Conference.
Key Players
Texas
RB Keaontay Ingram
The offenses are going to explode. The key in this one will be defense. Texas has a solid defense. West Virginia has a decent defense. The key for Texas is running the football. When they pound the rock, they wear down the opposing defense and open up the passing lanes for their quarterbacks. Ingram is Texas' leading rusher at 5.9 yards per carry.
DE Charles Omenihu
Will Grier beware. Omenihu has six sacks in his last four games. He's recorded 9.5 tackles for loss over that span. West Virginia must find a way to block this man. Of course, if they double team him, that could leave another Texas defender free to pummel Grier and co. Best of luck to Jake Spavital this week during the film session!
West Virginia
QB Will Grier
If you want to win the Heisman Trophy, you have to have moments in games that stick in the memories of the voters. This is a season-defining game here. West Virginia is on the road at a national championship winning program. They will play in front over 100,000 fans on national television. Everything is on the line. Does Will Grier live up to the Heisman hype? Or does every dream and expectation West Virginia had to begin the season die on the Forty Acres? This is the game for Will Grier to make a statement.
LB David Long Jr.
West Virginia's defense has been spectacular at times this year. In those same games, they'll look like a middle school team who has no idea what is going on. It's been a tale of two halves in some games. David Long Jr. ranks sixth nationally in tackles for loss with 12.5. The Mountaineers need to get off the field and put the ball in Will Grier's hands to win this one. The longer Todd Orlando's defense is on the field, the higher chance West Virginia escapes Austin with a victory and their College Football Playoff hopes alive.
Key Storylines
Big 12 Championship Implications
Texas and West Virginia are two of the three teams at the top of the Big 12 standings with a 4-1 conference record. Whoever wins this game controls their own destiny to the Big 12 Championship Game.
Texas
Is Texas a contender or a pretender? The national media, and even some of us at Heartland College Sports, thought Texas "was back" after its victory against Oklahoma. The Longhorns went into Stillwater and came up short against an awful Oklahoma State squad. Does Tom Herman have this team together? They've scored major victories at USC and against Oklahoma in Dallas. Then again, they've lost to Maryland and Oklahoma State. It seems like a classic case of Dr. Jeckyll and Mr. Hyde.
West Virginia
Dana Holgorsen is supposed to be the man to take West Virginia to the National Championship. That looks bleak right now considering the Mountaineers started off at No.13 in the College Football Playoff rankings. However, a win at Texas could skyrocket the Mountaineers into the top 10. Oklahoma is still on the schedule. Let's not forget the Big 12 Championship could push them into the top four still. It all starts by going with the cliché 1-0 this week by beating Texas. It's all on the line this week: Big 12 Championship Game, Will Grier's Heisman Trophy hopes, and a spot in the College Football Playoff.
Prediction: Texas 34 West Virginia 31. Vegas typically gives the home team three extra points. This Texas team is furious after its performance in Stillwater. They're furious about the shortcoming at the end. They're furious after the coaching debacle at the end between Mike Gundy and Tom Herman. This team is fired up and they are at home with a contender coming into town. The loss at Stillwater is probably the worst thing that could have happened for West Virginia. What was a solid matchup between two top notch teams has become a no holds barred match. This is going to be a classic. Texas is pissed off. West Virginia is hungry. Look out for the field goal kickers. Cameron Dicker has already shown his resilience this season after missing three field goals at USC before placing the winning kick through the uprights. Mark my words. A highlight for the ages is going to happen this weekend in Austin.
**Sign up here for our HCS weekly e-mails for a chance to win FREE Heartland College Sports and Big 12 team gear!!**