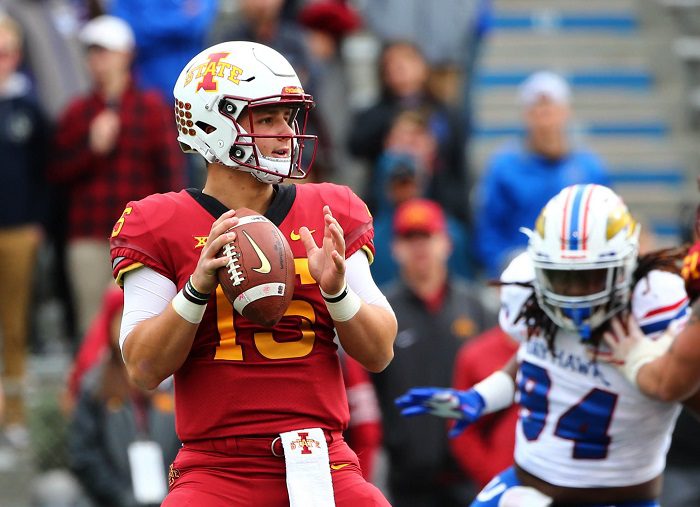 The Kansas Jayhawks were fresh off their first Big 12 in nearly two years when they beat TCU at home last weekend. Much like the Jayhawks, the Cyclones were also coming off a big win against Texas Tech at home. So, with both teams entering this match up with positive momentum, there was some hope that this one could have some amount of anticipation to it. But when it comes to Kansas football, you have no idea what you're going to get from week to week. I guess we got the bad Kansas team this week because the Jayhawks were completely lost and over matched against a red-hot Iowa State team.
Iowa State quarterback Brock Purdy got the party started early as he found wide out Hakeem Butler for two quick scores. One came from 81 yards out and the other from 51. On both plays, Butler displayed his freakish athletic ability as he made great catches and was able to pull away from the defender both times. In fact, the 81-yard touchdown from Purdy to Butler was the longest play of the season for Iowa State.
Meanwhile, the Iowa State defense was cooking as it shut down the Jayhawks offense all game long. KU's only points came on a field goal late in the first half. 
While it didn't look pretty for Kansas, I won't put the blame all on quarterback Peyton Bender. Down in the red zone twice, his wide outs managed to drop a handful of passes that should have been touchdowns. Surprisingly, it was running back Khalil Herbert leading the way for the Kansas offense, finishing with 21 carries for 91 yards, instead of freshman superstar running back Pooka Williams Jr., who had 17 carries for 58 yards.
Whether it was the Iowa State defense or just the lack of execution, the Kansas offense was abysmal. Even when they got into scoring range, they were unable to capitalize. The score at halftime was 20-3 in favor of Iowa State, and the Cyclones clearly let their foot off the gas pedal a bit because they only added one more touchdown in the second half when Brock Purdy found Matthew Eaton for a short touchdown pass. Purdy ended the day 16/23 for 263 yards and 3 touchdown passes as the Cyclones went on to beat the Jayhawks 27-3 in Lawrence.
The Cyclones move to 5-3 on the year and will host Baylor next weekend. Meanwhile, David Beaty's seat is getting hotter by the week as the Jayhawks fall to 3-6 and will face their in-state rival, Kansas State in the annual Sunflower State Showdown.
**Sign up here for our HCS weekly e-mails for a chance to win FREE Heartland College Sports and Big 12 team gear!!**