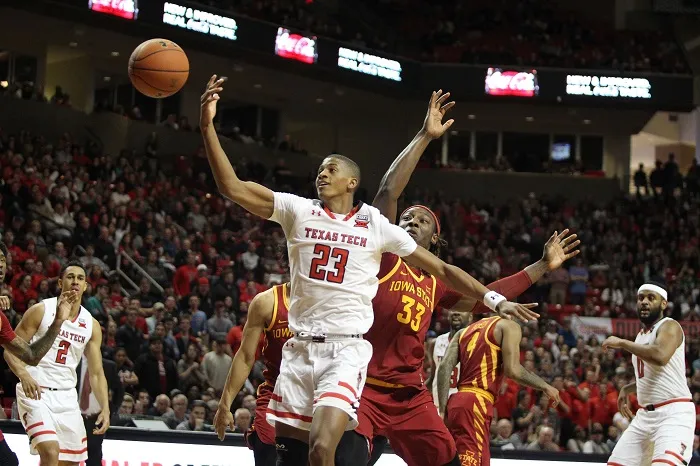 Leading up to the season Heartland College Sports will analyze each of the Big 12 men's basketball teams. Today it's the Texas Tech Red Raiders.
2017-18 Record: 27-10 (11-7 Big 12)
Postseason
NCAA: def. Stephen F. Austin, 70-60 (round of 64); def. Florida, 69-66 (round of 32); def. Purdue, 78-65 (Sweet 16); lost to Villanova, 71-69 (Elite Eight).
Top returning 2017-18 leaders: G Brandone Francois, 6-foot-5 (5.1 ppg, 1.9 rpg), G Jarrett Culver, 6-foot-5 (11.2 ppg, 4.8 rpg), G Davide Moretti, 6-foot-2 (3.5 ppg), C Norense Odiase, 6-foot-8 (3.8 ppg, 4.5 rpg).  
Players lost: F Tommy Hamilton IV (5.4 ppg, 2.9 rpg), G Justin Gray (5.1 ppg, 3.8 rpg), G Niem Stevenson (7.5 ppg, 3.0 rpg), F Zach Smith (6.0 ppg, 3.8 rpg), G Keenan Evans (17.6 ppg, 3.1 rpg, 116 assists), G Zhaire Smith (11.3 ppg, 5.0 rpg).
Recruits signed: SG Kyler Edwards, 6-foot-4, Henderson, Nev. (Findlay Prep); SF Deshawn Corprew, 6-foot-5, Levelland, TX (South Plains College); SF Khavon Moore, 6-foot-8, Macon, Georgia (Westside HS); PF John Mballa, Putnam, Conn. (Putnam Science Academy).
Transfers eligible for 2018-19 season: F Tariq Owens, 6-foot-10, Odentown, Md. (Mt. Zion Prep/St. John's); G Matt Mooney, 6-foot-3, Wauconda, Ill. (Notre Dame Prep/South Dakota).
Transfers expected to sit out in 2018-19: None
Looking ahead to 2018-19: Losing Evans was big, but up until Smith chose to go to the NBA after his freshman season, the Red Raiders looked equipped to cover that loss. Now, with both Evans and Smith gone, along with four other players, the Red Raiders have some question marks entering this season. Culver is the most likely to grow into a true star this season and stands to become the focal point of the offense among the holdover players (Beard is high on Culver taking a starring role). The Red Raiders really need Francois, Moretti and Odiase to all exceed their averages from a year ago, and the players in front of them are gone so there should be opportunity. But with so many pieces gone from last season, head coach Chris Beard clearly needs some other players to step up. Deshawn Corprew put up double-digit points in one season at South Plains College. The two graduate transfers have the potential to make an impact, too. Owens led the Big East in blocked shots last season, while Mooney was a two-time All-Horizon League First Team pick at South Dakota. Mooney also has a solid rep as a defender, too. So the addition of these three veteran players should augment the holdovers and give Beard and his staff the time to sort through an above-average recruiting class and the younger players that were basically consigned to the bench last season. One player to watch is Malik Ondigo. The three-star recruit barely played for Tech last season and could help solidify the Red Raiders' frontcourt rotation. Being an elite program in the Big 12 means sustaining success. This will be Beard's first chance to show he can reload as opposed to rebuild.
Media Day quote: "This third year (with Beard as head coach) what we're trying to do is become consistent. We want to make sure that last year's success doesn't define us as a program. We want to be part of the fight again. It's easy to talk about and difficult to do especially in the Big 12 level but that's the challenge in front of us and, again, I've been pleased with our players." — Texas Tech head coach Chris Beard
**Sign up here for our HCS weekly e-mails for a chance to win FREE Heartland College Sports and Big 12 team gear!!**