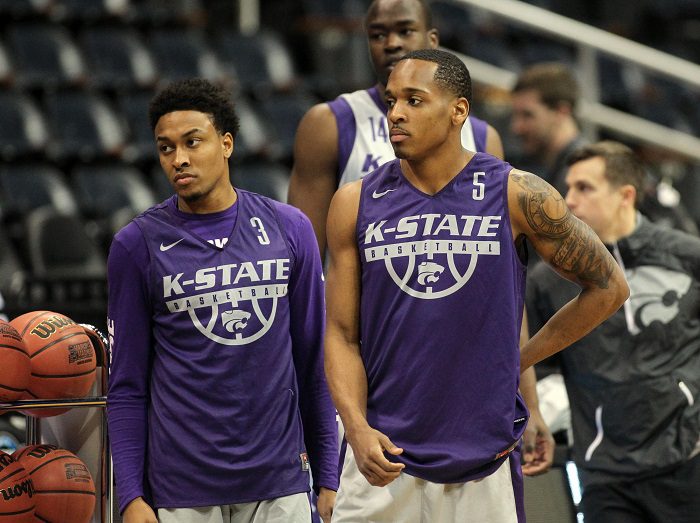 Leading up to the opening of the 2018-19 season Heartland College Sports will analyze each of the Big 12 men's basketball teams. Today it's the Kansas State Wildcats.
2017-18 Record: 25-12 (10-8 Big 12)
Postseason
NCAA: def. Creighton, 69-59 (round of 64); def. UM-Baltimore County, 50-43 (round of 32); def. Kentucky, 61-58 (Sweet 16); lost to Loyola-Chicago, 78-62 (Elite 8).
Top returning 2017-18 leaders: G Barry Brown Jr., 6-foot-3 (15.9 ppg, team-leading 120 assists), F Dean Wade, 6-foot-10 (16.2 ppg, 6.2 rpg), G Cartier Diarra, 6-foot-4 (7.1 ppg, 73 assists), G Kamau Stokes, 6-foot (9.0 ppg, 103 assists), F Xavier Sneed, 6-foot-5 (11.1 ppg, 5.1 rpg), C Makol Mawien, 6-foot-9 (6.8 ppg, 3.4 rpg).
Players lost: F Mawdo Sallah (1.8 ppg), G Mason Schoen (played 20 minutes in 13 games), G Amaad Wainright.
Recruits signed: G Shaun-Neal Williams, 6-foot-1, Florissant Missouri (Hazelwood Central); PF Austin Trice, 6-foot-7, Wabash Valley College (Mount Carmel, Ill.).
Transfers eligible for 2018-19 season: F Patrick Muldoon, 6-foot-7, Eastern Illinois (Basehor, Kan.).
Transfers expected to sit out in 2018-19: None.
Looking ahead to 2018-19: You are looking at the most experienced team in the Big 12. K-State returns its entire starting lineup from a year ago, along with several of its key bench contributors. The Wildcats don't have a huge recruiting class coming in (just two signees), but one is a juco transfer, Trice, who offers immediate frontcourt depth. Williams, the freshman, was a Top 10 recruit in the state of Missouri, so the Wildcats could actually afford to redshirt him this season, if they wanted to. The Wildcats were highly competitive in the Big 12 last year and reached the Elite Eight, and with all of that experience returning K-State is probably the biggest threat to Kansas in the league. The Wildcats know what they can expect from Brown, Wade, Diarra, Stokes and Sneed. What they need is improved interior play from Mawien and a growth spurt production-wise from McGuirl. Plus, if Nigel Shadd and Levi Stockard III can take a step up from last season, there's no reason the Wildcats can't be a 10-deep team right off the bat. With so many top players leaving the team after this season, it's of high importance for head coach Bruce Weber to maximize that experience into a deep run in March.  
Media Day quote: "I just worry about coaching. Everybody says how do you deal with it (negative fans). Very rarely does somebody come up to me in the grocery store and say, 'God, you suck as a coach.' No one does. Those people are the faceless opinion guys that, you know, continually say stuff but they don't ever do it to somebody's face." — Kansas State head coach Bruce Weber.
**Sign up here for our HCS weekly e-mails for a chance to win FREE Heartland College Sports and Big 12 team gear!!**