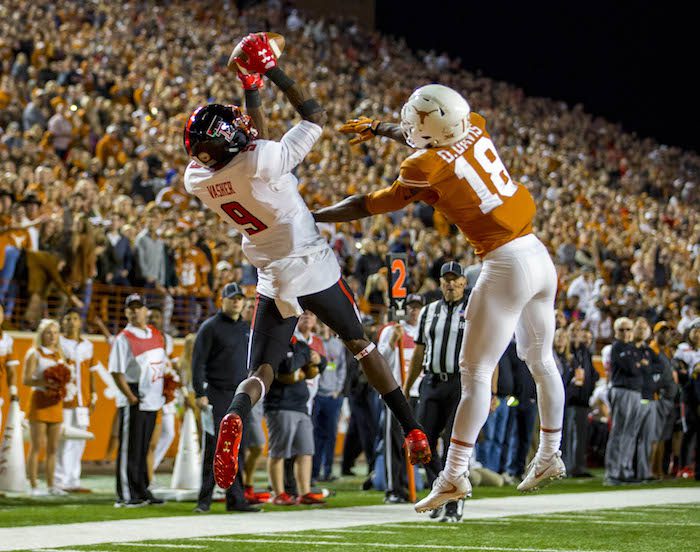 Here's everything you need to know in our Texas Tech vs. Texas preview and prediction!
Broadcast Info
When: Saturday, November 10 @ 6:30 P.M. CT
Where: Jones AT&T Stadium in Lubbock, Texas
TV: FOX (Tim Brando, Spencer Tillman, Jon Morosi)
Radio: Texas Longhorns IMG Sports Network; Texas Tech Sports Network
Fun fact: Texas has won seven of the last nine meetings and 12 of the last 15 overall. Since the start of the Big 12 Conference, the Longhorns are 16-6 against the Red Raiders.
Key Players
Texas
QB Sam Ehlinger
Ehlinger had himself a game last week in the loss to West Virginia. He finished 25 of 36 for 354 yards, with three touchdowns, along with 11 carries for 52 yards and a touchdown run. This season he has attempted a school-record 246 straight passes without throwing an interception. His last interception came in the season opener against Maryland. For the season he has 16 touchdowns to two interceptions.
DB Kris Boyd
Boyd is second in the Big 12 with 14 passes defended. He's expected to have his hands full going up against Texas Tech's stud wide receiver Antoine Wesley.  He's a veteran player who will be needed in a tough road environment against a Texas Tech team that ranks first in the Big 12 with 375 passing yards per game. Boyd has 37 career passes defended which ranks 8th among active FBS players.
Texas Tech
QB __________
It's very unlikely Alan Bowman plays this weekend after being admitted to the hospital against following the loss to OU last weekend. He was back there for his collapsed lung suffered against West Virginia. Then, who is it going to be? Jett Duffey? McLane Carter? One of those two will get the reps. Duffey has been the preferred candidate of Kingsbury's so far, coming in in relief to throw two touchdown passes against the Sooners and rush for one.
CB Adrian Frye 
Frye is tops in the Big 12 in passes defended and will go up against either Collin Johnson or Lil'Jordan Humphrey. Whoever he gets will be a tough match up. He has had at least one pass break up in every game this season since the opener. His 16 passes defended are first in the nation for freshman and fourth in FBS for all players. He was named to the AP midseason All-America second team as he was the only defensive freshman to be recognized on one of two teams.
Key Storylines
Texas Longhorns
The Longhorns have to take advantage of Texas Tech being on one of its back up quarterbacks. The Red Raiders can still pile up yards no matter who is under center, or more likely out of the pistol formation, but whether it's forcing a key turnover early on or slowing Texas Tech down in the red zone, where they have been very good this season, ranking second in the Big 12, will be key.
Texas Tech Red Raiders
Tech needs to slow down the wide receiver duo of Collin Johnson and Lil'Jordan Humphrey. Johnson has 23 consecutive games with a catch, while Humphrey has 19. The two have a really good chance to crack the top five wide receiver duos in Texas history. Together they've racked up 1,463 yards this season and need to get to 1,745 to tie Roy Williams and B.J. Johnson from the 2002 season, which would be 5th in Longhorns history. Texas Tech's pass defense is worst in the Big 12, but that's because of how they play, with a bend-but-don't-break mentality. The Red Raiders rank fifth in the Big 12 in pass defense efficiency.
Prediction
Texas 35 Texas Tech 31
The Longhorns have lost two straight games and are in danger of the positive momentum that Tom Herman built this year going by the wayside and the "Texas isn't back" jokes to come back to life. Texas Tech has played its tail off the last couple of weeks against tough opponents in Iowa State and Oklahoma. We knew a 1-2 stretch over these three games would be a success, but with the loss of Bowman and the fact that this team could be worn down, I have a tough time seeing this happen. The Longhorns will hang on for a tough win in Lubbock.
**Sign up here for our HCS weekly e-mails for a chance to win FREE Heartland College Sports and Big 12 team gear!!**