Big 12 Previews
West Virginia Mountaineers Basketball 2018-19 Season Preview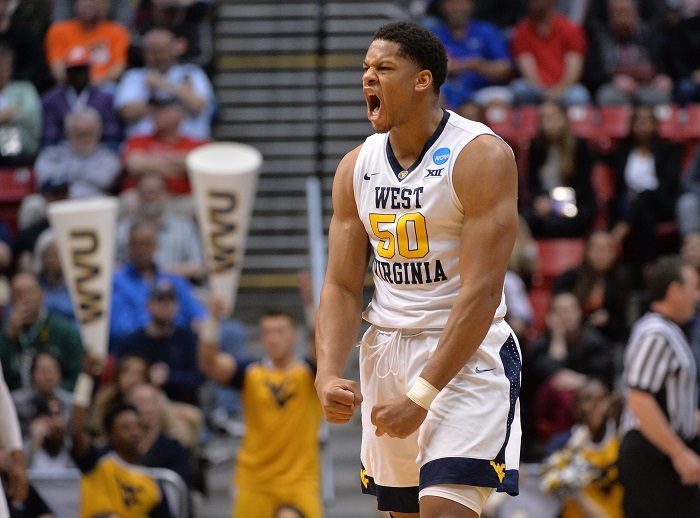 Leading up to the season Heartland College Sports will analyze each of the Big 12 men's basketball teams. Today it's the West Virginia Mountaineers.
2017-18 Record: 26-11 (11-7 Big 12)
Postseason
NCAA: def. Murray State, 85-68 (round of 64); def. Marshall, 94-71 (round of 32); lost to Villanova, 90-78 (Sweet 16).
Top returning 2017-18 leaders: F Sagaba Konate, 6-foot-8 (10.8 ppg, 7.6 rpg), F Esa Ahmad, 6-foot-8 (10.2 ppg, 5.5 rpg), F Lamont West, 6-foot-8 (9.4 ppg, 3.8 rpg), G James Bolden, 6-foot (8.7 ppg), G Wesley Harris, 6-foot-8 (5.3 ppg, 3.6 rpg).
Players lost: G Jevon Carter (17.3 ppg, 4.6 rpg, team-leading 246 assists, team-leading 112 steals), G Daxter Miles Jr. (12.9 ppg, 2.8 rpg, 110 assists, 47 steals), F Teddy Allen (no longer with program), F Maciej Bender (no longer with program)
Recruits signed: PG Jordan McCabe, 5-foot-10, Kaukauna, Washington; PF Derek Culver, 6-foot-8, Wolfeboro, New Hampshire (Brewster Academy); SG Trey Doomes, 6-foot-3, Fort Lauderdale, Florida (University School); PF Andrew Gordon, 6-foot-10, Niceville, Florida (Northwest Florida State College). SF Emmitt Matthews Jr., 6-foot-6, Tacoma, Wash. (Wilson); G Jermaine Haley, 6-foot-7, Vancouver, BC (Odessa CC); G Taevon Horton, Fairmont, WV (Fairmont Senior).
Transfers eligible for 2018-19 season: None
Transfers expected to sit out in 2018-19: None
Looking ahead to 2018-19: Replacing Carter and Miles is a big deal for West Virginia, as the pair were four-year starters and were not only the Mountaineers' top two offensive players but the team's leaders. This could be a frontcourt-dominant team, at least to start with, since Konate and Ahmad are back (both flirted with the NBA last offseason). Even at a listed 6-foot-8, Konate may be the league's best center, with an ability to finish offensively and block shots defensively (sometimes so forcefully you're scared for the offensive player). Ahmad is a quality forward who, unlike last season, will have the luxury of starting the season with the rest of the team. Bolden must move from a solid backup to Carter to the guy that runs the point 25-30 minutes a game. That will be a bit of a transition. From there last year's role players — such as Harris and West — have to be heavier contributors. Then, head coach Bob Huggins must find some depth. G Brandon Knapper, a redshirt freshman, was a three-time all-state player in West Virginia. Expect him to get quality minutes in non-conference. The Mountaineers have a huge recruiting class this season. Expect Gordon and Haley to get early minutes, since they have junior college experience. Culver was a Top 100 recruit in the 2018 class and Huggins will probably get him playing time early. Konate, Ahmad and  Bolden feel like locks for the starting lineup. But there seem to be two spots open and Huggins must sort through several options to figure out the eight or nine guys he'll count on when league action rolls around.
Media Day quote: "(On Esa Ahmad) His best games are really when he plays without the ball because he understands how to use screens. He understands how to take advantage of defensive people breaking down. He's got those huge, huge hands. So he doesn't fumble balls. He can rebound the ball out of his area because he's got huge hands." — West Virginia head coach Bob Huggins