Big 12 News
Report: Jerry Jones, Cowboys Have an 'Affinity' for Lincoln Riley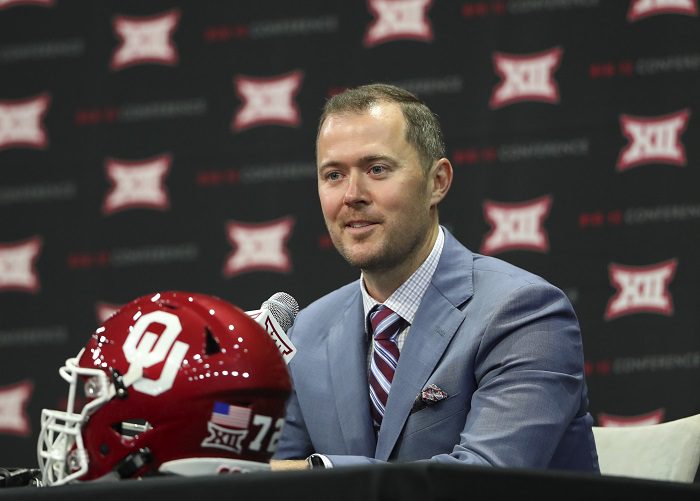 As the Oklahoma Sooners continue to roll their way through the Big 12 and potentially another conference championship, and maybe, another College Football Playoff, rumors continue to connect second-year head coach Lincoln Riley to the NFL.
Ian Rapoport said on Sunday morning that Dallas Cowboys head coach Jason Garrett is safe through the end of the season, but that both Jerry and Stephen Jones have an "affinity" for Oklahoma head coach Lincoln Riley and that he would be a target if they move on from Garrett after the season ends.
From @gmfb Weekend: The #Cowboys seriously weighed moving on from OC Scott Linehan during the bye week and have an affinity for #OU coach Lincoln Riley if they move on from Jason Garrett… who @MikeGarafolo says may take back play-calling. pic.twitter.com/8HRHaSKAHw

— Ian Rapoport (@RapSheet) November 11, 2018
Jones has made it clear he is sticking with Dak Prescott at quarterback and plans to make it work with him under center. He recently got the quarterback some help by trading for wide receiver Amari Cooper. But right now, the Cowboys don't have an offense that works. They are 26th in points per game and 25th in efficiency.
Lincoln Riley would be a great option to try and fix this. Despite losing Baker Mayfield, OU leads all FBS teams in total yards with 5,771, ranks 8th in passing yards with 3,197 and 8th in rushing yards with 2,574. The Sooners' 49 points per game ranks second in FBS behind Utah State and ahead of Alabama.
It was well noted this offseason that NFL coaches have been heading to Norman to learn from him and about his offense.
The question remains as to what Riley wants. The money is very good in Norman, but as a Texas kid, is the Cowboys job one of those that he can't pass up? I don't believe the Browns job makes sense, even with Baker Mayfield there. If it doesn't work, you're out of a job in two years. But "America's Team"? There's still something to be said for the Cowboys job, even though they haven't had much success the past couple of decades.
**Sign up here for our HCS weekly e-mails for a chance to win FREE Heartland College Sports and Big 12 team gear!!**