Big 12 News
Tom Herman Accused of Infidelity by Former Ohio State Assistant Zach Smith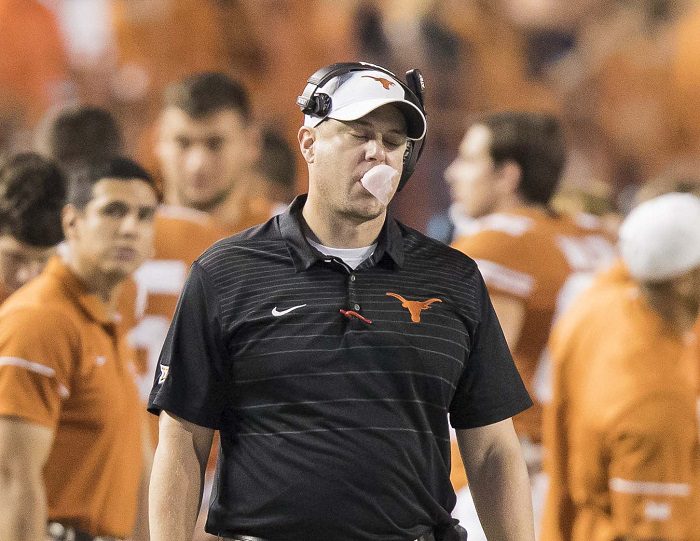 A lazy November Sunday night got completely out of hand thanks for disgraced former Ohio State assistant coach Zach Smith. He went on a Twitter rant against Texas Longhorns head coach Tom Herman, accusing Herman of cheating on his wife, Michelle, several times over the years and having evidence to back it up.
Smith has long accused Herman and his wife of giving money to his ex, Courtney Smith, who accused Smith of domestic violence, which then led to the alleged cover up by Ohio State head coach Urban Meyer, who was suspended while Ohio State University investigated the allegations of what Meyer knew and when. Herman and Smith were both on the Ohio State staff under Meyer before Herman took the head coaching job at Houston.
Meyer was eventually reinstated, Smith was fired, and for whatever reason he chose Sunday to unleash on Herman, who he has said is behind all these allegations against him that ruined his career. It's well known that Smith did beat out Herman for a big-time Austin, Texas recruit last year and some alleged that's one of the reasons Herman may have been motivated to help unveil the allegations against Smith from earlier this year.

Here are some of the Twitter highlights, or lowlights, from Smith on Sunday night.
I was crucified and ruined on social media… for no reason. However…….. I know several high profile coaches that SHOULD have been…. know what I mean @CoachTomHerman ? Remember the several times you cheated on @belletjh and she told my ex about it? Because… I do. Lmao

— Zach Smith (@CoachZachSmith) November 11, 2018
Hey @Brett_McMurphy – report this. I witnessed Tom Herman cheat on his wife (@belletjh ) several times… once at an Asian massage parlor… and just texted him that I'm done protecting him. We gonna be "honest" now!? Or nah… LMAO

— Zach Smith (@CoachZachSmith) November 11, 2018
Hey @CoachTomHerman – remember when you told me about when @belletjh caught you cheating on her with an Iowa State recruiting girl?? Lmao… I do. 😂😂😂😂

— Zach Smith (@CoachZachSmith) November 11, 2018
The problem w/ coaching… ur not "supposed" to be real. But I'm snitching… bc @CoachTomHerman cheated on @belletjh several times. She used to call my ex & cry about how he was such a cheating shitbag. They will deny it… like she told her "I don't want to lose my life" 😂

— Zach Smith (@CoachZachSmith) November 11, 2018

That was not even all of it.
Smith ended the night by saying he was done for now, but he had "more coming."
Soooo many people want to talk about football fandom bias. Keep DM'ing me. I love you guys!!! Problem is… I'm not gonna sit here silent. So y'all have a good night. Plenty more coming for ole @CoachTomHerman and @belletjh ‼️

— Zach Smith (@CoachZachSmith) November 12, 2018
I think it's safe to say Smith can take the word "coach" out of his Twitter handle, unless he plans to coach Pee Wee Football.
**Sign up here for our HCS weekly e-mails for a chance to win FREE Heartland College Sports and Big 12 team gear!!**