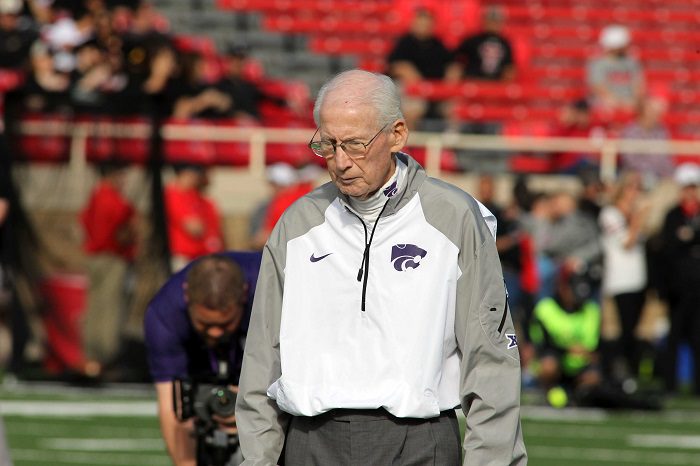 When Bill Snyder first set foot on the sidelines at Kansas State back in 1989, the program was in shambles. Snyder faced what many viewed as an impossible task. The head coaching job at K-State wasn't a highly-coveted position, but the Missouri native paid little attention to the critics. "It's a tremendous challenge here," he famously stated in his inaugural press conference in November of 1988. "And I think the opportunity for the greatest turnaround for college football exists here today. And it's not one to be taken lightly." Snyder did exactly what he said he would, and during his tenure has led his program to 19 bowl games and two Big 12 Championships. Fast forward to today, nearly 30 years after Snyder made his famous remarks, the Wildcats sit at 4-6 and are once again on the verge of returning to irrelevance.
As a Kansas State graduate and lifelong fan, I want nothing but the best for the program and Snyder. What can you say about what he's done? The 79-year-old has devoted a significant part of his life to K-State and the city of Manhattan. He even helped rebrand K-State which eventually led to the creation of the Powercat logo. In 1989, Sports Illustrated released an article titled "Futility U" in which described the Wildcat football program as "America's most hapless team." Inducted into the College Football Hall of Fame in 2015, the Wildcats coach has worked to instill values in his players, both on and off the field. It's completely plausible to say that if Snyder never came along, there would be no longer be football at K-State. Without a doubt, he will go down as one of the all-time greats to grace the sidelines in college football, and the story of the greatest turnaround in sports will be told for generations to come.

In lieu of the recent struggles, there has been a divide within the K-State fanbase. Some are ready to move on from Snyder, while others won't dare to question his logic. For the most part, those calling for Snyder to move on were a great minority, but I'm getting the sense the tables have turned. I'm from a generation that grew up watching Snyder, so I can't speak from experience regarding the state of the football program before his arrival. This much is clear to me: this is the most uncharacteristic, Snyder-coached team I have seen in my lifetime. Barring upset wins to finish out the season, the Cats will likely not be bowl eligible to the first time since 2009. From the turnovers to the inability to move the ball on offense, this team has looked lethargic all season. Through 10 games, Snyder's team ranks 90th in FBS in third-down conversion percentage and 114th in tackles for loss allowed. The narrow victory over the Jayhawks managed to save the season from a complete disaster, but the future looks bleak for Snyder and his coaching staff. With a 2019 recruiting class ranking 9th in the Big 12 according to 247sports.com to go along with a growing list of decommits, the need for a change appears to be approaching faster than most anticipated.
We've all heard the stories of Snyder holding the program hostage until his son, Sean, is given head coaching position. No one around the program wants to see a bad breakup between Snyder and the university, but he appears to be putting K-State athletic director Gene Taylor in a difficult situation. I can certainly understand Snyder's desire to have Sean continue on his legacy. The real issue with the long-time K-State special teams coordinator is that he doesn't possess the experience necessary to lead a Power Five program. What I find puzzling is that Sean hasn't looked elsewhere, perhaps at a smaller university, to gain some head coaching experience under his belt. To be clear, I have nothing against Sean Snyder, but the thought of him attempting to fill his father's shoes seems like a disaster waiting to happen. I don't envy Taylor one bit. In just his second year as athletic director, he could be tasked with replacing one of the greatest college coaches of all-time. To add fuel to the fire, Taylor would have to balance this without losing support of the Snyder family. In addition, he would also need to keep in mind the interests of the boosters and alumni who want to see this program moved in a different direction. With the season near conclusion, I wouldn't expect any sort of announcement until after the finale against Iowa State.

While the odds of landing a high-profile head coach are low, this position is certainly more attractive that it was 30 years ago. Jim Leavitt is a name that comes up in the head coaching conversation quite often. Brett McMurphy reported last season that Leavitt had agreed to become the head coach in waiting until Snyder had the deal thrown out. Another name that I find interesting is Brent Venables. The current Clemson defensive coordinator has deep ties to K-State, playing under Snyder from from 1991 to 1992 and serving as a graduate assistant and linebacker coach from 1993 to 1998. It may seem crazy, but what about Bob Stoops? The former Sooner coach also worked under Snyder as a defensive back coach from 1989-1990 and defensive coordinator from 1991-1995. Sure, it's a long shot, but if I was Taylor, I would at least give him a call. Then again, maybe the next Wildcat coach will have no current ties to the university.
As for now, Bill Snyder is still the head coach at Kansas State. Will he hang up his iconic windbreaker for the final time at the end of this season, or will he continue to try and prove the critics wrong and jeopardize the legacy he's established? I don't just speak for myself when I say that I hope Snyder calls it a career at the end of the season. I don't want to take away anything from Snyder and what he's done for the university. In fact, the struggles this season have given me a greater appreciation for the rejuvenation he's brought to the football program, the university and the entire community of Manhattan. He has achieved what he set out to do back in November of 1988. He took a program that was accustomed to losing and established one that competes for championships. For that, he should be celebrated. It's not easy to run a Division I program, and it's certainly a different job than it once was 30 years ago. As it appears the final chapter of the Snyder era is being written, a new story is waiting to be told. But all great stories must come to an end, even if we're not ready for the ending.
**Sign up here for our HCS weekly e-mails for a chance to win FREE Heartland College Sports and Big 12 team gear!!**