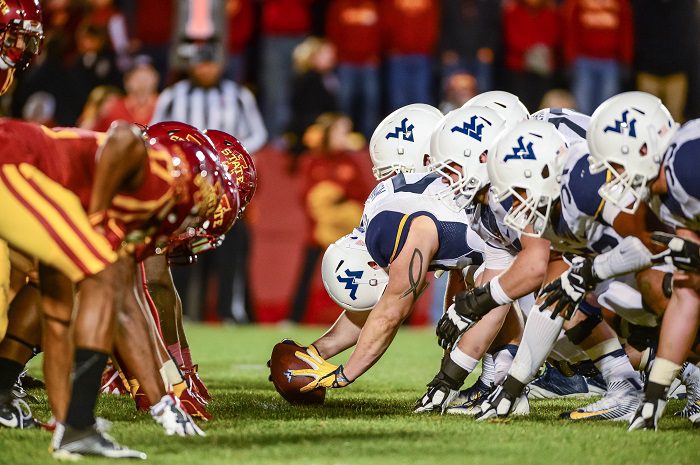 Here is part two of my weekly Big 12 football mailbag. The bag was so full I had to break it up this week. Thank you and enjoy.
@istudytrees asks: If Iowa State ends up winning out, will I get to see Wazzou vs ISU in N'awwlins?
Duke: Well, if your Cyclones win out, I think they would wind up being Big 12 champions but with their record, they would not get a playoff bid. So, you are right in them likely being in the Sugar Bowl down in N'awwlins, but they wouldn't play Wazzou. They would face an SEC team in the Sugar Bowl and it appears that that team would be Georgia. With the way everything would shake out I would say the Dawgs would be the team the Cyclones would see down there. Side note: I am down to have a few hurricanes and eat some po'boys if that happens.
@ReederRankings asks: What are the chances the Big 12 plays themselves out of the CFP race with West Virginia and Oklahoma potentially playing each other 2 weeks in a row? (As in they split the 2 matchups and both finish with 2 losses)
Duke: As of this very moment, I have Oklahoma facing Iowa State in the Big 12 title game. I believe Oklahoma will beat West Virginia and Iowa State will win out their regular season schedule. So those two would then face off and I would have Oklahoma with a solid shot at getting in. If Oklahoma and West Virginia face off twice in eight days, I still like the Sooners. It would be a shootout, but I am not sure anyone can outscore Kyler Murray and that offense right now. I'd say it's a toss up game but still give me Oklahoma. Even if the Sooners can win out, they need some help. They need Michigan or Notre Dame to lose to have a shot at getting in. Overall as I see it, I think it's a 50/50 shot at a Big 12 team getting in. Remember, college football is NUTS.
@PetittFarms asks: How well does Oklahoma State's quarterback handle blitz packages? Wasn't pressed at all by Oklahoma.
Duke: Taylor Cornelius can move a little (Not very fast though) but his accuracy on the run isn't very good at all. I've seen it all year and I think you could sum up that answer by going back to the two-point conversion play they ran against Oklahoma. They had him roll out to his right and WR Tylan Wallace was wide open. Corn Dog threw the pass way behind him and Tylan didn't even really have a chance to make a play. Now in Bedlam, Oklahoma didn't really pressure him at all and I don't think there is a doubt in my mind that he struggles a bit when pressured. Like I said earlier, he doesn't throw the ball well at all when he is on the run.
@cychas87 asks: Do you believe Matt Rhule had no idea every player had personnel foul assessed to them after the fight? Looks like an easy cop out.
Duke: I buy it. I think it was a silly rule anyways since when the fight was going on, Charlie Brewer was on the sidelines drinking Gatorade. Anyways, I have no reason not to believe Matt Rhule on that call. The bottom line here is that I have no idea what the Big 12 refs are doing most of the time, so I wouldn't be shocked if they didn't even let Matt Rhule know this to begin with.
@LongHornFrenzy asks: Thoughts on the Iowa State @ Texas game?
Duke: Disappointed for the folks who don't live near the area and don't get Longhorn Network. This game should have been on a national stage but since I live in south Texas, I do get it, but I still feel for others who don't and who may miss out on a great game. With that being said, I don't like the way the Texas defense has been playing lately. Iowa State on the other hand has the best defense in the Big 12 and with Brock Purdy at QB, I think Iowa State is on a mission right now to get to the Big 12 title game. I'll take the Cyclones by a field goal on the road.
**Sign up here for our HCS weekly e-mails for a chance to win FREE Heartland College Sports and Big 12 team gear!!**