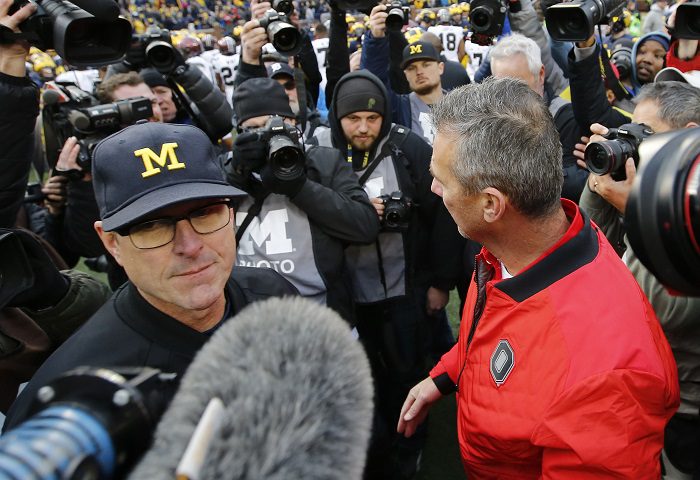 The Heartland College Sports crew was having a debate last week that we decided to filter over onto our site to share this conversation with you. And that is: Who is the least likable coach in college football? It does not need to be a Big 12 head coach, simply any head coach in college football. So who do you think it is? In fact, none of us chose a Big 12 coach, since after all, that is our conference and we don't want to absolutely piss some of our loyal fans. But let's be honest, there are plenty of options when you look at the rest of college football from the Group of 5 (Lane Kiffin dodged a bullet here), to the Pac-12, ACC … and OF COURSE the Big Ten and the SEC. Feel free to chime in in the comments below on who we missed!
Matthew Postins: Bobby Petrino
So, dislike is a hard word for me. I'm a nice person. I like people. And I don't like to say I dislike people I don't know. So, how about, "The head coach I have the least amount of respect for?" That's easy. He's the coach that just got fired in Louisville, Bobby Petrino.
It would be easy to pick on Petrino's motorcycle accident, which led to the revelation of his affair with an Arkansas staffer and led to his firing with the Razorbacks.
It would also be easy to pick on Petrino's "secret interview" at Auburn after his first season at Louisville (first stint) in 2003. Or the fact that he signed a fat deal at Louisville in 2006 and left seven months later for the NFL. Or that he bailed on Western Kentucky after a year of "career rehab) for his old job at Louisville.
But to me, the high point of my lack of respect for Petrino lies in what he did in Atlanta.
He took the Falcons job in 2007 and was supposed to tutor Michael Vick. Of course Vick's side business, dogfighting, eventually sent him to jail. So it was a rough season for Petrino. Until, that is, on Dec. 10, 2007, when Petrino failed to show up to the team facility, got on a private plane and headed to Fayetteville, Arkansas, to take the Razorbacks job. Petrino couldn't even be bothered to face his players. He left them a note, which was laminated, and a team assistant had to leave one in each player's locker.
I was covering the Tampa Bay Buccaneers at the time. It just so happened that the Falcons were playing the Bucs that week and our Wednesday opponent phone interview just happened to be with former Buc and then-current Falcons running back Warrick Dunn. Now, if you don't know about Dunn, he's one of the NFL's truly nice guys. His mom was murdered while off-duty as a cop in New Orleans. He funneled that grief into a stellar college career at Florida State, a solid NFL career and an NFL Man of the Year award for his charity, Homes for the Holidays, which helps single-parent households buy homes for the first time (one of those families was current Houston quarterback Deshaun Watson's).
I had spoken to Dunn before. He was a great quote. He wasn't that good a quote after Petrino left. In fact, as he tried to control his words, you could tell Dunn was pissed about the disrespect. I remember after the call talking to veteran Bucs writers, ones who had covered Dunn since the beginning saying, "I've never heard him like that."
That's what stuck with me. Petrino managed to tick off one of the NFL's truly nice guys.
Petrino has left scorched earth where ever he has gone. He's made plenty of money. Perhaps the time is right to exit the stage and leave us wanting … well … for him never to return.
Pete Mundo: Jim Harbaugh
This guy seems to wear out his welcome everywhere he goes. He's quirky, but not in a likable way like Mike Leach, it's more in a selfish, douche-y manner that doesn't sit well with most people. There's also the hype that continues to build at Michigan, and while Harbaugh deserves credit for currently being ranked in the Top 5 in the country, he has yet to beat Ohio State during his time with the Wolverines, which matters far more than beating Indiana and Rutgers to a pulp year after year. Michigan still has yet to reach the Big Ten Championship game and their last conference title was 15 years ago, but like a few of the other blue bloods, they are always a top 15 team in the preseason. Maybe this year will really be different and Harbaugh will win his final two games against Indiana and Ohio State and find himself in the Big Ten Championship Game with a chance to reach the College Football Playoff. He might do it. But here's the thing: if he does, it means the rest of the nation has to hear even more from Harbaugh, which will in many ways make him even more unlikable than he currently is! Go figure. And I'll take a nice pair of jeans over the khakis any day of the week.
Dave Beall: Urban Meyer
It has the be Bill Snyder right?  Everyone hates that guy! Calm down, Kansas State fans! It's obviously a joke.  Bill Snyder is a legend and a treasure. I'm sure my actual answer will be a pretty popular one.  I don't like Urban Meyer. He's a hell of a coach but he sure comes across as a scumbag. Using "health issues" that no one rally ever bought into to leave Florida and then taking the Ohio State job a year later always rubbed me wrong, and now this whole thing with his receiver's coach just confirmed to me that he cares about winning PERIOD and will do whatever will help him do that whether it be lying to get out of a contract to protecting a domestic abuser.  I also care less and less for Tom Herman the more I watch him. He doesn't seem to have copied Meyer's shadiness from their time together but he's just as smug, if not more so. When Texas wins, he brags. When they lose he turns into an excuse maker blaming everyone but himself. After the Maryland loss it was his players. After the Oklahoma State and West Virginia losses the whining didn't come directly from Herman but I have a feeling the complaining about the narrowness of sidelines and opposing players doing the horns down hand sign started with him. (Off subject, but if another team doing horns down is an unsportsmanlike conduct penalty shouldn't a Texas playing giving the hook 'em sign be a taunting penalty?) I get that all coaches are arrogant alpha males, they kind of have to be to do their jobs, but those two guys rub me the wrong way compared to all the others.
**Sign up here for our HCS weekly e-mails for a chance to win FREE Heartland College Sports and Big 12 team gear!!**