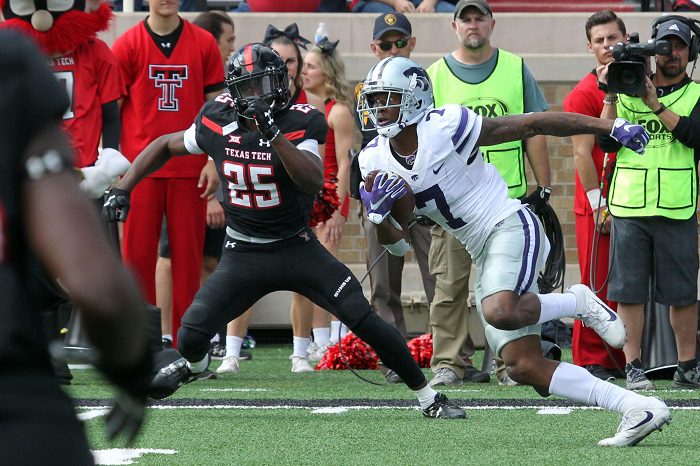 Here is everything you need to know about the upcoming Big 12 Conference game in our Kansas State vs. Texas Tech preview and prediction.
Game info
2:30 p.m. Central Time, November 17th, 2018, Bill Snyder Family Stadium, Manhattan, KS
TV: ESPNU (Jay Alter, Mike Golic Jr.)
Radio: Texas Tech Sports Network (Brian Jensen); Kansas State Sports Network (Wyatt Thompson); Sirius 135/XM 207
Fun Fact: These two teams met in the first-ever Big 12 Conference game when Kansas State beat Texas Tech 21-14 on August 31st, 1996.
Key players
Texas Tech
QB Jett Duffey
It looks like Duffey will again start at quarterback this week for the Red Raiders. Last week he totaled over 500 yards against the Longhorns, with 444 passing yards and 80 rushing yards, finishing five yards shy of entering the top 10 in single-game history for total yards of offense. But for all his eye-popping yardage numbers, Duffey needs to take care of the ball better. He had three fumbles last week, lost two, along with one interception. That has to improve against the Wildcats.
LB Jordyn Brooks
Brooks had a great game against the Longhorns with 15 tackles, 1.5 sacks and 1 tackle for loss. He's 11th in the Big 12 with 6.7 tackles per game and in Big 12 play he ranks in the top 20 in the conference in sacks and tackles for loss. Dakota Allen may get a bit more attention, but Brooks can be just as dangerous and he's had seasons highs in tackles each of the past two weeks.
Kansas State
RB Alex Barnes
As Barnes goes, so go the Wildcats. When Barnes rushes for at least 100 yards, the Wildcats are 3-2. That might not sound great, but their two losses are by a total of four points. So when Barnes gets over 100 yards, Kansas State wins or has a great chance to win but comes up short. When he doesn't rush for 100 yards they are 1-4 and have lost those four games by an average of over 22 points per game.
LB Da'Quan Patton
Patton lead the team with 62 tackles and is consistent with at least four in ever game. Last week, Patton had 9 tackles and a pass defended against the Jayhawks. For the season, he ranks 14th in the Big 12 Conference with 7 tackles per game and should be busy on Saturday in the middle of the Kansas State defense.
Key storylines
Texas Tech 
Frankly, focus is a big part of this game. Texas Tech is the better team, but they're on the road and they've come off a brutal three-game stretch of Iowa State, Oklahoma and Texas. The Red Raiders can't have a letdown game since they lost all three by tight margins (a combined 21 points). But as for something in the X's and O's department, the Red Raiders need to stop the run. Make Skylar Thompson and the passing game beat you. Kansas State is ranked 117th in the country in passing offense, 116th in total offense, 120th in scoring offense and 111th in passing efficiency. Only in rushing offense are they in the top 100, at a mediocre 57th. Clog up Alex Barnes and let the secondary go to work.
Kansas State 
Turnovers. I mentioned above that Duffey has had his problems, and Kansas State has improved in turnover margin as the season has gone on. The Wildcats started the year -5 in the turnover department. But Kansas State has turned the tide over the last seven games, going +3 over that stretch. Texas Tech is going to move the ball up and down the field, because no matter who is playing quarterback, that's what Kliff Kingsbury offenses do. But getting key turnovers will help K-State pull off the upset. Also, the Wildcats need to improve their red zone defense to win. Kansas state ranks 9th in the Big 12 in red zone defense, while Texas Tech comes into this game with a top-3 red zone offense.
Prediction: Texas Tech 35, Kansas State 24. I trust Texas Tech's secondary in one-on-one match ups against K-State's mediocre group of wide receivers and then for the TTU front seven, including Allen and Brooks, to keep the run game in check. Texas Tech is highly motivated to finally become bowl eligible after a tough three losses to ISU, OU and UT. Meantime, K-State is in a weird place. Is Bill Snyder retiring? Is he not? The players were not allowed to talk to the media this week and who knows what that is all about. K-State struggled last week and needed a late comeback to beat KU. Assuming Jett Duffey doesn't make too many mistakes, the Red Raiders take care of business with relative ease.
**Sign up here for our HCS weekly e-mails for a chance to win FREE Heartland College Sports and Big 12 team gear!!**