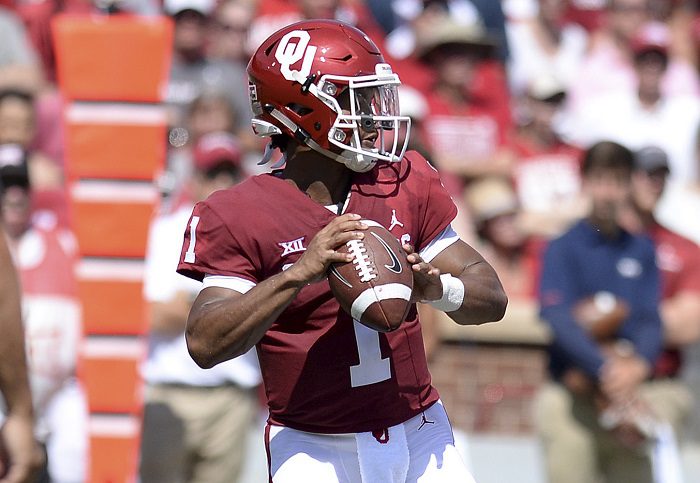 Here is everything you need to know in the upcoming Big 12 match up in our Oklahoma vs. Kansas preview and prediction.
Broadcast Info
When: Saturday November 17th @ 6:30 P.M. CT
Where: Gaylord Family Oklahoma Memorial Stadium
TV: FOX
Radio: KU/OU IMG Radio Network
Key Players
Kansas
QB Peyton Bender- Even though he is averaging just 174.22 passing yards per game, Peyton has only thrown 2 picks along with 12 touchdown passes this season. While the TD/INT ratio is good, those touchdown numbers need to be higher. What's even more concerning is that Peyton is completing just 56.3% of his passes this season. Bender will need to have the game of his life if the Jayhawks have a prayer in this one.
WR Steven Sims Jr.- Steven is probably one of the most underrated wide outs in the entire conference. If you look at his numbers this season, they aren't impressive really at all but most of that falls on the shoulders of poor quarterback play. Either way, Oklahoma struggles against the pass and Steven Sims Jr. may be able to take advantage of that.
DT Daniel Wise- While he isn't putting up the same numbers as last season, Daniel Wise is still on of the best defensive tackles in the Big 12. Even though he plays tackle, he leads his team in both sacks and tackles for loss so far this year. Daniel will be responsible for clogging up running lanes against a tough Oklahoma rushing attack.
Oklahoma
QB Kyler Murray- Do I really need to post any stats here? Kyler leads the Big 12 in total offense (By a single player) and is a legitimate Heisman contender. This guy is on another level and then some right now.
WR Marquise Brown- Much like his team, the Jayhawks struggle against the pass. I thought to myself, who better to torch the Kansas secondary than the speedy Hollywood Brown? Marquise averages 95 receiving yards per game and has caught 8 touchdowns on the year. This is a guy who can take it to the house on any given play.
LB Curtis Bolton- If Kansas tries to slow this game down, Curtis Bolton will be the one trying to slow down the Jayhawk rushing attack. He is second on the team in tackles and tied for the team lead in tackles for loss. More importantly, Curtis is the leader of this Sooner defense that needs more guys to step up.
Key Storyline
Can Kansas Slow the Game Down?
It's no secret that the Oklahoma defense struggles all around. Both against the run and the pass. The question for Kansas is what do you want to do on offense? Go for the shootout? Or try and slow the game down? I'll take slow the game down for 500 Alex. Getting to a shootout with Oklahoma in this offense is not a good idea. In fact, it would be stupid. So, the Jayhawks need to slooooowwww this game down big time. Run both Khalil Herbert and Pooka Williams Jr. a lot in this game and limit that high powered Oklahoma offense by keeping them on the sidelines. Remember, the Jayhawks defense is bad too so it's a win-win for Kansas if they can slow the game down. The question is, can they establish the run against the Sooners?
Prediction
Oklahoma 48 Kansas 17
I don't feel like I really need to explain my prediction at all. Oklahoma is well, Oklahoma and last time I checked Kansas is still Kansas. Sooners will have a field day on offense and facing a struggling Kansas offense, the Sooners defense will hold the Jayhawks to under 20 points.
**Sign up here for our HCS weekly e-mails for a chance to win FREE Heartland College Sports and Big 12 team gear!!**