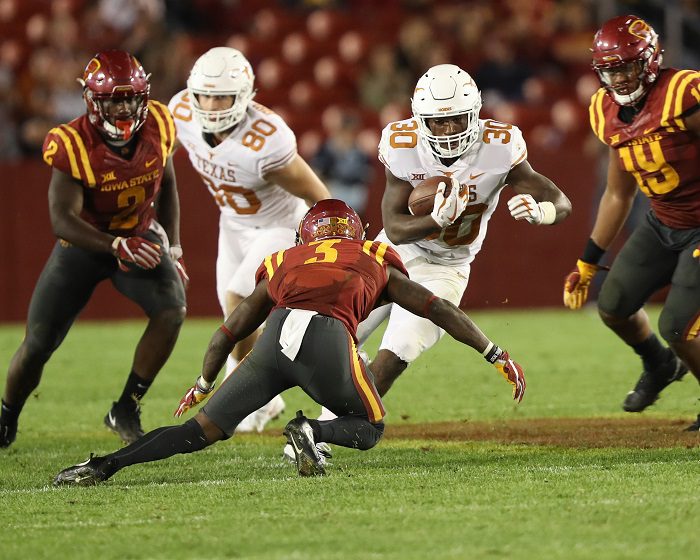 Here is everything you need to know about the upcoming Top 25 match up in our Texas vs. Iowa State Preview.
Game info
7:00 p.m. CST, Saturday, Nov. 17, 2018, Darrell K. Royal Stadium, Austin, Texas
TV: Longhorn Network (Lowell Galindo, Ahmad Brooks, Kris Budden)
Away Radio: Cyclone Radio Network/Learfield
Home Radio: Longhorn IMG Radio Network; Sirius 113/XM 200
Fun Fact: Texas leads the all-time series against Iowa State at 13-2 and 7-1 in Austin. But for the first time in school history, ISU has won five-straight conference games in a single season and it's 5-2 league mark equals its best start to a conference season through seven games since 1977. 
Key Players
Iowa State
QB Brock Purdy
Purdy has never lost a college game. In fact, only one of the five wins has been by fewer than nine points. Purdy has his toughest road test to date in Austin, but he has remained calm, cool and collected regardless of who or where he is playing. Purdy has tossed 13 touchdowns to just two interceptions and over the last three games he has tossed six touchdowns to zero interceptions. He also has two rushing touchdowns on the season. His QB rating/efficiency of 192.0 ranks third nationally among FBS QBs with at least 100 attempts. 
CB Brian Peavy
Whether he has to try and slow down Collin Johnson or Lil'Jordan Humphrey, Peavy is in for a tough afternoon. But the two-time team captain and three-time All-Big 12 honoree is one of the top cornerbacks in the nation. He leads all active Cyclones in career starts, passes defended, forced fumbles and interceptions. He will need to add to that passes defended total (43, second among active FBS players) on Saturday. 
Texas
QB Sam Ehlinger
Iowa State's defense is great. But Texas has a better chance through the air than on the ground. Enter: Ehlinger. Over the last three games he's thrown nine touchdowns to zero interceptions and he's averaged over 300 passing yards per game while completing 62% of his passes. His leadership and confidence continues to grow each week as well, so if this team wants to try and score points on this D, it will be on the back, arm and legs of Ehlinger. 
LB Gary Johnson
Johnson leads the team with 13.5 tackles for loss, is second in sacks, which is also in the top 10 in the conference. His 13 tackles for loss is third in the Big 12 Conference. Johnson will have to be busy keeping an eye on Purdy, and for Texas' sake, hopefully giving the freshman QB some trouble. Spying on him so he doesn't have the ability to use his legs to get him out of trouble will be key and Johnson has the speed to do that. 
Key Storylines
Iowa State
First off, Iowa State needs to continue to play clean. By that I mean no turnovers and penalties. They've done that nearly to perfection this season. Iowa State currently ranks fifth nationally in fewest penalty yards (363) and seventh in the nation in fewest penalties (42). They have only thrown three interceptions this season, which ranks fifth nationally and their nine total turnovers ranks ninth in the nation. Those are keys to winning a difficult road game. As for X's and O's, lock down the passing game against Humphrey and Johnson, force Texas to try and beat you with their ground game and allow your linebackers to go to work from there. The Iowa State defense is ranked No. 1 in the Big 12 in rushing yards allowed and in pass defense efficiency. Offensively, Texas has been more vulnerable of late through the air. Look for Hakeem Butler on multiple occasions and see if he can go to work against the UT secondary. 
Texas
Can you stop Hakeem Butler? David Montgomery is suspended for the first half of the game so I'd expect Iowa State to want to start the game in the air. Butler had his 100-yard receiving game streak end last week against Baylor with a quiet three catches for 25 yards. Texas will try and do the same thing. But last time Butler was kept in check like this he bounced back for six catches and over 100 yards, plus a touchdown, against West Virginia. Offensively, Sam Ehlinger's legs should be utilized to their fullest extent. Iowa State didn't have to worry about that when they shut down Will Grier and the Mountaineers' offense. But adding that element for the UT offense will give Jon Heacock and Iowa State another thing to worry about.
Prediction: Iowa State 31, Texas 27. I'm riding with the Cyclones here. Defense travels. It always has in football and it always will. The Cyclones are allowing 15.5 points per game over the last month of the season. Meantime, Brock Purdy is gaining confidence by the week and since he's been the quarterback, Iowa State has scored at least 27 points in every game it's played. The Cyclones will go into Austin with the more disciplined team, better defense, and more efficient offense and pick up a close win. 
**Sign up here for our HCS weekly e-mails for a chance to win FREE Heartland College Sports and Big 12 team gear!!**