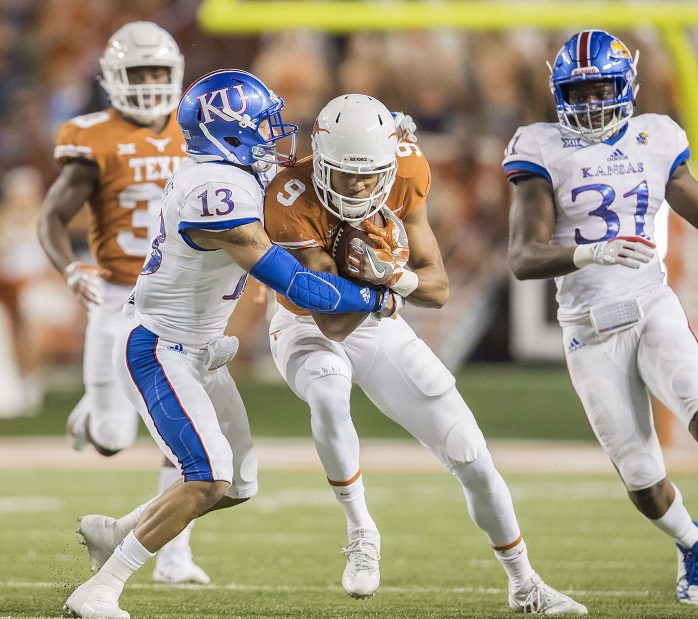 Here is everything you need to know in our Kansas vs. Texas preview and prediction.
Game info
11 a.m. CT  | Friday, November 23rd 2018  | Memorial Stadium, Lawerence, Kansas
TV: FS1 (Justin Kutcher, Demarco Murray, Petros Papadakis, Alex Curry)
Local Radio: Longhorn IM Radio Network (Craig Way)/Jayhawk IMG Radio Network (Brian Hanni)
Satellite Radio: XM Ch. 382
Fun Fact: Kansas beat Texas … in football … in 2016. On a serious note, Friday's game is the first time Texas has played on Thanksgiving or the day after outside the state of Texas since 1934.
Key Players
Texas Longhorns
LB Gary Johnson
All eyes for the UT defense will be on KU running back Pooka Williams. Johnson has the size and speed to keep Williams in check. He's 11th in the Big 12 with 6.7 tackles per game, ranks 7th with 5.5 sacks and has 14 tackles for loss, which is top 5 in the conference. Johnson will be playing up along the line to stop the run, as the secondary shouldn't need help with KU's passing game.
Who's at quarterback? 
Sam Ehlinger had a flare up with his shoulder injury on Saturday against Iowa State. He has practiced this week, but it'll be interesting to see if he plays, how much he plays, if Tom Herman thinks he can win the game without his starting quarterback? If so, then it's up to Shane Buechele, who played much better in relief against Iowa State (10-10, 89 yards, one TD) than he did against Baylor (20-34, 194, one TD, one INT). But this is clearly Ehlinger's team, as he's progressed tremendously throughout the season and has limited mistakes, with his only two interceptions this season coming in Week 1 against Maryland.
Kansas Jayhawks
RB Pooka Williams
It's all about Pooka in Lawrence, oh, and Les Miles. Pooka is now 9th in the Big 12 in total offense per game (103.1 ypg) and ranks first in the Big 12 in all purpose yards per game with 154.5. Last week against Oklahoma, Williams' 312 all-purpose yards marked the highest all-purpose output in the Big 12 this season and was the sixth-most in an FBS game this year. Williams only needs 91 yards to break KU's freshman rushing records.
LB Joe Dineen Jr. 
He's a senior playing the final game of his career at KU. He's a Jayhawks lifer. He's a leader. He's stuck through a horrible few years of Kansas football and he's done it in classy fashion. Oh, he can also ball. Dineen is the career leader at KU in tackles for loss. In the Big 12, he ranks first in tackles and is top 10 in tackles for loss with 10. There is a lot to forget about when it comes to the last few years of KU football, but Joe Dineen is not one of them.
Key Storylines
Texas Longhorns
Stop Pooka and let the rest take care of itself. Texas' defense ranks third in the Big 12 in yards allowed per game and that run defense will need to be at its best against Williams and a backfield that also includes the underrated Khalil Herbert and Dom Williams. Kansas needs its running game to open up the passing game, not the other way around, so it's imperative for Texas to stop the run, force Kansas into third and longs, and make Peyton Bender beat you with his arm. That's their recipe to success on Friday in Lawrence.
Kansas Jayhawks
Yes, they need to run the ball effectively (see above). But the Jayhawks have to do what they've done all season long, and that's win the turnover battle. Kansas is +15 in turnover margin this season, which ranks as the best margin in the Big 12 conference by seven. Also, Kansas needs to have a good day with its pass defense, which ranks as the worst in the Big 12 based on efficiency. DB Hasan Defense and the rest of the KU secondary needs to lock down in wide receivers Lil'Jordan Humphrey and Collin Johnson.
Prediction
Texas 27, Kansas 14
As noted above, KU has a great turnover margin, but Texas' isn't too bad at all, ranking second in the Big 12 at +8. The Longhorns have protected the ball very well and I don't expect that to change on Saturday against Kansas. Even though this Longhorns team is a bit banged up and tired, the memories from two years ago, which many of these players were here for, when Kansas beat Texas, will live on. This team is a win away against the worst team in the conference from reaching the Big 12 Championship game for the first time in nine years.
**Sign up here for our HCS weekly e-mails for a chance to win FREE Heartland College Sports and Big 12 team gear!!**