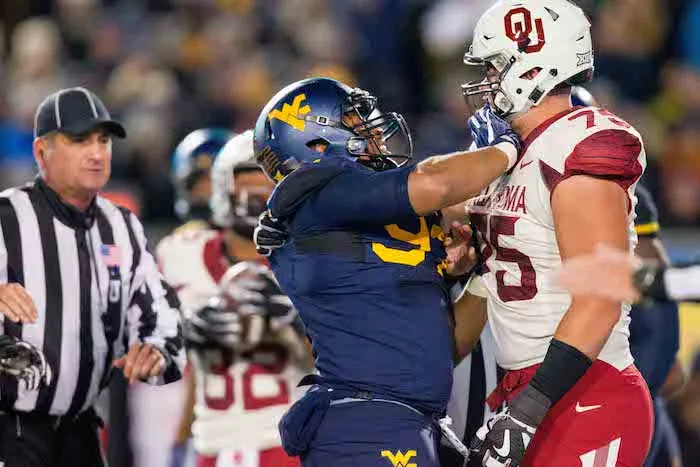 Here is everything you need to know about the upcoming top 25 match up in our West Virginia vs. Oklahoma Preview.
Game info
8 p.m. ET/7 p.m. CT, Saturday, Nov. 23, 2018, Milan Puskar Stadium, Morgantown, W. Va.
TV: ESPN (Sean McDonough, Todd Blackledge, Holly Rowe)
Away Radio: Sooner Sports Network; Sirius 108/XM 200
Home Radio: Mountaineer Sports Network
Fun Fact: Lincoln Riley walked on as a quarterback at Texas Tech while Dana Holgorsen was the inside receivers coach. Head coach Mike Leach would eventually cut Riley to place him on staff where he would coach under co-offensive coordinator Holgorsen.
Key Players
Oklahoma Sooners
QB Kyler Murray
The MLB prospect is in the middle of a Heisman campaign, so why not use the two-sport scenario to advertise him as the next Bo Jackson? Oklahoma has created the website KylerKnows.com to boost Murray's Heisman appeal to voters. Even espn.com, who practically worshipped Baker Mayfield on their knees have had to admit that Murray is better than the 2017 Heisman Trophy winner and first overall NFL Draft pick. Here's the sad part: If West Virginia pulls off the upset, Murray's Heisman hopes could easily go down the drain. It would be the perfect reason for voters to say Will Grier is better. Unlike Mayfield, the competition pool is stacked to where New York City invites will be at a premium this season.
LB Kenneth Murray
Oklahoma's secondary isn't going to stop West Virginia. Someone in the front seven must. Look no further than the star linebacker Kenneth Murray. He leads the Sooners with 123 total tackles and four sacks. 51 of those tackles are solo. He is the 2017 Big 12 Freshman of the Year. The offenses are going to be fun to watch. They will score an explosion of points. There may be just one defensive stop in this game. If I'm a betting man, my bet goes on Kenneth Murray to lead the Sooners to that one stop.
West Virginia Mountaineers
QB Will Grier
It's Heisman fever in Morgantown this weekend. The two the spotlight will be shining on are the quarterbacks. Grier7heisman.com is the website West Virginia has created to boost their leader's Heisman campaign. Regardless of how Grier plays, simply winning the game might push him past Kyler Murray in the votes.
LB David Long Jr.
West Virginia must force Kyler Murray into mistakes. If the Mountaineers can apply pressure and pick off Murray, they can win this game. David Long Jr. is second in the Big 12 Conference for sacks with eight.
Key Storylines
College Football Playoff/New Year's Six Bowl Implications
Oklahoma must win out and receive help to reach the College Football Playoff. Alabama, Clemson and Notre Dame are undefeated. Georgia and Michigan are ahead of the Sooners. Don't be surprised if Ohio State or LSU magically jump over the Sooners if they win out too. The Sooners need to prove complete dominance to make the top four.
As for West Virginia, winning this week would certainly help their case for a New Year's Six Bowl. Of course, a Big 12 Championship automatically places them there. A loss this week could derail their hopes as Texas is creeping up and is one of the globe's biggest sports brands. Despite what they may say, you can't overlook the fact brand recognition goes into the bowl matchup decisions.
Big 12 Championship Implications
This is win or game home, barring Kansas pulling off the upset against Texas.
Prediction: Oklahoma 52 West Virginia 48. We've seen it too often this season. Oklahoma almost always finds a way. They've won in all types of scenarios this season. They've blown teams away. They've come from behind. Even in their lone loss, they were hot on the heels of Texas before the final whistle blew. The best teams typically find a way to win. I think West Virginia pulls out to a big lead in front of a raucous crowd, but Oklahoma comes from behind to win in the second half.
**Sign up here for our HCS weekly e-mails for a chance to win FREE Heartland College Sports and Big 12 team gear!!**