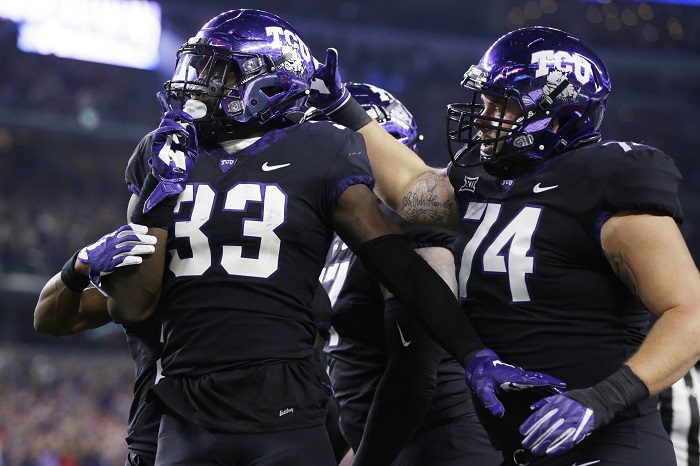 In this match up, in final week of the regular season, one team had their bowl ticket already punched and the other was trying to punch their own. Oklahoma State entered the game 6-5 and after a high of all highs last weekend against West Virginia, how would they respond in their roller coaster season? As for TCU, the Horned Frogs found a way to beat a Baylor team last week to just keep their bowl hopes alive. Any game is big, but it was clear that the Horned Frogs had a lot more to play for on Saturday night.
The Horned Frogs started off the game in an ugly fashion by fumbling on their second play of the game deep in their own territory. Thanks to the TCU defense, that mistake only cost them three points by holding the Cowboys to a field goal. After that, this game went from a Big 12 game to a Big Ten game because there were ten combined possessions that resulted in zero points. In fact, outside of a TCU missed field goal, nine of those possessions ended in punts. From the start of the game until late second quarter, the Cowboys were still up 3-0.
Finally, one of the offenses woke up and it just so happened to be the TCU Horned Frogs led by third-string quarterback Grayson Muehlstein. He drove the offense down the field and scored when he found wide out Jalen Reagor for a touchdown. That ended up being the only touchdown of the entire first half as the Frogs went into halftime leading 7-3.
Much like how TCU started off their first possession, the Cowboys had a similar issue. Taylor Cornelius threw a swing pass to Chuba Hubbard who dropped it and TCU's Jawuan Johnson picked it up for the scoop and score to extend the Horned Frog lead to 14-3. Shortly after that, TCU wide out Jalen Reagor took a hand off and went 83 yards for a score and suddenly it was 21-3 TCU. A few punts later, TCU was once again able to get on the board by way of a field goal to go up 24-3 and it looked like a route was on for the Horned Frogs.
Since this is college football, it's never over and that became true because the Cowboys' offense finally woke up and had three consecutive touchdown drives. Running back Chuba Hubbard scored along with two Taylor Cornelius runs, but the defense gave up another touchdown midway in the fourth quarter when Grayson Muehlstein hit Derius Davis for a 24-yard score. Still, with five minutes left Oklahoma State was down 31-24 and had one final chance to score but the offense turned it over on downs. TCU would miss a field goal with about nine seconds left, but the Cowboys were so far behind the eight ball and with no timeouts, it was too much to overcome. When the final whistle blew, TCU won 31-24.
The Horned Frogs came out to fight in this game and they got the ball in the hands of their best playmaker Jalen Reagor and he delivered. Defensively, TCU was solid for nearly three full quarters allowing just three points until late third quarter. For Oklahoma State, it was simply too little too late. The offense finally showed up in the fourth quarter, but by then they were nearly down three scores. Defensively, they were put in some bad spots and gave up too many big plays particularly in the run game. Here is a very interesting stat of how this game went. TCU held the football for 39:06 while Oklahoma State had just 20:54 on time of possession. Not good.
With the win, TCU will finish the regular season at 6-6 and will become bowl eligible. Meanwhile, the Cowboys will fall to 6-6 and at 3-6 in Big 12 play, will finish tied for the second-worst conference record in the Big 12. 
**Sign up here for our HCS weekly e-mails for a chance to win FREE Heartland College Sports and Big 12 team gear!!**