Big 12 News
'Horns Down' Will Be a Penalty in Big 12 Championship Game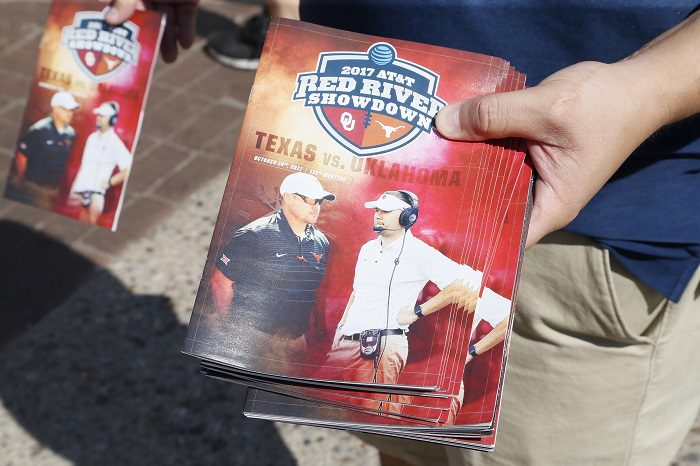 As we get set for the Big 12 Championship game on Saturday between Oklahoma and Texas, the conference told the Sooners that "Horns Down" will be a penalty. Lincoln Riley confirmed as much during his weekly radio appearance.
Lincoln Riley just said on the @rudysbbq Show that they heard back from the @Big12Conference and that they will be penalized for 'Horns Down' on Saturday if the #Sooners do it.

— Josh Helmer (@JoshOn1400) November 28, 2018
Crazy? Sure. Silly? Yes.
The Texas Longhorns are pointing at OU and saying stuff like, "Wow they're worrying about 'Horns Down' instead of gameplanning." Well, I would argue that getting confirmation on this is part of the game plan, because knowing the rules going into the game could prevent an unnecessary 15-yard penalty.
Even the large majority of Texas fans I've seen on social media think this is a ridiculous decision by the Big 12 Conference. 'Horns Down' is not offensive in any way, it's lively competition, and is a sign of a great rivalry, something that continues to disintegrate in the conference-realignment world that is college football.
It's a shame the Big 12 Conference even got involved in this debate. Texas can complain, I suppose, but it doesn't mean anyone has to listen in any kind of serious manner. Unfortunately, that's what happened. Let's see if OU has anything up its sleeve on Saturday when they do score.
Texas vs. Oklahoma kicks off Saturday at 11 a.m. from AT&T Stadium in Arlington, Texas on ABC.
**Sign up here for our HCS weekly e-mails for a chance to win FREE Heartland College Sports and Big 12 team gear!!**