Big 12 News
Oklahoma Sooners Ranked 5th in Week 14 CFB Playoff Rankings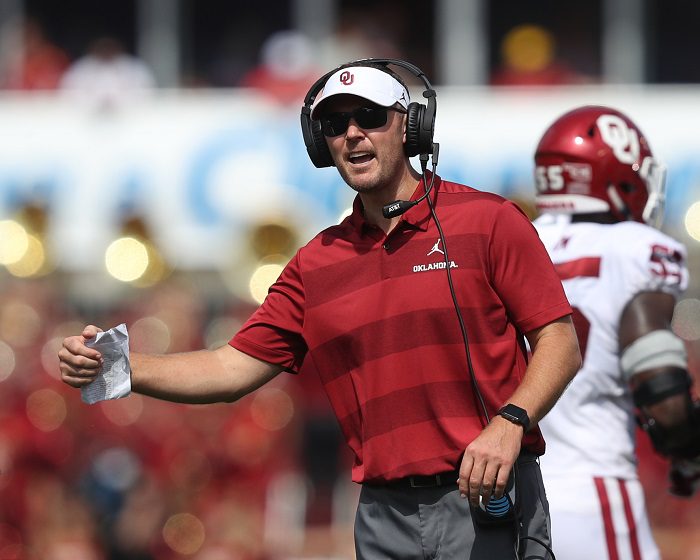 The latest College Football Playoff Rankings were released on Tuesday night and the Oklahoma Sooners were ranked 5th heading into the Big 12 Championship Game against the Texas Longhorns.
Three other Big 12 teams were ranked as well. The aforementioned Long horns came in 14th, while the West Virginia Mountaineers, coming off their loss to OU, ranked 16th, while the Iowa State Cyclones, who came from 17 points down to beat Kansas State in Farmageddon, are ranked 23rd.
The Sooners moved up a spot from No. 6 to No. 4 following Michigan's blow out loss to Ohio State.
For the College Football Playoff picture, it's widely assumed the Notre Dame Fighting Irish are in, as they finished 12-0 in the regular season and do not play in a conference championship game this weekend.
The debate now includes Alabama, Clemson, Georgia, Oklahoma and Ohio State vying for the other three spots.
Most likely, the debate is going to come down to Oklahoma and Ohio State, if each can win their respective conference championship games this weekend. From there, the best case for OU will be that their one loss was by three points on a neutral field to the team the just beat in the conference championship game, while Ohio State lost its lone game by 29 points to Purdue.
Also note an interesting angle of this potential decision is that both Oklahoma athletic director Joe Castiglione and Ohio State athletic director Gene Taylor are both on the College Football Playoff committee.
The Sooners face the Longhorns at 11:00 a.m. on Saturday from AT&T Stadium in Arlington, Texas on ABC, while the Ohio State Buckeyes take on the Northwestern Wildcats in the Big Ten title game at 7:00 on FOX. Also, the SEC Championship between Alabama and Georgia kicks off at 3:00 on CBS.
**Sign up here for our HCS weekly e-mails for a chance to win FREE Heartland College Sports and Big 12 team gear!!**