Big 12 News
Report: West Virginia OC Jake Spavital Hired as Texas State Head Coach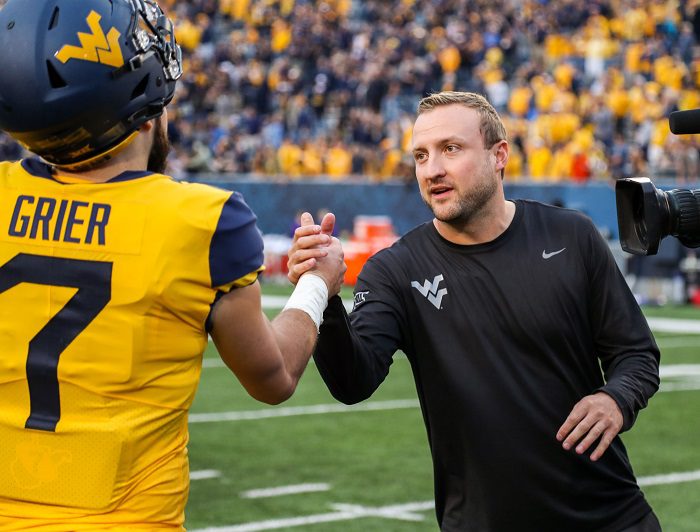 West Virginia offensive coordinator Jake Spavital is set to leave the Mountaineers to become the next head coach at Texas State, per ESPN.
Spavital will replace Everett Withers, who was fired after the Bobcats went 3-9 in 2018 and 1-7 in conference play. Texas State has yet to reach a bowl game in eight seasons since moving up from the FCS, but it's not from lack of funds, as the Bobcats have the second-highest athletic budget in the Sun Belt.
Spavital is an offensive mind and led the Mountaineers to the ninth in scoring offense (42.3 points per game), third in passing offense (358.1 ypg) and  sixth in yards per play (7.19). This side of the ball is where Texas State desperately needs help after ranking 123rd in the nation with 19.8 points per game.
Earlier this week, West Virginia AD Shane Lyons commented on the possibility of Spavital leaving, saying, "If he has the opportunity, and wants to be a head coach, then that's understandable. … Jake's done a great job for us, and if the right job comes along, then I wish him the best. If not, that's ultimately between him and Dana, and we'll look at the assistants' and coordinators' agreements come January."
For perspective, Spavital made $500,000 this season and would have made $550,000 in 2019. Recently fired Texas State head coach Everett Withers pulled in $700,000 this season.
Spavital has strong ties to the Lone Star state, as he served as quarterbacks coach and offensive coordinator at Texas A&M from 2013-15. Ironically enough, Texas State opens its 2019 season on the road against Texas A&M and their next Big 12 match up comes in 2021 when they host the Baylor Bears in Week 1.
**Sign up here for our HCS weekly e-mails for a chance to win FREE Heartland College Sports and Big 12 team gear!!**