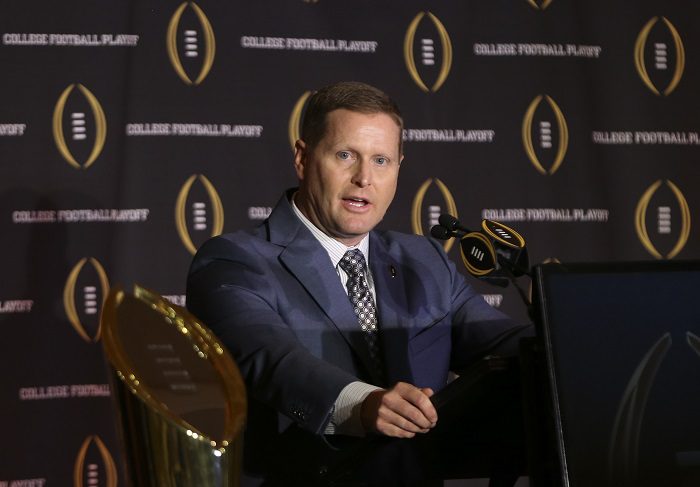 It's almost time for bowl season. The Big 12 Championship is here. Flights, hotels and rental cars skyrocket the closer we get to those bowl games. Let's help you out by providing you a glimpse into my crystal ball with bowl projections.
Unlike those cheaters from the SEC and ACC, the Big 12 has an alignment to go by. The bowls will draft the Big 12 team remaining they want in a certain order. In this set of projections, Texas beats Oklahoma. We found out that there really isn't much change, but we do know this: Texas is pretty much guaranteed to play in the Sugar Bowl regardless of outcome. The Big 12 Conference announced Wednesday that the runner-up would still play in the New Year's Six Bowl. Thus, Texas would play in the Sugar Bowl assuming Oklahoma makes the College Football Playoff. To see where Oklahoma would play in case they lose, you'll have to read below.
Let's assume Alabama and Clemson win their conference championship games. They will be No.1 and No.2. Notre Dame has finished the season undefeated. They will be No.3. If Oklahoma defeats Texas, we are confident they will jump Georgia and hold off Ohio State. Once again, if you want to see yesterday's version of bowl projections with OU beating Texas, you can read that here. 
Allstate Sugar Bowl: Texas vs. Georgia
8:45 p.m. ET, Jan. 1, Mercedes-Benz Stadium, New Orleans, ESPN
Big 12 vs. SEC
This matchup will happen. The SEC Championship loser, likely Georgia, will play Texas. If the Longhorns win, they're crowned the champion, but do not come close to the College Football Playoff. If the Longhorns lose, Oklahoma gets into the playoff and Texas takes the Sugar Bowl slot. Texas fans might as well start booking those plans this instant.
Playstation Fiesta Bowl: Oklahoma vs. Washington State
Noon CT, Jan. 1, State Farm Stadium, Glendale, Ariz., ESPN
At-Large vs. At-Large
For Oklahoma, this would be a disappointment. For Washington State, they can't be too upset considering they lost the Apple Cup. The football teams might feel like this is a loss, but the fans have to be excited. Mike Leach vs. Lincoln Riley. The teacher vs. the student. Both of them with their styles of the Air Raid offense. Two Heisman candidate quarterbacks slinging the ball for likely over 1,000 yards. It's going to be a fun one to watch. We just hope State Farm Stadium paid its electric bill because that scoreboard will be lighting up.
Valero Alamo Bowl: Iowa State vs. Utah
8 p.m. CT, Dec. 28, Alamodome, San Antonio, Texas, ESPN
Big 12 vs. Pac 12
We learned Wednesday that the Big 12 Conference likes to do things in order. Iowa State finished the season in third place above West Virginia. Thus, Iowa State would be the likely candidate if the Big 12 had its say. I would find this to be a fun game for Cyclones fans, but not for the college football fan. Utah won an awful Pac-12 South, and probably wouldn't finish above eighth in the Big 12 Conference.
Camping World Bowl: West Virginia vs. Syracuse
4:15 p.m. CT, Dec. 28, Camping World Stadium, Orlando, Fla., ESPN
Big 12 vs. ACC
Will Grier finishes his college career in the same place it started: Florida. I could see both quarterbacks having career days. It would be a fun matchup of passing quarterback vs. running quarterback. While Grier may be the best passing quarterback in the nation, it's difficult to argue against Eric Dungey for the best running quarterback. Defense will be optional in this game.
Academy Sports + Outdoors Texas Bowl: TCU vs. Mississippi State
8 p.m. CT, Dec. 27, NRG Stadium, Houston, Texas, ESPN
Big 12 vs. SEC
This game really is a toss-up between TCU and Baylor. This bowl could go either way. I chose TCU to go to Houston for two reasons. 1) TCU beat Baylor. 2) Baylor has been to the Houston Bowl more recently than TCU has. Of course, the SEC likes to place its teams into a position for the conference to have the best record. For the SEC, it's not about where a team finishes. The SEC places teams in matchups to make the SEC look good. The Texas Bowl isn't going to "choose" Mississippi State. The Bulldogs will be sent specifically to face TCU because the SEC thinks that is the best matchup for the conference as a whole.  Too bad for the SEC, this plan has backfired in each of the last two seasons. Texas beat Missouri in 2017 while the punter received the MVP award. Missouri coach Barry Odom had to admit that clowns like Paul Finebaum are wrong for saying the Big 12 lacks defense. Kansas State fans chanted "We own Texas" in 2016 after beating Texas A&M and completing the sweep of Power 5 Texas teams.
Autozone Liberty Bowl: Baylor vs. Missouri
2:45 p.m. CT, Dec. 31, Liberty Bowl Memorial Stadium, Memphis, Tenn., ESPN
Big 12 vs. SEC
Missouri gets another Big 12 opponent after embarrassing the SEC last season. Once again, the SEC likely underestimates a rising Big 12 program and thinks Missouri is the perfect antidote to place against them. This is a bowl trip well earned by Matt Rhule and the Baylor program. I hope all enjoy the sights and sounds of Elvis' hometown. This is just another step on the ladder of success during the Rhule rebuild. It will be interesting to see how far the Bears continue their climb in 2019. These extra practices are going to provide a catalyst to the already ultraquick rebuild.
Cheez-It Bowl: Oklahoma State vs. Fresno State
8 p.m. CT, Dec. 26, Chase Field, Phoenix, Ariz., ESPN
Big 12 vs. Pac 12
*Mountain West has agreement for a conditional spot in case the other conferences are unable to fill its slots.
This was, by far, the hardest matchup to piece together. The Pac 12 is two teams short of filling its bowl slots. Thus, the Mountain West Conference fills in its conditional spot. Furthermore, the only slot the Mountain West reserves for a particular spot is the Las Vegas Bowl for its champion. Boise State hosts Fresno State, so we are assuming the Broncos take care of business. Since a 10-win Fresno State team would be thrust back into the pot, we feel the Mountain West would use that team to show off its best against the a Power 5 school. Oklahoma State faces a solid Fresno State team, and this should be a close battle. Don't overlook the Bulldogs. They're 1-1 against Power 5 teams on the road, and that one loss came by a touchdown at Minnesota. Another team to watch for is Utah State, but it would be smart for the Mountain West to avoid providing Big 12 teams exposure to head coach Matt Wells.
**Sign up here for our HCS weekly e-mails for a chance to win FREE Heartland College Sports and Big 12 team gear!!**