Big 12 News
Chris Klieman Hired as New Kansas State Head Coach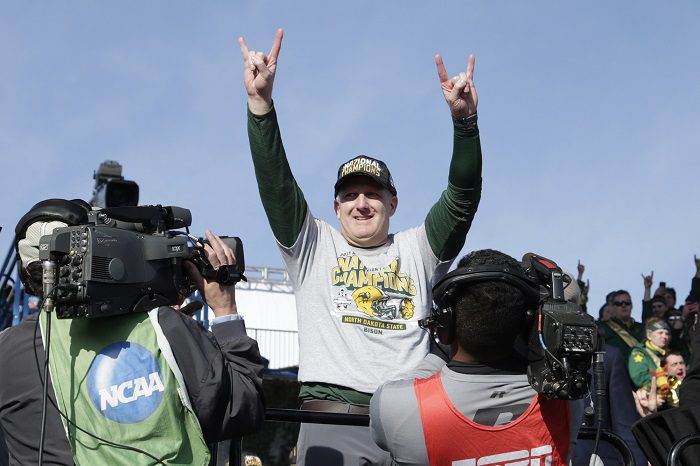 The Kansas State Wildcats have hired Chris Klieman from North Dakota State to be their next head football coach.
Klieman has his hands full having to replace the legendary Bill Snyder. But his track record at the FCS level is as impressive as any in the country. He has won five conference championships and three national championships in five seasons as the head coach.
The Bison are currently in the FCS Semifinals with a perfect 13-0 record prior to taking on South Dakota State in Fargo on Friday night.
Athletic Director Gene Taylor said in statement,"He is a perfect fit for us, both from a personal standpoint and as a head coach. He's a tremendous teacher who I had the pleasure to hire at NDSU and watched him turn into a very successful coach. He will bring a ton of energy and excitement. His teams play extremely hard, disciplined football. He's a winner. That's all he does is win, and we're excited to have Chris, Rhonda and the entire Klieman family join our K-State family. They will be a great fit not only for Kansas State Football and Kansas State Athletics, but also the entire community of Manhattan."

Klieman has a career coaching record of 70-13 in his six seasons as head coach, including a 67-6 record at North Dakota State. Klieman has agreed to a six-year contract with a base salary of $2.3 million in 2019 with a $200,000 increase each year.
Klieman has spent most of his coaching career in the Upper Midwest. He is a Northern Iowa graduate and coached there as an assistant in the early 1990's before a return from 2006 to 2008, when he was the co-defensive coordinator.
Klieman's only ties to the Big 12 Conference is a brief stint in 1997 as a graduate assistant.
In a statement, Klieman said, "This is an absolute dream job. I'm so happy and thrilled to follow a legend in Coach Snyder. I've followed him from afar, went to his camps while playing in Waterloo, Iowa, and played against his Kansas State team when I was at Northern Iowa. The opportunity to follow in an icon's footsteps is something I don't take for granted and don't take lightly. I know I have huge shoes to fill, and I'm excited to carry on his legacy."
**Sign up here for our HCS weekly e-mails for a chance to win FREE Heartland College Sports and Big 12 team gear!!**