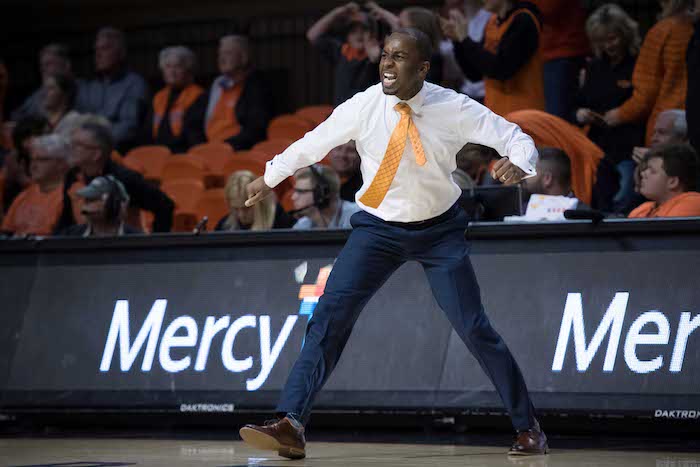 Between now and the beginning of conference action in Big 12 men's basketball, HeartlandCollegeSports.com contributor Matthew Postins will watch at least one game for each Big 12 team and assess where each team stands in the final weeks before league action. Today it's the Oklahoma State Cowboys.
The Cowboys have found their primary weapon
Oklahoma State is going to live and die by the 3-pointer because it's the best arrow it has in its quiver. The Cowboys shot 52 percent from the arc against Minnesota and it's the single biggest reason they stayed in that game until the final minute (against Minnesota, OSU hit 10 3-pointers). As a team they're the best 3-point shooting team in the Big 12 right now (41.6 percent as of Dec. 11) and only Iowa State had more made 3-pointers than Oklahoma State's 82. Thomas Dziagwa has been blistering from the arc, shooting 53.4 percent from distance, and while he only scored 6 points against the Golden Gophers, both were 3-pointers. Only Kansas' LaGerald Vick is shooting better from distance than Dziagwa. In addition, Lindy Waters III is among the Top 15 in 3-point shooting in the Big 12 and two other Cowboys are shooting in the mid-30's percentage-wise.
Weathers turning into a solid sixth man
Among the Cowboys' scorers in double figures is Michael Weathers, the 6-foot-2 sophomore guard who sat out last season after transferring from Miami (OH). The former MAC Freshman of the Year averaged 16.7 points per game at his old school and he's averaging 10.3 ppg for the Cowboys. In that game against Minnesota he scored 17 points on 6-of-14 shooting. To be honest, I expected Weathers to be a starter this season, and he may still be at some point. But coming off the bench, for right now, seems to suit him. While Dziagwa and Waters excel at outside shooting, Weathers is more of a driver and slasher and has only attempted 10 3-pointers this season. He also needs to improve at the free-throw line (57.7 percent, but 5-for-7 against Minnesota, so that improvement may be coming). As he's not much of a passer to this point, his minutes may be capped at the 20 or so per game he's played so far. But the Cowboys were in need of capable replacements at guard after losing several veterans and Weathers appears to be able to fill that void.
Trust in Isaac
This was supposed to be Brandon Averette's offense to run this year. But the sophomore transferred to Utah Valley after last season, leaving the Cowboys with a gaping hole at the point. Head coach Mike Boynton Jr. has put his trust in a true freshman, Isaac Likekele, to run the show and I liked what I saw against Minnesota. Freshmen tend to play fast, which usually leads to an overabundance of mistakes in November and December (if you saw the Pitt-West Virginia game on Saturday, you know what I'm talking about). Against Minnesota, Likekele had a calmness to him that I liked. He only committed one turnover in 28 minutes and dished out five assists. That's emblematic of his play to this point, as he's in the Big 12's Top 10 in assist-to-turnover ratio. The transition from high school to college is a beast. Likekele is making the transition by worrying only about his job — handling the ball and distributing it. There are enough guys on this team that can score. His offense will come, and with a scoring average of 8.2 ppg, it may come faster than any of us expect.
Looking for some size
One of the concerns I had about this team coming into the season was size. The loss of 6-foot-9 center Mitchell Solomon and 6-6 forward Jeffrey Carroll robbed the Cowboys of some real length inside and on the perimeter. The truest centers the Cowboys have right now are a pair of 6-foot-10 true freshmen — Yor Anei and Kentrevious Jones. That's asking a lot of a pair of players that at this point in their careers should be playing in short bursts, learning the system and gaining a little weight. Anei played 15 minutes against Minnesota, scoring 6 points and 4 rebounds before fouling out. Jones played 6 minutes and registered a rebound. Anei's biggest asset right now is his length and shot-blocking ability — he had four against Minnesota and is averaging 2.8 per game, which is third in the Big 12. Jones hasn't seen the floor enough to really know what he can do. Cameron McGriff is the team's leading rebounder (7.0) and Waters led the Cowboys in rebounding with 8 against Minnesota. Any growth Anei and Jones can show this season, especially when it comes to rebounding and defense, will be key to any success OSU has in 2018-19.
A razor-thin margin for error
The Cowboys can't afford to have many things out of sync from night to night. For instance, against Minnesota, their reasons for losing were clear — the Gophers shot better overall (by 10 percent) and at the free-throw line (by 26 percent). In every other relevant category, including hustle points, the Cowboys were right there. Where you get into comparing their numbers with their opponents, there's little distance in areas like rebounds per game, assists per game, turnovers per game and steals per game. Those are areas, statistically, where the Cowboys need to get a little more distance in their favor if they're going to win more games.
It's hard to judge a team against the rest of the conference when it's the first team you've broken down film for. That said, I've watched Oklahoma, Iowa State and West Virginia for this series to this point (those stories are coming) and all three of those teams are clearly better than the Cowboys. It's not to say OSU can't beat any of them at some point. While I worry about their interior rebounding, their overall depth and their free-throw shooting, the Cowboys look like the same effort-heavy, defense-heavy team I saw a year ago. They're just not as talented across the board. McGriff, Waters and Dziagwa are going to be the Big Three for this team. After that it's Weathers and Likekele. Then, for now, it's a significant drop. The coaches judged this the No. 10 team in the league entering the preseason. They may very well be right.  
Next up: The Oklahoma Sooners
**Sign up here for our HCS weekly e-mails for a chance to win FREE Heartland College Sports and Big 12 team gear!!**