Big 12 News
Big 12 Commissioner Bob Bowlsby Ready to Discuss an Eight-Team College Football Playoff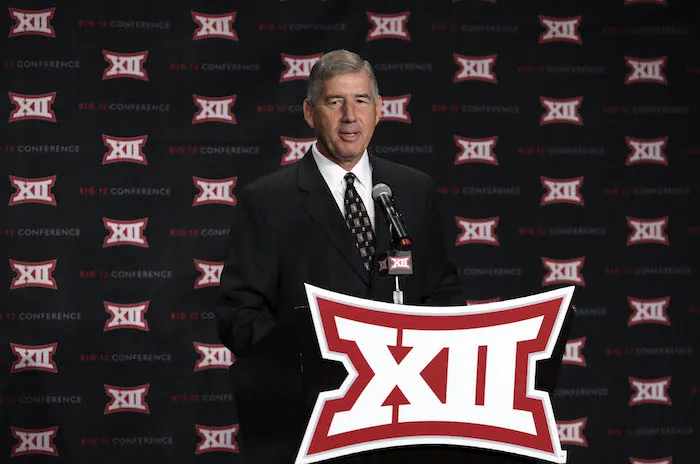 Are we inching closer towards an eight-team College Football Playoff? It just might be happening, after a report from The Athletic, says that several "influential voices in college football" are reportedly prepared to discuss increasing the number of College Football Playoff teams from four to eight.
"It's an appropriate thing to begin thinking about," Big 12 Commissioner Bob Bowlsby told The Athletic.
And there apparently is a serious push to make this happen before the current contract with ESPN expires in 2026.
The issues have certainly have been debated since the College Football Playoff started in 2014. The biggest issues include not allowing each conference a spot in the playoff, along with the fact that smaller schools like UCF basically have zero chance to make the playoff.

The Big Ten has been very vocal about potentially making some changes of its own after missing out on the playoff each of the past two seasons. Wisconsin athletic director Barry Alvarez told The Athletic that expansion is "inevitable" and said increasing the number of playoff teams would "serve more people. I don't know whether we're serving all of our people now, when you have some leagues—our league (the Big Ten) as an example. Two years in a row, we don't have anyone represented. The Big 12's been the same way. The Pac-12's been the same way."
An obvious fix would be to have automatic bids for the Power Five conference champions, as well and three at-large bids, with possible one guarantee for a Group of Five school (UCF).
West Virginia president E. Gordon Gee said there is no reason to wait, adding, "I also want to be very clear: I think that there's arrogance of us not taking a look at someone like the University of Central Florida, just saying, 'Well, they're not worthy of it. Maybe they are worthy of it based upon a number of considerations that need to be taken into account."
The College Football Playoff's board of managers and the committee will be January 7th, where this issue could be discussed in further detail.
**Sign up here for our HCS weekly e-mails for a chance to win FREE Heartland College Sports and Big 12 team gear!!**