Big 12 News
Watch: Chris Klieman Fires Up Kansas State With Introductory Speech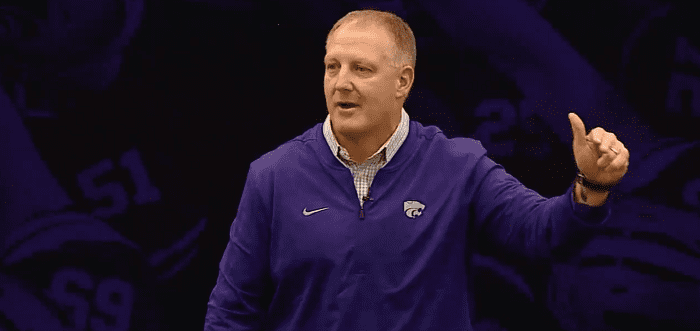 New Kansas State head coach Chris Klieman met the team and the media on Wednesday and gave an awesome speech to the team that, lucky for us, was being recorded. Take a look below to watch it and tell me again why this guy isn't a good hire for the Wildcats?
Character.
Work Ethic.
A burning desire to compete.

🎙 Coach Klieman | #KStateFB pic.twitter.com/UkFLGRtAYD

— K-State Football (@KStateFB) December 12, 2018
Here is the written version of what Klieman had to say:
"Guys, I am absolutely thrilled to be here. I am so excited to be the head football coach at Kansas State. I will tell you this: core values are really important to me. I look for character first, and all of you have great character.
"I don't care what star you are or any of that (stuff). I coached one of the best kids I ever coached in my life in a kid named Carson Wentz. He had zero stars. Son of a gun had unbelievable character, unbelievable work ethic and a burning desire to compete his tail off. A burning desire, same thing you guys do.
"I always tell people this: 'If you give kids ownership of the program, if you get kids invested in the program, they will take ownership,' which you guys I know do. You will hold each other accountable to the high standard. You will hold each other accountable to your actions on the field, off the field, in the classroom, wherever it may be, because we all wear the wildcat on our shirt.
"We are all one big family. And you guys know if one guy screws up we are all idiots and we all screwed up. That isn't going to happen, but that is why North Dakota State has had unbelievable success. What it's about is doing it for the guy next to you, laying it on the line for the guy next to you. If you guys do that every dang day and attack the process every day and win each day …
"I'm saying win every day. You've got a tough day tomorrow. You might have finals. You win that dang day. You've got to have a workout after that. You win that dang day. Only thing you have is tomorrow. It's all you got. You bust your (butt) and you win tomorrow, academically, socially and athletically. If you do that guys, and we all do that together, ain't anybody stopping our (butt)."
**Sign up here for our HCS weekly e-mails for a chance to win FREE Heartland College Sports and Big 12 team gear!!**