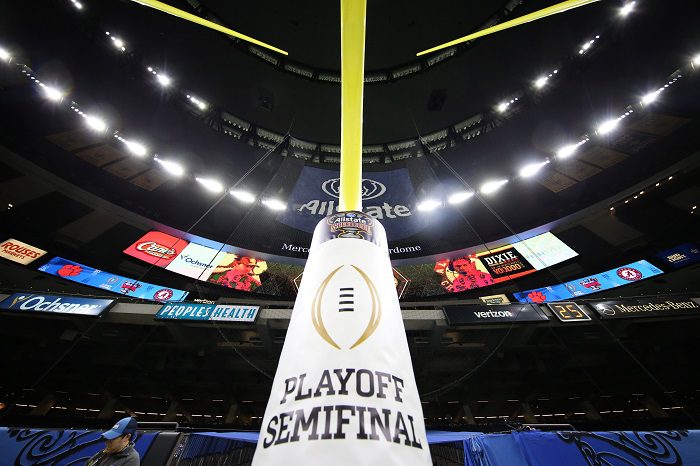 It's the calm before the storm as we gear up for another exciting bowl season for the Big 12 Conference, including the Oklahoma Sooners in the College Football Playoff. Seven teams made bowl games this year, with the Kansas schools and Texas Tech missing out reaching the 6-6 mark. Some games are better than others, as expected. So let's get right to it and rank the Big 12 bowl games from best to worst.
By the way, you can find every bowl game with date, time and TV channel here. 
1. Orange Bowl: Oklahoma vs. Alabama
I know this doesn't shock you in the least. Can the Sooners and the Big 12 slay the mighty Crimson Tide? It would be one of the great upsets in recent memory. This game features the most efficient offense in the country against the best defense in the country. Plus, arguably the best offensive mind in college football (Lincoln Riley) against the best defensive mind in college football (Nick Saban). It's also pits the winner vs. runner up of the Heisman Trophy against each other. The storylines are plentiful in this match up and not only is it the top bowl game in the Big 12 Conference, it's the best bowl game in the country.
2. Sugar Bowl: Texas vs. Georgia
I've said it before and I'll say it again, I don't care if you're an Oklahoma fan or just a Texas hater, if you're a Big 12 fan, ROOT for Texas and Oklahoma! They are playing the two SEC finalists and if they can even win just one of these games, it'll be a huge boost and mark of credibility for this conference. If they win both, I will streak through the Big 12 offices next time I'm in Dallas (since I just had a baby, or my wife did, I won't be traveling in the near future, so stay tuned). But seriously, this game can be huge for the Longhorns, who were already a year ahead of schedule by making the Big 12 Championship Game. Now getting to take on a Georgia team that had Alabama on the ropes heading into the fourth quarter of the SEC title will be a great test for Tom Herman as he tries to cap off Year 2 in impressive fashion.
3. Alamo Bowl: Iowa State vs. Washington State
Mike Leach's offense vs. Jon Heacock's defense. It's one of the most underrated match ups for one side of the ball in the entire bowl season. Iowa State was able to hold basically every Big 12 offense in check this season. Can they do the same against Leach, who is, in many ways, the Godfather of Big 12 offenses (via Hal Mumme). Plus, any time Mike Leach comes back to the state of Texas, we're likely to get a few sound bytes or two that will make Texas Tech fans cringe. Mike Leach in the Lone Star State against the best defense in the Big 12 is must-watch football. It'll be a lot of fun and I hope San Antonio is stacking up on the Busch Light.
4. Liberty Bowl: Oklahoma State vs. Missouri
This is a surprisingly good game, that is if Oklahoma State decides to show up. I can't tell with this team this season. But it's a Big 12 vs. SEC game, but it's also a battle between former Big 12 foes. Missouri has a quarterback in Drew Locke who should be in the discussion as one of the top QBs in the 2019 NFL Draft. I'd love to get at least a little bit of a look at OSU QB Spencer Sanders, but that seems unlikely. So expect Taylor Cornelius to get all the snaps and for Gundy to play this one straight like he did all season long. Hopefully, Gundy motivates his guys and the Big 12 can pick up a win over an SEC opponent, which always has value to it.
5. Texas Bowl: Baylor vs. Vanderbilt
Hey, another Big 12 vs. SEC match up. Also this is Baylor trying to cap off Year 2 under Matt Rhule with a ton of momentum. For this team to go from the depths of the sexual assault scandal, fire the entire staff, hire Rhule, go 1-11 to 6-6, is a minor miracle. I don't believe Rhule is getting enough credit for just how good of a job he has done in Waco in a short period of time. Now, to get this young group of guys a bowl win against a solid Vanderbilt team that did not have a signature win, but had close losses to Notre Dame, Florida and Kentucky, would shoot the Bears up the Power Rankings in the Big 12 and potentially put them into darkhorse contender status in 2019.
6. Camping World Bowl: West Virginia vs. Syracuse
You can make the argument this game should be No. 5. Two ranked teams. Big 12 vs. ACC. Former Big East rivals. But, eh. Big 12 fans don't care about the Big East ties for these two schools. Plus, Will Grier is electing to skip the bowl game. I don't blame him one bit for that, but it takes a lot of the juice out of the match up. Syracuse had a great season and was a total surprise across college football, but when's the last time anyone said they were dying to watch an Orange football game? Never, probably. Sorry, this one is now hard to get into.
7. Cheez-It Bowl: TCU vs. Cal
I'm thrilled for Gary Patterson and his young team that they won their final two games of the season to become bowl eligible. But it's a relatively late kick off, the game is in the middle of the week, I can't name a single player on Cal's team and the game isn't being played in Big 12 country. Are TCU fans going to make the trip to Phoenix the day after Christmas? I'll believe it when I see it. It was disappointing to see the team had trouble, at times, filling Amon G. Carter Stadium this season, the year after a trip to the Big 12 title. This will still be a really great opportunity for the young players to get the experience and build to 2019. But I'm not on the edge of my seat in anticipation for this one.
**Sign up here for our HCS weekly e-mails for a chance to win FREE Heartland College Sports and Big 12 team gear!!**