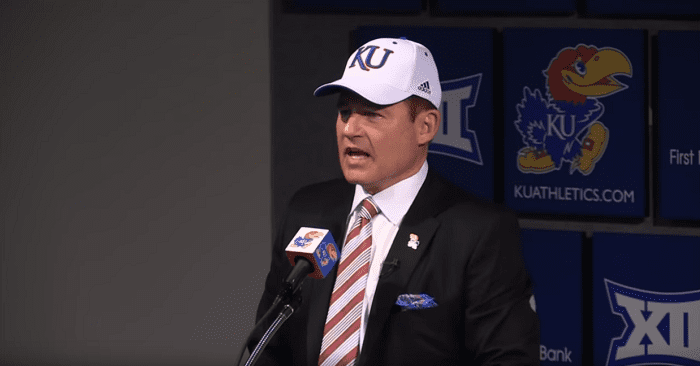 Now that the Big 12 Conference has all its coaches lined up for 2019 season, we did a round table at Heartland College Sports to discuss who was the best hire of the three open jobs: Les Miles at Kansas, Chris Klieman at Kansas State and Matt Wells at Texas Tech.
Matthew Postins: Chris Klieman, Kansas State
So which Big 12 team made the best head-coaching hire? That's actually a tough one because I like all three hires. But I'll stick with the coach I've been hyping since the hiring cycle began — Chris Klieman for Kansas State.
Yes, he will be a little behind the curve when it comes to recruiting this cycle because, after all, he's trying to wrap up a fourth FCS national title at North Dakota State. But in the areas K-State needs help right now — player development, installing a more modern offensive scheme and maintaining its standard on defense — Klieman excels in all three areas. Fargo, N.D., and Manhattan, Kan., have a lot of in common — heartland cities that value the qualities both Klieman and his K-State predecessor, Bill Snyder, embody.
Klieman knows how to win. Yes, he has national championships. But it's not as if he's been playing in a slacker conference, either. The Missouri Valley Football League is the toughest conference in FCS and four of his six career losses at NDSU are in league action. So he knows how to navigate a tough conference slate.
Matt Wells should do well at Texas Tech. Les Miles will elevate Kansas, but he likely won't be there that long. Klieman, to me, feels like the coach who will be at his job 10 years from now and restore the Wildcats to a Snyder-like success.
Cameron Brock: Les Miles, Kansas
There is one famous quote to sum up Jeff Long's hiring of Les Miles.
"In a year that's been so improbable, the impossible has happened."-Vin Scully, 1988 World Series
Jayhawks football basically entered the search on two bad legs. The Jayhawks are graduating 14 seniors including its entire starting defensive line and entire starting wide receiver corps. You can also scratch off two offensive lineman and quarterback Peyton Bender. Add in the fact that Kansas was ranked 169th in recruiting with one commit according to 24/7 Sports, and you've got to be thinking this program is hopeless. No one wants to coach the Kansas Jayhawks.
BOOM!
Jeff Long hires national championship winning coach Les Miles for a bargain (Remember, Texas A&M hired Jimbo Fisher for 10 years, $75 million. The only other active national championship winning coaches are Dabo Swinney and Nick Saban.)
This comes in a year that Kansas lost to FCS Nicholls State, but defeated three Power Five Conference teams including bowl bound TCU. Additionally, Pooka Williams was named Heartland College Sports Newcomer of the Year. Some improbable things have happened this hear, but Jeff Long made the impossible hire happen.
Dave Beall: Les Miles, Kansas
This should've been a hard topic considering that all three coaching changes made good hires but for me it was easy.  I think Matt Wells and his staff have a shot at taking Texas Tech to a level Kingsbury couldn't get them to. I also think Chris Klieman being hired at Kansas State has the chance to be the best hire in the Big 12 in a long time not named Lincoln Riley.  But for me it was easy: Les Miles was the hire I liked the best. Will he win more than those other guys do? Probably not but he will have an effect on KU and the rest of the conference beyond winning. Miles is a kook and an absolute must watch when it comes to him roaming the sidelines or speaking at a press conference.  He should be able to recruit well enough to get KU back into bowl contention regularly and will probably pull a crazy upset every year just by coaching fearlessly. I fondly remember his days at Oklahoma State and I expect him to be just as entertaining in Lawrence as he was in Stillwater!
Pete Mundo: Matt Wells, Texas Tech
I know, my selection might shock you, but here is my thinking behind this. I didn't agree with firing Kliff Kingsbury, but when stacking up Wells against his counterparts, Miles and Klieman, he's had the most recent success at the highest level. Sure, Les Miles has a National Championship under his belt, and no doubt he can recruit, but is this just another retread hire for Kansas? His offense was archaic five years ago, how will it work now in the Big 12? Meantime, Klieman is a nice hire at Kansas State and a good cultural fit, but his success comes at the FCS level. He has coached at the Power 5 level once in his career, as a DB coach at Kansas over 20 years ago (1997). Wells has rebuilt Utah State twice during his tenure, with a slight lull in between. His offense ranked third in the FBS this past season, with a defense in the Top 40, while finishing first in the Mountain West twice. Texas Tech was never going to get a massive name, but Kirby Hocutt went outside the box and maybe just got himself his football version of Chris Beard. If so, Texas Tech has a home run hire.
**Sign up here for our HCS weekly e-mails for a chance to win FREE Heartland College Sports and Big 12 team gear!!**