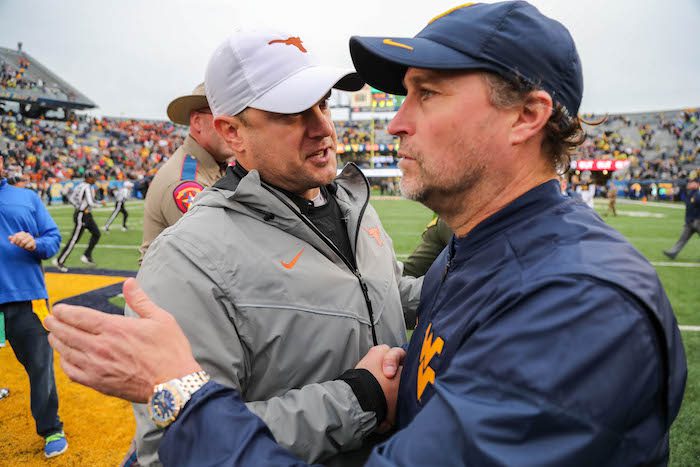 Merry Christmas to all Heartland College Sports readers, listeners and viewers! We are about to put another very successful year in the rear view mirror and we could not do any of it without you. So on this Christmas morning, let's have some fun and put together what should be at the top of every Big 12 program's wish list this Christmas season.
Baylor Bears: Offensive line help
Matt Rhule deserves an enormous amount of credit for taking this team from one win fresh off a massive scandal to six wins and a bowl game in Year 2. Baylor was middle of the pack in the Big 12 in total offense (5th) and total defense (6th). But something that continues to hamper the program under Rhule is an offensive line that gave up a Big 12-worst 37 sacks, and that's with a fairly mobile quarterback in Charlie Brewer. Rhule did recruit the position heavily in the Class of 2018, so here's to hoping that unit continues to grow and improve in 2019. That will be necessary for Baylor to take that next step in their progression as a program under Rhule.
Iowa State Cyclones: Ryan Day's success at Ohio State
Yes, Matt Campbell did just sign another extension with Iowa State, so his actions continue to speak louder than any words or rumors on what job(s) he might be interested. I'm convinced there are only two he'd seriously look at in the near future and that's Notre Dame or Ohio State, the latter being the more likely. So with Urban Meyer announcing his retirement and offensive coordinator Ryan Day taking over, every Cyclones fan should become a Ryan Day fan. The more success Day has, as a young head coach, the more likely it is that the job in Columbus never opens up and Campbell remains very happy and successful in Ames.
Kansas Jayhawks: Les Miles' magic touch
Kansas has been as bad of a football program as there is at the Power 5 level over the past few years. They now have a coach who was won a National Championship, but will that matter? They also had a coach previously who had Super Bowl rings in Charlie Weis, and that didn't do much good for the Jayhawks. I'm cautiously optimistic because, well, I want KU to not be awful. So if the Mad Hatter still has his magic touch on the recruiting trail and in high-pressure game situations, the Jayhawks will see a nice lift.
Kansas State Wildcats: A smooth transition
The retirement of Bill Snyder felt forced and awkward. Everything from Snyder's lack of a statement to the lengthy time following the season when it was unclear what the future held for Snyder, it all felt weird. But the Wildcats have a winner in Chris Klieman, who is not afraid to coach in Bill Snyder's shadow and is a great cultural fit for Kansas State. He has some work to do in replenishing the recruiting of the program that has lost a large number of players to transfer, but there's reason to believe Klieman can do it and do it well.
Oklahoma Sooners: Another Heisman winner?
Does this sound greedy? I guess, but when you've won the last two Heisman Trophies and have had a finalist in New York City that past four years under Lincoln Riley's tutelage, why would that seem unreasonable? Is that person Austin Kendall, who has patiently waited his turn? Is it the No. 1 pro-style QB prospect in America in 2019, Spencer Rattler, who is an OU commit? Heck, is it a running back like Trey Sermon or Kennedy Brooks? In fairness, there are probably too many carries to go around for the running backs to be in the mix. But as long as Lincoln Riley is in Norman, expect an OU player to be represented in NYC for the Heisman Trophy as a finalist, if not a winner.
Oklahoma State Cowboys: Consistency
Mike Gundy's team was a couple of plays away from 9-3. Instead, they finished 6-6. It was a weird season with wins over Texas and West Virginia, along with a near-miss against Oklahoma, while losing to Kansas State, Baylor and Texas Tech. Go figure? Gundy has to work in a new quarterback next season, but does have a lot of other returning pieces, which is a good thing. Now he just needs his team to be more consistent in 2019. Do that, and this program can be right where it was from 2015-17 when it won 10 games every year.
TCU Horned Frogs: Justin Rogers living up to the hype
Shawn Robinson announced his surprising transfer earlier this month and Grayson Muehlstein, who is starting the Cheez-It Bowl, is graduating. That leaves Rogers and Mike Collins, the UPenn transfer who played sparingly this season before getting injured. Collins was decent during his time on the field, but didn't exactly light things up. Rogers came in as part of the Class of 2018 with a ton of hype of a four-star recruit, but red shirted this season since he was recovering from a knee injury suffered in high school. TCU probably only gets one more season with star wide receiver Jalen Reagor, so having a competent quarterback to get him the ball with play a huge role in TCU getting itself back near the top of the Big 12 in 2019.
Texas Longhorns: OU to miss on a quarterback
Texas is "back", whether you like it or not. Tom Herman got his team to the Big 12 Championship Game and has the program in a New Year's Six Bowl Game (Sugar Bowl vs. Georgia). But the biggest hurdle they have is Oklahoma. Lincoln Riley has flawlessly taken the reins from Bob Stoops and has actually recruited better than Stoops did towards the end of his tenure. With Riley reloading in Norman year after year, it's still OU's conference to lose at this point. It's hard to see this being the case, but considering Texas missed on quarterbacks for about ten years, they probably wouldn't mind seeing that happen to their biggest rival north of the Red River.
Texas Tech Red Raiders: Alan Bowman's health
Bowman dealt with a collapse lung this season and then re-injured it later in the year. The true freshman was outstanding under Kliff Kingsbury, and despite the change at head coach, Bowman has made it clear he's in Lubbock for the long haul. For a new coaching staff to know it has a very good quarterback for at least the next two years is huge. But making sure Bowman is 100% healthy and is not, and will not, suffer any side effects from the collapsed lung should be priority No. 1 this offseason.
West Virginia Mountaineers: Dana Holgorsen calling plays again
Jake Spavital is gone, as the West Virginia offensive coordinator took the head coaching position at Texas State. Not many Mountaineers fans lost sleep over this. Dana Holgorsen brought in his friend to call plays so he could assume more of a CEO-like role. Unfortunately, too many times over the past two seasons Spavital seemed over matched or did not make the proper in-game adjustments. And often times, Holgorsen would call out his offensive coordinator, albeit indirectly. Holgorsen's best quality is his play calling. He should go back to doing it, regardless of who he hires as OC. What he did with Skyler Howard in 2016 should never be overlooked.
**Sign up here for our HCS weekly e-mails for a chance to win FREE Heartland College Sports and Big 12 team gear!!**