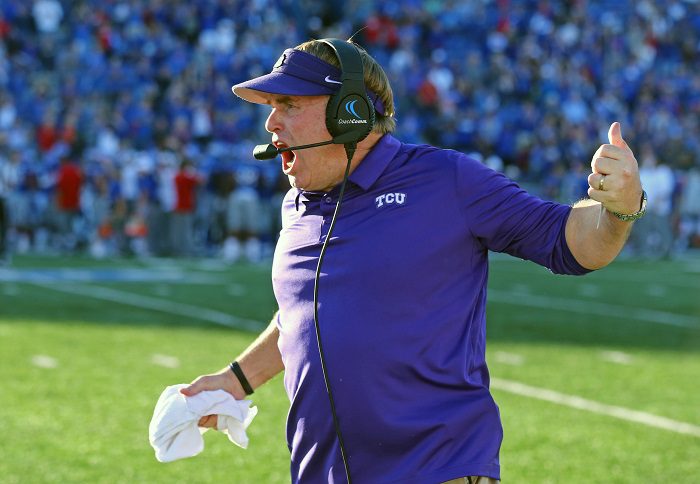 Of course it was an interception that essentially decided this game. It had to be. It was only right. Jah'Shawn Johnson picked off Cal QB Chase Forrest in the first overtime and returned it all the way to the Cal 11-yard line. 10 plays later, Jonathan Song knocked through a 27-yard field goal and the TCU Horned Frogs were Cheez-It Bowl Champions with a 10-7 win over the Bears.
Despite the score, boy was it exhausting to watch. Gary Patterson typically sweats through a couple shirts on Gameday, but he could've worked his way through a dozen in the desert of Arizona if he wanted to on Wednesday night.
This game was projected to be a defensive slugfest, with both teams bringing in far superior defenses compared to their respective offenses, however I'm not sure anyone predicted the offenses to play so poorly.

The game started off punt, punt, punt and then Grayson Muehlstein threw his first interception of the game which set up Cal's only score, a four-yard touchdown run by quarterback Chase Garbers to put the Bears up 7-0 late in the first quarter. That drive was followed by a punt and then, four straight possessions resulted in interceptions.
The score remained 7-0 heading into halftime after TCU mustered just another 23 yards of offense, but the Horned Frogs Twitter account took a positive stance on the game through two quarters.
Lewis, Small & Gladney all snagged picks in the first half, marking TCU's first three-interception game since 9/23/17 vs. Oklahoma State. 🚫✈️#BeatCal pic.twitter.com/whGnmDbxCq

— TCU Football (@TCUFootball) December 27, 2018
The second half started off just as poorly as the first half, with Muehlstein throwing another interception for the Frogs. Finally, later in the third quarter, TCU got the spark it desperately needed from Jalen Reagor, whose 58-yard punt return to the Cal 33 set up TCU's only touchdown of the game, a Sewo Olonilua one-yard run.
The Horned Frogs had a chance to win the game in regulation, but kicker Cole Bunce missed a 44-yard field goal attempt. It was an odd final few moments as TCU elected to not try one more play on third down, instead letting the clock tick down to three seconds, call their final time out, and try the field goal on third down. Then, Bunce was out for the kick, Cal used a timeout, Song briefly appeared on the field, before Patterson turned back to Bunce who missed his attempt.
Overtime, here we come. And on the first drive for Cal, Johnson picked off Forrest, which set up the game-winner from Song.

It was ugly, and even Gary Patterson admitted as much after the game, telling ESPN, "I would say this season defined our whole season, except we came out on top. This team got to seven wins, when five weeks ago we were 4-6. So you got through the season, go through December and to finish with a winning season is a cool thing."
It is a cool thing, especially considering how this game went. Grayson Muehlstein finished an abysmal 7 of 20 for 27 yards, zero touchdowns, four interceptions and TCU won the game. In large part, the team can thank Olonilua, who had a career-high 194 rushing yards. As for his running back's performance, Patterson added, "He's a big mack. When he runs with lean, he gets himself ready to go, it makes a difference. If he'll keep running like that, someday he'll make a lot of money. But he's got to keep running like that."
Emari Demercado added 51 on the ground as the Horned Frogs piled up 262 rushing yards to offset the rancid passing game.
In many ways, this ugly and bizarre bowl game was a perfect encapsulation of a strange season for the Horned Frogs. TCU was once ranked in the Top 15 in the country before an absurd 30 season-ending injuries hit the team and it fell to 3-5, rallied back, played four quarterbacks and finished 7-6, which included a bowl game that featured nine interceptions.
Yep, it was that kind of season.
But, despite it's mediocrity, compared to say the Big 12 Championship Game season of 2017, it's not one Patterson will forget, saying to ESPN after the win, "I'll remember this [season] as much as any of them, just because of everything this group went through. It really says a lot about the program, the foundation of what we've done, what we've had to go through to get to where we're at. And to finish against a good Cal team is what we wanted to get accomplished. I'm really proud of my seniors for going out a winner."
For Patterson, he remains a winner. He has 14 winning seasons in 18 years in Fort Worth. For all the talk that Oklahoma and Texas are the future of the Big 12, let's not forget about TCU, who was in the title game last year and has built a serious foundation under the best coach in the conference. It was a strange and twisted year, but this program isn't going anywhere.
**Sign up here for our HCS weekly e-mails for a chance to win FREE Heartland College Sports and Big 12 team gear!!**