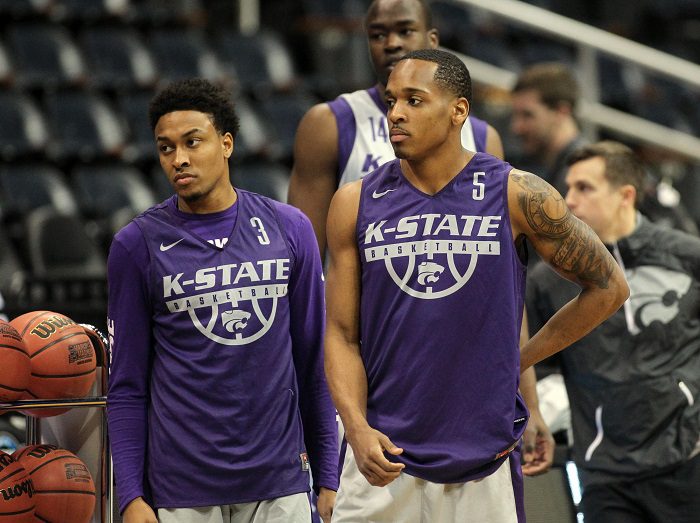 Between now and the beginning of conference action in Big 12 men's basketball, HeartlandCollegeSports.com contributor Matthew Postins will watch at least one game for each Big 12 team and assess where each team stands in the final weeks before league action. Today it's the Kansas State Wildcats.
Damn, that defense
It's stifling to say the least. The Wildcats entered this game against Vanderbilt with the No. 6 scoring defense in the nation. As of this writing they're No. 10 at 58.6 points per game. Like last year, the Wildcats play great team defense, led by their exceptional guard Barry Brown Jr. They've bought into head coach Bruce Weber's goal of creating an intense man-to-man blanket in the halfcourt. So it's no surprise that Brown leads the team in steals with 22. But Xavier Sneed, Kamau Stokes and Cartier Diarra all have 11 or more steals, and guard Mike McGuirl has picked up 8. The Wildcats are also in the Top 50 nationally in turnovers forced. Against Vandy the Wildcats were without forward Dean Wade, but still managed to hold the Commodores under 30 points in the first 30 minutes of the game, 31.8 percent shooting for the game and forced 15 turnovers. This group will challenge Texas Tech as the best defensive team in the Big 12. They're incredibly fundamental, know how to help and don't give up many dribble drives to the basket without forcing a kick.
Without Wade …
Wade didn't play against Vanderbilt with a foot injury. Before the injury Wade was averaging 13.6 points and 7.8 rebounds, so he's picked up right where he left off a year ago. What I've always liked about Wade is how he plays with a chip on his shoulder, even if he is the team's best forward and one of the league's best forwards. The good news for these Wildcats is that because of last year's NCAA Tournament run without Wade, they're used to playing without his inside play and can compensate, which is what they did against Vandy. But, Kansas State hasn't provided a timeline, saying only that Wade is out "indefinitely." What happens to this K-State team if Wade misses, say, half of the Big 12 slate? That's an awfully interesting question. But there's enough body of work out there, based on last year and the Vandy game, to suggest K-State can handle the load until Wade returns. And when Wade returns, the Wildcats get back a player that can put them over the top in Big 12 play.
What can Brown do for you?
Well, K-State fans know what Barry Brown Jr. can do for them because he's been doing it for a few years now. One of the most experienced players in the Big 12 looks the part of a First-Team guard going into Big 12 play. Averaging 14.1 points per game, he leads the Wildcats in scoring. As mentioned, he also leads them in steals and he's the best on-ball defender among the guards on this team. He didn't have a great game against Vandy offensively — he only scored 12 points before fouling out. But he's the heartbeat of this team and even when his offense is off everything else clicks. He had a team-high 3 steals against the Commodores, after all. About the only thing to watch with Brown right now is his 3-point shooting percentage. He's only 27.8 percent after shooting nearly 40 percent a year ago. Of course, his overall shooting percentage has improved by 7 percent from last year. That tells me that Brown's mid-range game has improved and he's choosing higher-percentage shots, which in the long run will benefit both him and K-State.
Is Mawien improved?
Going into this season, with the Wildcats returning so many of last year's starters and key bench players, I felt one player that absolutely had to improve over last year's production was Makol Mawien, the Wildcats' starting forward who is basically their starting center. Within the confines of this game against Vandy, I liked what I saw. He showed some aggressiveness with the ball outside the paint that I didn't see last year (I'm thinking specifically of that drive and dunk in the first half that electrified the Sprint Center). For the game he led K-State with 15 points, added 5 rebounds and a blocked shot. But what about this season? Well the numbers are marginally better. He averaged 6.8 points and 3.4 rebounds last season. This season Mawien is averaging 7.2 points and 4.2 rebounds. Going into the season I was less focused on the scoring as I was on the rebounding because the Wildcats have guys to handle the scoring. But they need Mawien to be that guy inside that can rebound the ball. Certainly a .8 improvement per game is nice. But I was hoping it would be closer to the 2-3 per game range. That would be more impactful for the Wildcats, especially with Wade out at the moment. And guess who the Wildcats' leading rebounder is right now? Yep, Wade. If there is any good news it's that Mawien has picked up his numbers since Wade's injury. He grabbed 7 against Southern Miss — which is the game in which Wade was injured. K-State will need more of that in Big 12 action.
What about the bench?
Well with basically six returning starters from a year ago (how you want to approach that with Stokes and Diarra is up to you) the Wildcats need to develop a bench. I'm not sure the Wildcats are there yet. They've played four different players in 10 or more games this year beyond the core six — Austin Trice, Mike McGuirl, Levi Stockard III and Shaun Neal-Williams. Trice, a forward, has produced the most, but he's only averaging 3 points and 4.2 rebounds per game. That looks tepid on a flat sheet of paper. But when you consider he's only playing 11.2 minutes per game, he's averaging a point or rebound about every 90 seconds, so he's making an impact on the floor. Plus, his 6-foot-7 frame and 235 pounds cuts a wide look on the wing or in the paint. McGuirl is averaging 2.4 points per game in 13 minutes and is the most experienced guard coming off the bench (he had 6 points against Vandy). Right now Stockard III and Neal-Williams feel like guys who take the floor for a few minutes in Big 12 action to give their veterans a rest. With a healthy Wade this looks like an eight-deep team. Without Wade it might be seven. This wasn't a terribly deep team last year and Weber needs at least a couple of players from that group of four to be consistent contributors in Big 12 play.
Going into the season I felt Kansas State was among the Top 3 teams in the Big 12. I still feel that way, but Wade's injury — especially if it's a long-term injury — gives me some concern. So does the distinct lack of bench depth. That's the danger in evaluating a team with one viewing. This bench could be better overall. However, This starting five — with or without Wade — is as solid as you're likely to find in the Big 12. They play defense with incredible tenacity and focus. And Brown can carry this team on his back. As long as Wade's injury doesn't keep him out too long, the Wildcats will be right there in the race for the Big 12 title.
Next Up: Texas Tech takes on Duke.
**Sign up here for our HCS weekly e-mails for a chance to win FREE Heartland College Sports and Big 12 team gear!!**