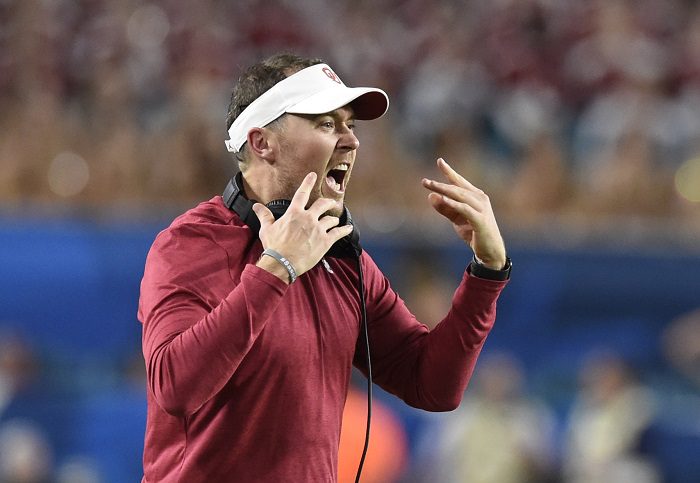 Four drives. Four touchdowns. That's how the game began for Alabama, who went up 28-0 over the Sooners at the 2:04 mark in the first quarter. And while OU did claw back, any reasonably-minded individual watching the game knew it was all but over only 13 minutes into the match up.
One move that will likely be questioned is Lincoln Riley's decision to defer after winning the coin toss. It allowed Alabama's offense to demoralize the Sooners' incredibly suspect defense to begin to game. And that's exactly what happened. Seven plays, 75 yards, ending on a Damien Harris one-yard touchdown run. The Sooners went three and out, and then Bama strung together eight plays for 55 yards, capped off with a 10-yard hook up between Tua Tagovailoa and Henry Ruggs III. 14-0 Crimson Tide.

OU's offense couldn't get into a rhythm early, playing against the strongest, biggest and most athletic defense they've seen this season. Their second drive was just five plays and went all of six yards. So on drive No. 3 for the Crimson Tide, it was five plays for 61 yards and Damien Harris knocked in his second touchdown of the game from one yard out. And on the fourth drive of the game for Alabama, there were five plays and 48 yards, with Oklahoma native Josh Jacobs took a Tagovailoa pass 27 yards to the house. 28-0. Good night.
The Sooners did find pay dirt on their next drive, which included a 32-yard pass to CeeDee Lamb on the drive. But at 28-7, the uphill fight proved too much to overcome as the Sooners lost to the Crimson Tide 45-34 in the Orange Bowl.
OU cut the lead to 31-10 by halftime and scored on all second half drives, but was unable to get enough stops when it mattered.
Nick Saban told ESPN after the win, "I'm really proud of our team. It's a great win for us. Oklahoma's got a great program and a great team, a great offensive team for sure, a lot of weapons, a lot of firepower. There's a lot of things we can do better, we had a lot of untimely penalties in this game that really either extended drives for them or stopped us."

Saban was right to call OU a "great offensive team". It's not a great team. In fact, OU's inability to tackle, which was a concern all season long, and it was ultimately their downfall in the College Football Playoff. OU gave up 200 rushing yards, including 98 to Josh Jacobs, who it was well documented felt a little extra enthusiasm coming into this game since he was never seriously recruited by OU coming out of high school in Tulsa. What should've been two-yard losses turned into three-yard gains and three-yard gains turned into nine-yard gains.
Kyler Murray's stat line (19/37, 308 yards, 109 rushing yards, 3 TDs) will overshadow a game that was filled with jitters, missed throws, and poor clock management. He did not appear comfortable early in the game, and it didn't help that star wide receiver Marquise Brown never seemed healthy and had zero catches in the game.
For the Sooners, it's the third time they've been to the College Football Playoff semifinal and the third time they lost the game. But unlike the first two, where OU held leads at halftime and then got outplayed and outcoached in the second half, this one was over early.
For OU, it's a chance to re-evaluate. But the answer is fairly obvious: fix this defense. There is talent on that side of the ball, but the growth and development has not been there. For OU to get over that hump and play for a National Championship, they'll need to do that.
**Sign up here for our HCS weekly e-mails for a chance to win FREE Heartland College Sports and Big 12 team gear!!**