Big 12 News
Matt Campbell Declined New York Jets' Request for an Interview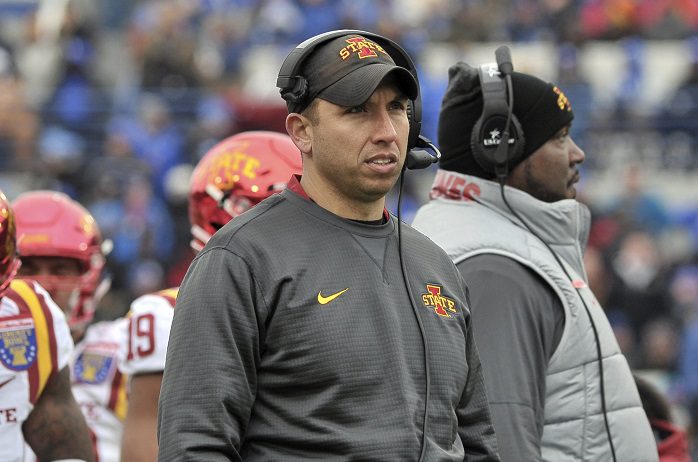 We've long wondered what might one day pull Matt Campbell away from Ames, Iowa. We thought maybe Ohio State or Notre Dame. Now, how about the NFL? According to Manish Mehta of the New York Daily News, Matt Campbell reportedly turned down an interview from the New York Jets to discuss their head coaching vacancy after they fired Todd Bowles.
Iowa State coach Matt Campbell declined the Jets request to be interviewed for their HC job, per source

— Manish Mehta (@MMehtaNYDN) December 31, 2018
The Cyclones suffered a tough loss to Washington State in the Alamo Bowl last week, but Campbell remains an incredibly hot commodity in college and the NFL. However the head coach has continued to squash the rumors that get floated out there about his future. With several big-time college jobs open following the 2017 season, Campbell signed an extension with the Cyclones in November. And earlier this month, Campbell signed another extension through 2024.
Campbell is the back-to-back Big 12 Coach of the Year after guiding the Cyclones to an 8-5 record, as the program won six games in the Big 12 for the first time ever. Their 16 wins the past two seasons is their most in a two-year stretch since the 2000-2001 season.
After signing the extension, Campbell said in a statement, Our staff is committed to raising this program to a championship level and it's important for our team, our fans and prospective Cyclones to know that we are fully invested in the future of Iowa State football."
While the Jets have traditionally been a bad NFL franchise, they do have a young, top-tier quarterback to build around in Sam Darnold, which might have the job more attractive than it's been in a long time. But Campbell, time after time, continues to back up his commitment to Iowa State University. In this day and age, it's refreshing to watching.
**Sign up here for our HCS weekly e-mails for a chance to win FREE Heartland College Sports and Big 12 team gear!!**