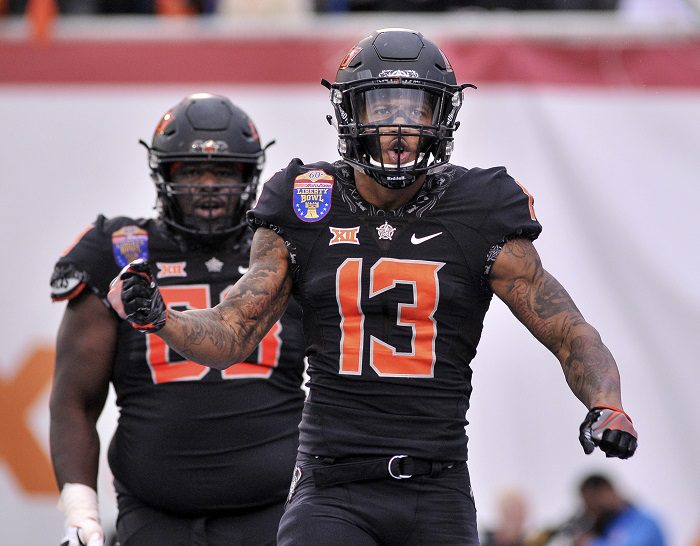 The Cowboys had given up over 600 yards to Missouri, but when it mattered most, Jim Knowles' bend-but-don't-break defense got the necessary stop.
With Oklahoma State up five points with one minute left, Missouri had a fourth and one from the Oklahoma State nine-yard line. But Drew Lock could not get the edge on an RPO and the Cowboys would force the turnover on downs. Two kneels later from Taylor Cornelius and Oklahoma State won the Liberty Bowl 38-33 over their former Big 12 foe.
Mike Gundy was in such a good mood after the win, he said, "We have great leadership President Hargis and Mike Holder our athletic director and all our fans, but once again, I'm just proud of the way our guys competed." 
In what's been a weird year for Oklahoma State, where they have played up and down to competition, leave it to Gundy to end the season on a high note and give praise to Mike Holder and the fans, who he's seemingly been at odds with at times in recent seasons.
After trailing 16-14 at halftime, the Pokes dominated the third quarter, outscoring the Tigers 21-3 and taking a 35-19 lead heading into the fourth. Taylor Cornelius hit Tylan Wallace and Tyron Johnson for touchdown passes and Chuba Hubbard ran for a score. Cornelius finished his career with a solid game, going 26/44 for 336 yards and four touchdowns to two interceptions.
On his fifth-year signal caller, who's received criticism at time this season, Gundy added, "He made a mistake one time, but his guts and his willingness to compete, along with the other players, is special. The culture we had at Oklahoma State is different, i love these kids, the coaching staff did a great job… but I'm so proud of our team." 
The mistake(s) Gundy is referring to came during Missouri's comeback in the fourth quarter. Cornelius threw two interceptions early in the fourth quarter and both drives sparked touchdowns for the Tigers to pull them to within two points.
After Oklahoma State had a failed fake punt attempt, the Cowboys defense bailed out the team by blocking a 42-yard field goal try by Mizzou to maintain the lead at 35-33. Oklahoma State then converted on a field game of its own, which would turn out to be the last points of the game.
The Pokes also overcame the loss of Rodarius Williams and Kemah Siverand to targeting penalties. But Gundy was impressed with his team's resilience, telling ESPN, "So proud of our kids and our coaches for making the adjustments through the game, we lost a lot of players, three in the secondary, those guys stepped up and played really good. Could not be any more proud of the way they competed." 
But Gundy, unlike some fans on social media, was not complaining about the calls, adding, "We didn't play our defense… it's  a scary situation with him, those were legit calls, our guys have got to do a better job of staying low." 
In the end, Gundy improved to 9-4 in bowl games and the Cowboys finished 7-6 one season after winning 10 games each year from 2015-17. With the win, Gundy still hasn't finished with a sub-.500 season since his first season on the job in 2005 when the Cowboys went 4-7.
**Sign up here for our HCS weekly e-mails for a chance to win FREE Heartland College Sports and Big 12 team gear!!**