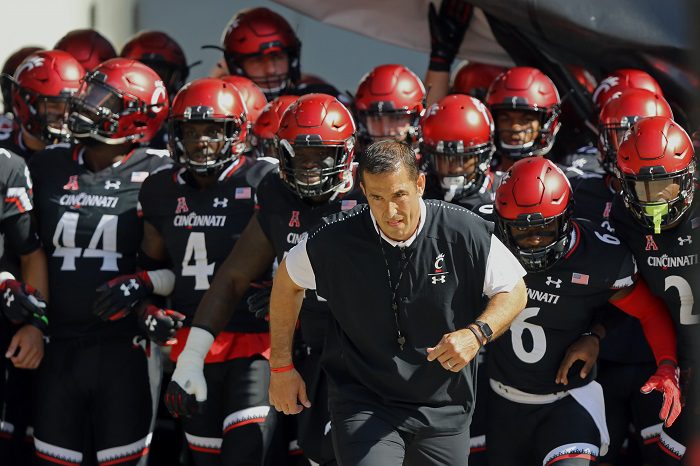 The West Virginia Mountaineers suddenly find themselves in the market for a new head football coach after Dana Holgorsen left Morgantown for the Houston Cougars. So, with the Mountaineers scrambling to find their next leader, we hope Shane Lyons & company take a look at what the Heartland College Sports crew has to offer before that make this enormous hire. Here is our roundtable on who we think West Virginia should hire to be its next head coach.
Matthew Postins: Jeff Monken, Army West Point
A service academy coach at a Power 5 school? It's worked before (see Johnson, Paul at Georgia Tech). Monken is a Johnson protégé having worked for Johnson at Georgia Southern, Navy and Georgia Tech. Since then he's been the head coach at Georgia Southern and Army, where he has an overall record of 73-44, authored Georgia Southern's stunning upset of Florida in The Swamp in 2013 and turned Army into a relevant program again. The Black Knights just wrapped up their second straight 10-win season, third straight bowl win and look to be ranked in the final AP Top 25.
Army had practically nothing when he arrived. I've seen his teams four times over the past three years. Army has gone from a team just happy to have a spot in a bowl game to a program that believes it can beat anyone, anywhere, anytime. How else do you explain the Black Knights' near-win over Oklahoma in September in Norman? Plus, his Black Knights probably put Houston's Major Applewhite out of a job after that Armed Services Bowl win last month. Monken has changed the attitude at that program and he can do it at West Virginia, too.
The elephant in the room, of course, is that triple option system he runs at Army. He ran it at Georgia Southern, too, and he learned it from Johnson. Well, Johnson was 189-100 in his career and led Georgia Tech to four ACC Coastal Division crowns, along with one ACC title. So it CAN work in Power 5 football. But Monken may not be tethered to that offense, either. He may be amenable to making changes to his philosophy. That's why I believe he's worth a phone call for West Virginia. He has all the intangibles and intelligence to be a coach in the Power 5. He just needs the opportunity — and perhaps a little time to do something different.

Derek Duke: Neal Brown, Troy
I am still not sure why his name is being brought up for more jobs, but I think Neal Brown at Troy would be a very intriguing hire for West Virginia. His current buyout is at 2.9 million and just look at the success he has had as a head coach at Troy. He was an offensive coordinator at Texas Tech and Kentucky before taking the head coaching job at Troy and runs an air raid offense that fits in the Big 12. Before Neal brown took over at Troy, the Trojans had never won ten games in a single season in the FBS and in his second year, he went 10-3. In fact, after this season he has won at least ten games for three straight seasons. That's not easy to do and if you look at what Tory was before Neal Brown got there compared to now, it is a night and day difference. I think if West Virginia hired Neal Brown, it would be a good thing in my book.
Pete Mundo: Luke Fickel, Cincinnati 
One of Dana Holgorsen's shortcomings was his ability to recruit to Morgantown. It's a fantastic college town that can be sold to recruits, if you can get them there. For Holgorsen, he didn't have ties to the region, or to Florida, that made the program so successful under Rich Rodriguez. Holgorsen had ties to Texas and Big 12 country, and even though the program was entering the Big 12, it proved more difficult than maybe Holgorsen expected to get those kids from Texas and Oklahoma to come to WVU. So I'd like to see Luke Fickel take over. Fickel has an impressive resume working his way up the food chain at Ohio State before taking over Cincinnati and taking the Bearcats from 4-8 last season to 11-2 this season. The Bearcats were very balanced as well, with the 11th ranked team in the country in total defense and a Top 25 total offense.
Plus, Fickel is an Ohio lifer, meaning he knows the Ohio region, with is all of a few-hour drive from Morgantown, and he also has recruited Florida in his first couple of recruiting cycles. Despite being in the Big 12, WVU going back to recruiting the top kids in their immediate region might be the formula that gets this program to where it wants to be, which is consistently competing at the top of the Big 12 Conference. Luke Fickel can do just that.

Cameron Brock: Bo Pelini, Youngstown State
Call me crazy. The dude has two losing seasons in four years at Youngstown State.
However, he never produced fewer than nine victories at Nebraska. During his tenure with the Cornhuskers, he produced one of the best defensive players in Ndamukong Suh. West Virginia needs to rebuild its defense from the Holgorsen era and Pelini is an excellent defensive mind. He has seen success in the Big 12 and Big Ten. West Virginia could be seen as a Big Ten school geographically in the recruiting world. With experience in both conferences, Pelini should be able to recruit Ohio, Pennsylvania and Texas. The Mountaineers are an oddity and Bo Pelini fits the bill.
**Sign up here for our HCS weekly e-mails for a chance to win FREE Heartland College Sports and Big 12 team gear!!**