Big 12 News
Texas Longhorns WR Collin Johnson Returning for Senior Season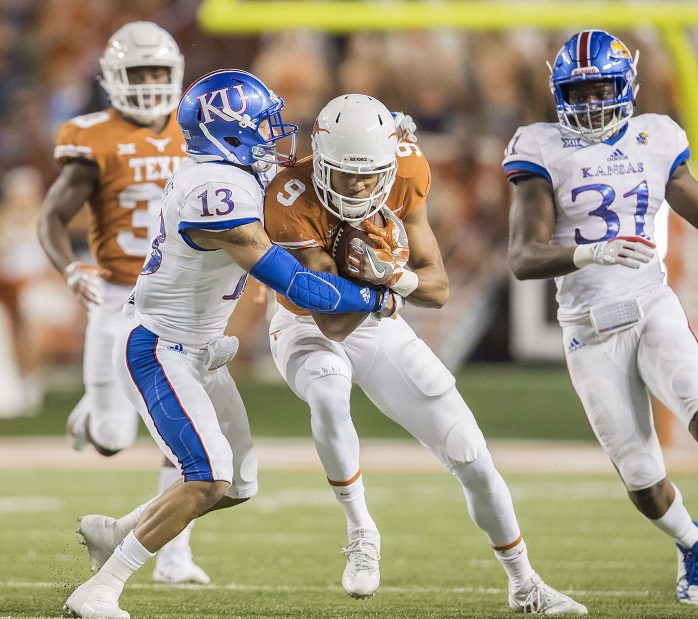 The Texas Longhorns received some great news on Thursday when star wide receiver Collin Johnson announced he would be returning to the team for the 2019 season. Johnson made the announcement on Twitter.
The best is yet to come! 🤘🏽#CallinJohnson #Hookem pic.twitter.com/RJvjnAE4OF

— Collin Johnson (@Call_In_Johnson) January 3, 2019
Johnson is coming off a great season with the Longhorns where he finished with 68 catches for 985 yards and seven touchdowns. This followed up last season when he had 54 catches for 765 yards and two scores. His best game of the season came against the Oklahoma Sooners when he set a Big 12 Championship Game-record with 177 receiving yards on nine catches with a touchdown.
The 6'6" wide receiver just missed out on postseason recognition, but much of that was due to the depth at the wide receiver position in the Big 12 Conference. Three of the six wide receivers who earned first or second-team nods have graduated or left for the NFL Draft. With Johnson getting another offseason under his belt to improve his craft, along with quarterback Sam Ehlinger, the wide out returns as one of the top wide receivers to keep an eye on in the conference.
Johnson came to Austin from Los Angeles. He's the son of UT All-America defensive back (1976-79) and College Football Hall of Famer Johnnie Johnson.
**Sign up here for our HCS weekly e-mails for a chance to win FREE Heartland College Sports and Big 12 team gear!!**