Baylor Bears
Report: Baylor Head Coach Matt Rhule is Perceived to be NY Jets 'Guy'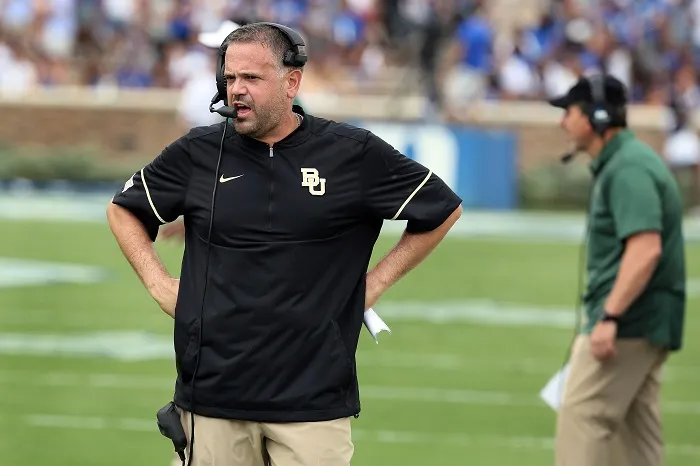 A new report from Manish Mehta of the New York Daily News says that Baylor head coach Matt Rhule is perceived to be the NY Jets "guy" for their head coaching search.
#Jets obviously are not tipping their hand, but the perception of two other teams looking for head coaches is that Baylor's Matt Rhule is NYJ's guy. pic.twitter.com/icA0iLAl9X

— Manish Mehta (@MMehtaNYDN) January 7, 2019
Rhule has plenty of ties to the region. He was born and raised in New York City before going to Penn State where he played linebacker. From 2006 to 2011 he was in the Temple Football program and then spent a year with the New York Giants under Tom Coughlin as an assistant offensive line coach. Rhule then returned to Temple to be the head coach from 2013 to 2016 where he went 28-23, including 20-7 in his last two seasons with the program.
He took over the Baylor Bears following the 2016 season and after a 1-11 campaign in 2017, the Bears improved to 7-6 this year, including an impressive win over Vanderbilt in the Texas Bowl.
Rhule is very well regarded in the NFL and was rumored to be up for the Colts job last year following the 1-11 season in Waco.
The Bears have ton of momentum in the program right now, the most the team has had since the heyday of Art Briles. Keeping Rhule has to be the top priority, a la Matt Campbell in Ames, but the pull of the NFL and the northeast might be too much for a head coach who grew up in the area and has tasted the NFL in a previous stint.
**Sign up here for our HCS weekly e-mails for a chance to win FREE Heartland College Sports and Big 12 team gear!!**