Big 12 News
Alabama QB Jalen Hurts Transferring to Oklahoma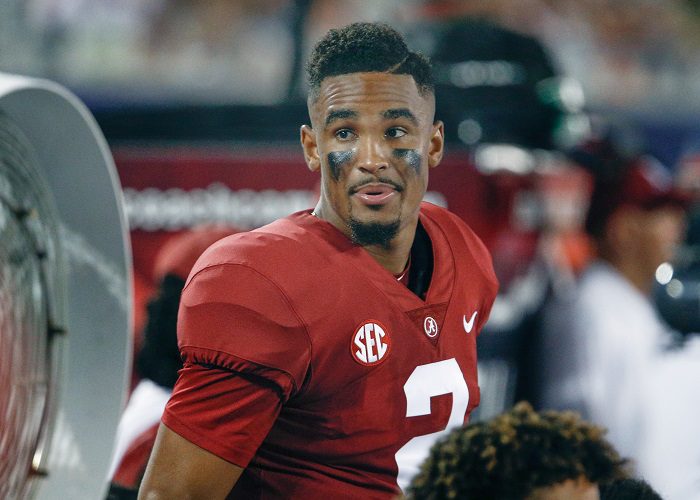 The Sooners have landed another transfer quarterback to try and get themselves back to the College Football Playoff. Alabama QB Jalen Hurts announced his decision Wednesday on The Players' Tribune that he would be playing his senior season with the Oklahoma Sooners. Since he is a graduate transfer, Hurts is eligible to play immediately.
Hurts also visited Maryland and Miami before deciding on the Sooners, but there was plenty of interest from Auburn, UCLA, Florida State, Ohio State and Tennessee.
In his post, Hurts was very grateful for his time in Tuscaloosa, but wrote, "I've decided to take my talents to the University of Oklahoma, where I will continue my development as both a quarterback and as a student…So to my about-to-be family in Norman, I truly appreciate you for bringing me on board. Y'all don't know me yet……… but just for now, to introduce myself: I'm a motivated coach's son from the Eastside of Houston, and I love to play ball."
Hurts went 26-2 as a starting quarterback at Alabama before he was benched in favor of Tua Tagovailoa in last year's National Championship Game, but he was never able to regain the starting job back. However he did play plenty this past season as the back up, completing 51 of 70 passes for 765 yards, 8 touchdowns and 2 interceptions, with 167 rushing yards. He led the Crimson Tide back in the SEC Championship Game against Georgia, finishing 7 of 9 for 82 yards and one touchdown.
In two seasons as the starting QB, Hurts won an SEC Offensive Player of the Year award and threw for nearly 4,900 yards, 40 touchdowns and 10 interceptions and over 1,800 rushing yards.
Lincoln Riley has become a savant for landing top-tier transfer quarterbacks and turning them into Heisman winners. He was able to help both Baker Mayfield, and then Kyler Murray, win the award, while getting the the College Football Playoff with both in three of the past four seasons.
**Sign up here for our HCS weekly e-mails for a chance to win FREE Heartland College Sports and Big 12 team gear!!**