Big 12 News
HCS Big 12 Men's Basketball Starting Five: Week 3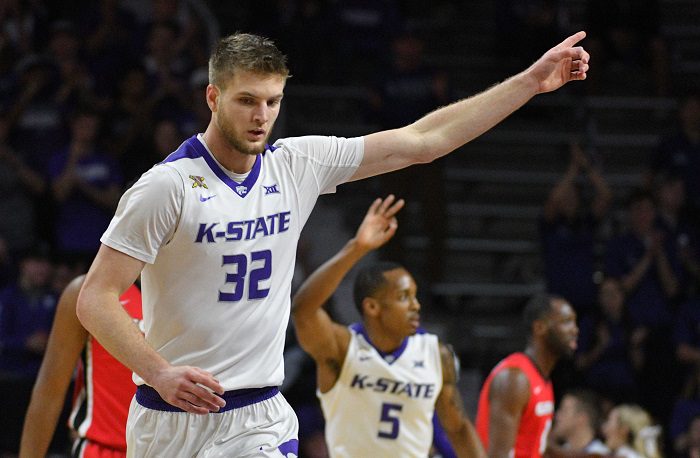 After watching each of the Big 12 games for Week 3 of the league season (Jan. 14-20), here is the Heartland College Sports Men's Basketball Starting 5.
DEAN WADE, F, KANSAS STATE
Wade scored 20 points and grabbed 2 rebounds in the win over Oklahoma and then scored 16 points and 6 rebounds in the win over TCU. More importantly, his return has solidified the Wildcats' starting lineup and improved the Wildcats in key statistical areas that has them back in the mix to challenge Kansas and Texas Tech for the top of the conference for the long haul.
KING MCCLURE, G, BAYLOR
McClure fueled Baylor's 2-0 week with a 29-point outburst against Oklahoma State early in the week and then one of the more balanced lines I saw all week in Big 12 play coming against Texas Tech — 8 points, 6 rebounds, 4 steals and 4 assists. A great week for a team that needed its best guard to play like it.
MARIAL SHAYOK, G, IOWA STATE
Shayok had two 20-point games for the Cyclones against Iowa State and Oklahoma State. Shayok also hit the game-clinching free throws against Texas Tech in a huge road win for the Cyclones.
KERWIN ROACH III, G, TEXAS
Roach fueled Texas' win over Oklahoma on Saturday with 23 points and 8 rebounds. But he also scored 13 points and dished out four assists in the loss to Kansas.
JERMAINE HALEY, G, WEST VIRGINIA
The young guard hit the game-winning basket over Kansas and finished off a 13-point, 5-rebound, 2-assist game in the upset of the Jayhawks.
THE SIXTH MAN
LINDELL WIGGINTON, G, IOWA STATE
If Iowa State keeps him on the bench the rest of the season, he could end up being the league's sixth man of the year. Against Texas Tech he had 11 points and 6 rebounds, along with some key baskets down the stretch. Against Oklahoma State he dumped in 14 points and had 3 assists.