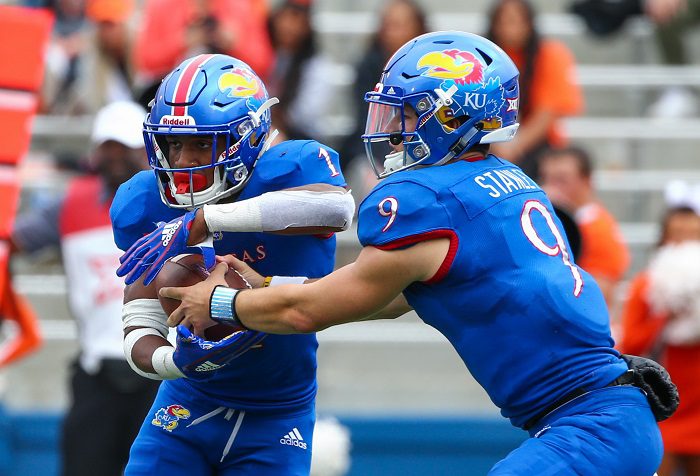 General Update
Earlier last week, Kansas announced the hiring of Les Koenning as their offensive coordinator/quarterbacks coach to complete the 2019 coaching staff. While a few final off the field hires were being made last Friday, the coaching staff is all set and ready to go. As of right now, here is how the staff sets up on the field. Obliviously Les Miles is the head coach in case you have been living under a rock since the season ended.
| | | | |
| --- | --- | --- | --- |
| Coach | Position | Coach | Position |
| Les Koenning | OC/QB Coach | Emmet Jones | WR |
| Luke Meadows | OL | Jeff Hecklinski | TE |
| D.J. Elliot | DC/OLB | Kwahn Drake | DL |
| Clint Bowen | Safeties | Chevis Jackson | DB/CB |
Quarterback Situation
As we all know, the most important position in all of college football is the quarterbacks (Sorry kickers). In the Big 12, if you don't have a good quarterback you aren't going to win many games and that is pretty cut and dry there. Don't get me wrong, Les Miles has a bumpy road ahead at Kansas, but do you know the quickest way to a turnaround? FIND A GOOD QUARTERBACK. A good quarterback can cover up a lot of things and is someone who can keep you in ball games and that is exactly what Kansas needs. Think about this. The last time Kansas had a 2,000-yard passer in a single season? Todd Reesing back in 2009. That's insane and not a good insane. More like a put you in a straight jacket insane because it has felt like an eternity since Kansas has had a decent quarterback. Here is how the position is shaping up for the 2019 season. The question is, who will be the guy?
Carter Stanley (6'2 RS SR)
While his experience is a good thing, his consistency is not. Carter has been at Kansas for what is going to be his fifth year and while he was the starter for the 2016 season, he lost his job to Peyton Bender for the 2017 and 2018 seasons. Carter has shown flashes at times, but the problem is that they are just small glimpses of what he can do. Maybe this new staff will bring out the best in Carter but there are things he needs to work on if he wants to be a good quarterback for this team.
Miles Kendrick (5'10 RS SOPH)
Miles came to Kansas in 2018 after spending the 2017 season at the College of San Mateo where he led his team the CCCAA finals. Nobody will question his athletic ability, but the question is his arm. How good of a passer is he? I am not sure we know the answer to that question yet and after attempting 19 passes in four games last season, the jury is still out. I really like Miles upside but again, I need to see his arm more.
Billy Maples (6'2 RS FR)
Billy was a walk on in 2018 and has yet to see a down of college football. He set some records at Park Hill High School back in Kansas City but there is no college sample size for me to refer to. It's safe to say that Billy is an unknown at this point and time.
Miles Fallin (6'5 RS SOPH)
Much like Billy Maples, Miles set some records back at his high school in Canyon Country, California. At 6'5, he is a big guy, but he does have some surprising athleticism. However, much like Billy he is an unknown and has only played in one game (No career pass attempts). Although I will say that he name was brought up a few times under the David Beaty regime.
Thomas MacVittie (6'5 RS JR)
Thomas was ranked as a three-star quarterback prospect coming out of high school (Archbishop Moeller HS in Cincinnati, OH) before signing with Pittsburgh. At Pitt, he redshirted his freshman year and in his second year, he played mostly on special teams. Then Thomas transferred to Mesa Community College in Mesa, Arizona. There he played in six games and threw for 1,064 yards along with 8 touchdown passes and 6 interceptions. His 53% completion percentage is concerning but 247 has him ranked as the second best JUCO quarterback in the country for the 2019 class. It is very possible that Thomas could be the quarterback this season and we will get to look at him first hand on April 13th (Kansas Spring Game).
Recent History
Let's cut right to the chase here, Kansas football has been the laughing stock of the Big 12 (In Football) since 2010. In fact, since 2010, Kansas has an overall record of 18-90 and a Big 12 record of 5-75. From 2010 until now, there have been four different head coaches with Les Miles being lucky or unlucky number four depending on how you see this playing out. Before some of you expect miracles out of the mad hatter, remember that this football program hasn't been to a bowl games since 2008 and just this past season won their first road game since 2009. Like many other things in life, you must crawl before you can walk. Nobody within that program knows that better than the man himself, Les Miles. That's why he took the job. He didn't take over a program that was left in great shape. Hell, he didn't take over a program that has a solid football tradition. He took over a program that needs to be pointed in the right direction. The question is can he shake off the LSU rust and make history by turning around Kansas football?
**Sign up here for our HCS weekly e-mails for a chance to win FREE Heartland College Sports and Big 12 team gear!!**